Walt Disney World (Walt Disney World) or Disney World (Disney World) is an entertainment resort complex, which is one of the most famous, as well as the largest and most visited place of family recreation and entertainment in the world.
Official name: "Walt Disney World Recreation Center" (Walt Disney World Resort).
Walt Disney World is located in Bay Lake and Lake Buena Vista, Florida USA, which is near the city of Orlando.
According to its location, Walt Disney World is also known as "Disneyland Orlando".
Disney World is a whole entertainment complex, which includes: four theme amusement parks, two water parks, a sports complex, a shopping area, a Disney embankment, golf courses and accommodation facilities (hotels, villas)
Each of the Walt Disney World parks has several themed areas with attractions, other entertainment, catering and shops. Various parades, shows, festivals, fireworks, entertainment programs and events are held in Disney World parks. Also, the Disney entertainment complex is constantly developing - new entertainment is rides and appearing.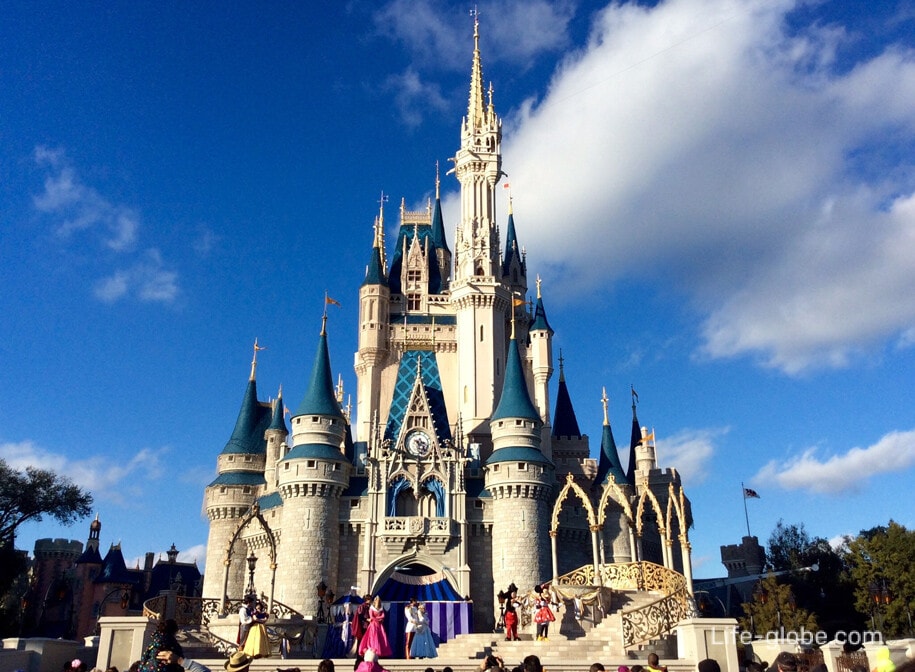 Amusement parks in Disney World
The Magic Kingdom Park is the most famous of the parks in the Disney World.
It is here that Cinderella's castle is located, and the most classic Disney characters - Mickey and Minnie Mouse come to life; you can go on an adventure tour in a picturesque and comedic boat trip along exotic rivers through Asia, Africa and South America; ride on a Russian (roller coaster) or a monorail; walk around Freedom Square and see the presidents The United States in an exciting show tracing the history of the country; a peek into the haunted mansion, etc.
Epcot Park, dedicated to celebrating the achievements of humanity, namely technological innovation and international culture. This park is often called the "permanent World's Fair".
The park consists of many avant-garde pavilions that showcase innovative aspects and applications, including technology and science, with each pavilion having autonomous attractions and special architecture. So, there are pavilions: Canada, France, Morocco, Japan, Italy, Germany and other countries of the world.
In the park there are such entertainments as: "Remy's Adventures in Ratatouille", where you can feel reduced to the size of Chef Remy for a culinary adventure in 4D format based on the Disney and Pixar cartoon "Ratatouille"; a journey through ancient and modern China during an exciting 360-degree film.
The park "Disney's Hollywood Studio", dedicated to the imaginary worlds of cinema, television, music and theater, based on the Golden Age of Hollywood.
In the park: Hollywood Boulevard, Echo Lake, the Grand Avenue historic district, The Land of Toys, and, most interestingly, The World of Star Warriors - The Edge of the Galaxy, where you can jump into hyperspace in an exciting three-dimensional space flight to legendary places from the Star Wars saga, try yourself in the role of the pilot of the spaceship "Millennium Falcon", feeling the battle against the First Order in this exciting trip.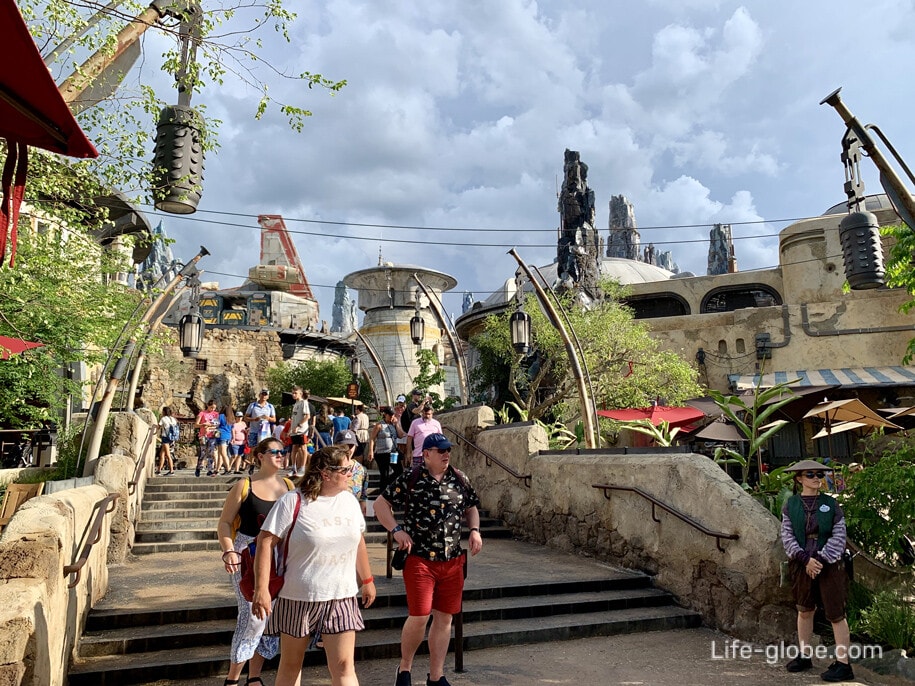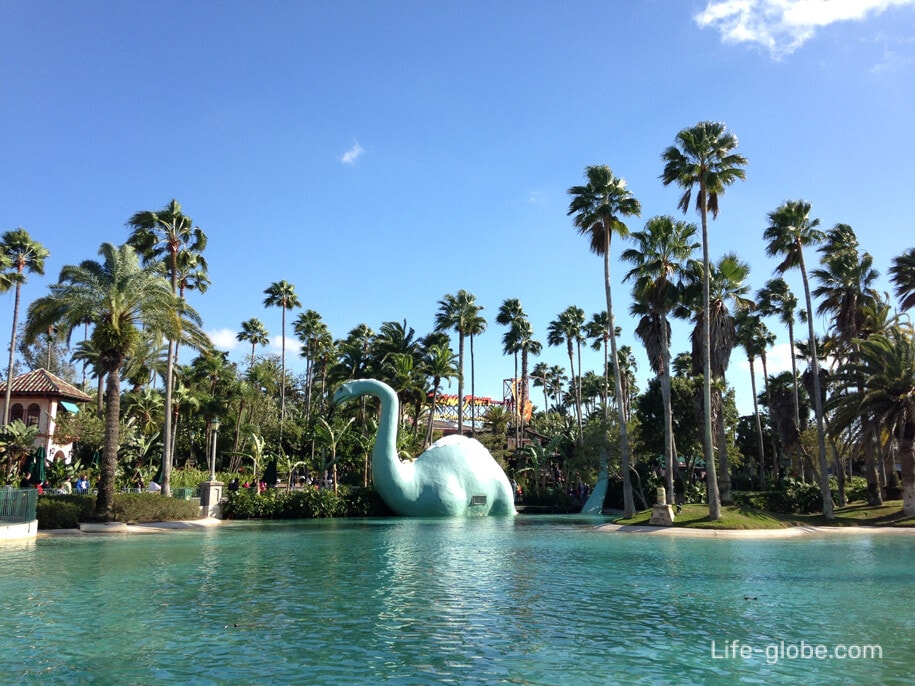 Disney's Animal Kingdom Park, dedicated to the environment and animal conservation.
The Disney Animal Kingdom differs from other theme parks in that it features traditional attractions, as well as many types of live animals. The park is located on the western edge of the resort and is isolated from other theme parks and facilities in order to minimize external interference to animals; as a result, the shows in the park do not include fireworks that would disturb the animals.
Water parks in Disney World
Disney's Typhoon Lagoon Water Park, which has waterfalls, slides and attractions, a surf pool, a children's pool, a shark reef, a sunken tanker, a playground, a picnic area and much more.
In the largest part of the park there are shaded beaches with white sand, where you can relax and recuperate.
Disney's Blizzard Beach Water Park, in which all water areas are warmed up to approximately 27 °C, with the exception of "melting snow" in the Cross Creek Creek ice cave.
Most of the main attractions of the park are located on the top and near Mount Gushmore - an artificial hill with a height of 27.4 meters.
In the park: water slides, including family ones and an attraction with decorated snow-covered mountain ravines with a height of 27.4 meters and a length of 76.2 meters, which develops speeds up to 35 miles per hour.
Also in the park there are swimming pools, including a wave pool, and attractions.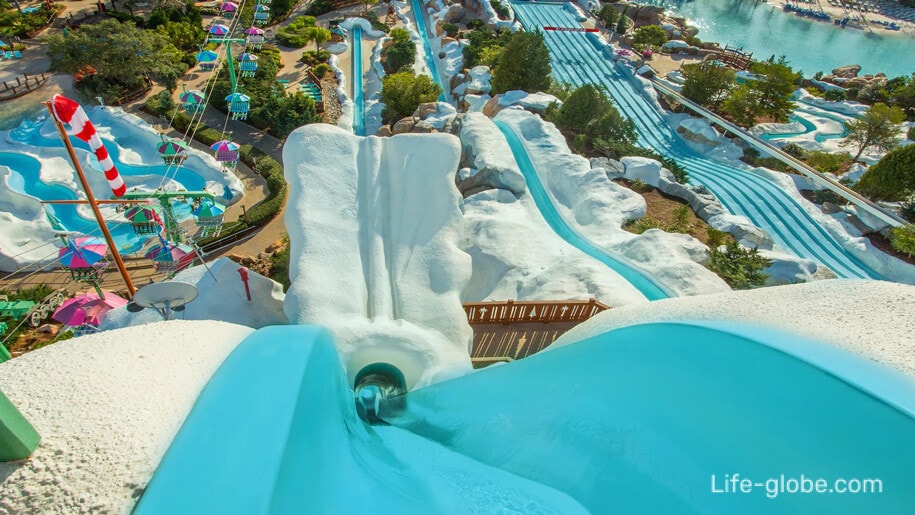 Other objects in Disney World
Walt Disney World is also home to
Disney Springs is an outdoor shopping, dining and entertainment complex with daytime and evening life.
There are many shops, boutiques and restaurants with various themes.
This place is also used as a transport hub to Disney World parks and water parks.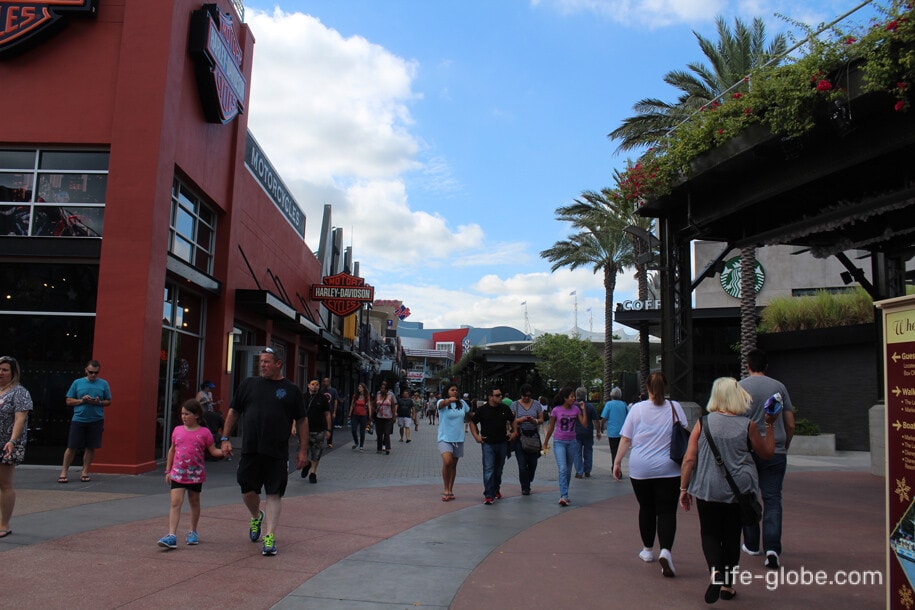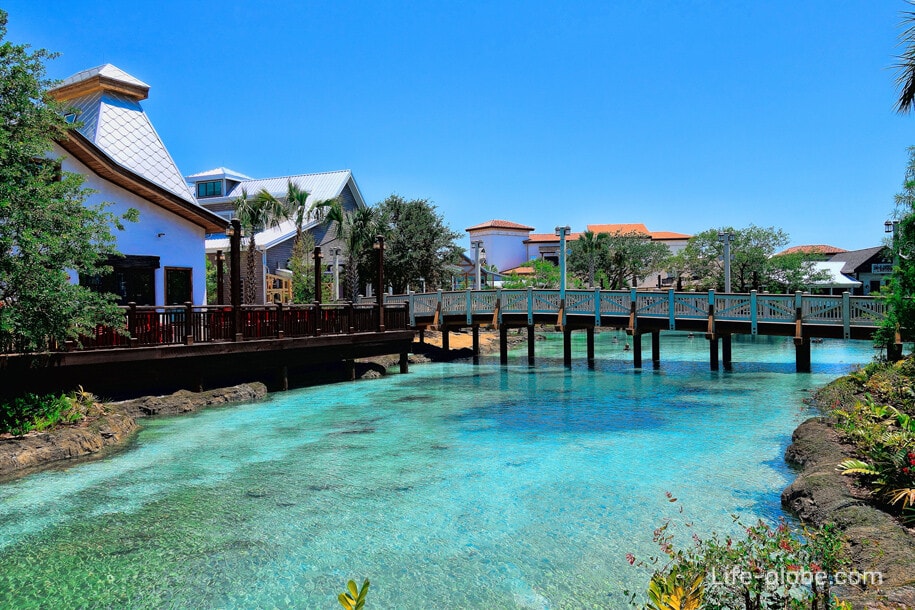 Disney's BoardWalk, located in the EPCOT zone. It's a quarter-mile-long boardwalk with restaurants, shops and an evening life with street performers.
The embankment functions as an area of shops, restaurants and related entertainment.
The sports complex "ESPN Wide World of Sports Complex", where modern sports facilities for various sports are located, sports competitions and numerous events are held for athletes of all ages and abilities.
On the territory of the sports complex, you can train and compete with your team, or just be a spectator.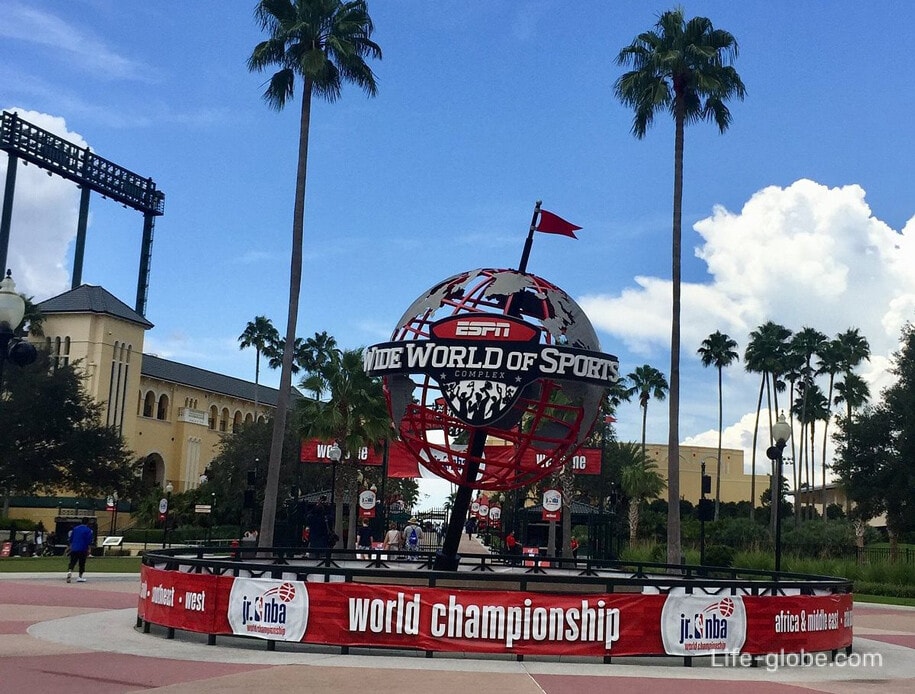 Golf courses with different number of holes. There is also a mini golf course.
Tickets and the Disney World website
There are various tickets to Walt Disney World - from 1 to 10 days. There are tickets to visit one or more parks per day.
Separate tickets must be purchased for water parks. There are also tickets for various events and shows at Walt Disney Parks.
We recommend checking all ticket variations, as well as their cost, conditions for visiting parks / water parks and using tickets before visiting the Walt Disney World website: disneyworld.disney.go.com .
You can also buy tickets and book a transfer to Walt Disney World here
Hotels near Disney World parks and water parks
Various hotels, hotel complexes and villas are located directly near (in) Disney World.
Some hotels offer a free shuttle service to theme parks and the Disney Springs shopping district.
From hotels to Disney World Resort
The 5-star Waldorf Astoria Orlando Resort is located on the territory of a nature reserve adjacent to the Walt Disney World Recreation Center.
It offers a free shuttle service to and from Disney World. This hotel is a member of the Disney Extra Magic Hours and 60 day Fast Pass+ programs, thanks to which guests will be able to stay in some Walt Disney World parks longer than other visitors.
The hotel has a children's club, swimming pools, the Lazy River attraction and separate changing cabins, a fitness center, a full-service spa, its own golf course, restaurants and a bar.
The rooms at the hotel are equipped with a flat-screen TV, a safe, air conditioning, a coffee machine/kettle, a refrigerator, bathrobes and a work desk. They are equipped with a marble bathtub, a separate shower, a hairdryer and free toiletries.
Breakfast may be included in the room rate. Hotel link
The 4-star Walt Disney World Swan Reserve Hotel is located within walking distance of Disney World Amusement parks.
The hotel has a terrace, an outdoor pool, a private beach area, a garden, a restaurant, a bar, a shared lounge, table tennis, a children's playground, a fitness center, evening entertainment programs and a 24-hour front desk.
The air-conditioned rooms are equipped with a flat-screen TV with satellite channels, a safe, a refrigerator, a coffee machine, a shower, a hairdryer and a desk. Each room has a wardrobe and a private bathroom with free toiletries. Link to the hotel
4-star hotel-villas Club Wyndham Bonnet Creek with outdoor pools, slow-flowing rivers, hot tubs, children's playgrounds, restaurants, bar, spa, fitness center, free Wi-Fi, game rooms with arcade games, table tennis and billiards.
The hotel provides a shuttle service to Walt Disney World Parks.
Each villa has a furnished living area with a sofa bed and a flat-screen TV with cable channels, air conditioning, a balcony, and a fully equipped kitchen. The spacious bathroom has a spa bath, shower and hairdryer. Link to the hotel-villas
The 4-star Walt Disney World Dolphin Resort is located on the territory of the Disney World Resort and Entertainment Center.
The hotel offers a water taxi transfer to Disney World Parks. Hotel guests can also take advantage of early entry to Disney World and a longer stay in the parks in the evening.
The hotel has a private beach area, outdoor pools, hot tubs, spa and wellness center, fitness center, restaurants, lounges, bar and free Wi-Fi.
The hotel rooms are equipped with a small refrigerator, a coffee machine/kettle, a safe, a hairdryer, bathrobes and a flat-screen TV. Some rooms have a private balcony with views of the resort. Link to the hotel
All hotels in Disney World, the surrounding area, Orlando, Miami, Miami Beach and other cities of Florida and the USA, can be viewed and booked here
How to get to Disney World
The nearest international airport to the Disney World parks is the airport in Orlando, you can also fly to other airports in Florida, such as Miami, and from there get to the Disney World complex. Flights to Orlando, Miami and all US cities →
You can get to Disney World from Orlando, Miami and other US cities by taxi, rented car or public transport.
Rent a car in Florida and the USA →
Intercity buses to Orlando, Miami, etc. →