The White Tower (Weißer Turm) is a historical tower that was part of the penultimate city fortifications of Nuremberg, and was also the gateway to the city.
The tower was erected around 1250 and served for the defense of the gate.
The name "White" comes from the white plaster, which was covered with the tower. During the repair work in the post-war period, the plaster was removed.
Today the tower is one-story - the city walls and fortifications around it were demolished.
The White Tower, together with the Clock Tower (Laufer Schlagturm) and The Debtors' Tower (Schuldturm), which was originally also part of the city's fortifications, is one of the few surviving towers of its era in Nuremberg.
The tower is a block structure of brick and sandstone with a pointed archway and alternative niches. There is a barbican on the southwest side of the tower. In the upper parts of the tower, on the south-western and north-eastern sides, there is a clock. On the north-eastern side of the tower, facing the old town, there are coats of arms, including the city of Nuremberg.
In the tower there is one of the entrances/exits to the metro station of the same name "U-Bahnhof Weißer Turm".
Near the White Tower there are such significant sights of Nuremberg as: the Church of St. Jacob (Kirche St. Jakob), Elisabethkirche and one of the most important modern works of art in the city is the fountain "Marriage Carousel" (Ehekarussell).
In the photo below: the north-eastern and western facades of the White Tower. In front of the tower is the fountain of the Wedding carousel, behind the tower you can see the dome of the church of St. Elizabeth.
South-western and eastern facades of the White Tower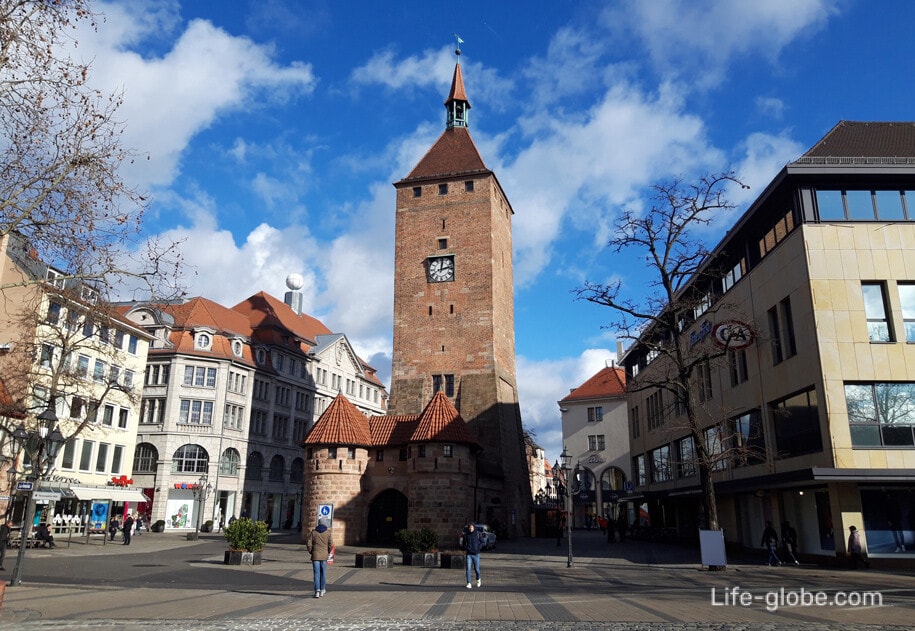 Practical information
The White Tower is located in the southwestern part of the old city of Nuremberg, on Ludwigsplatz Square, and closes the pedestrian zone (Karolinenstrasse and Breite Gasse streets), starting from the Church of St. Lawrence (Kirche St. Lorenz).
All accommodation facilities in Nuremberg, including in the city center and near the White Tower, can be viewed and booked here