The capital of the Czech Republic - the city of Prague, without a doubt, is beautiful, and full of attractions and museums.
For families with children, Prague provides a lot of interesting places, entertainment and museums that are suitable for a family stay in the Czech capital. Many of these places will be interesting for both children and adults.
There are a sufficient number of parks in Prague, including amusement and walking parks, there is also a water park, an oceanarium, a zoo, a planetarium, singing fountains, interesting museums and places that are suitable for families with children.
For comfortable accommodation in Prague with a child (children), there are family hotels in the city. All hotels in Prague, including family hotels
Excursions in Prague
To Prague with children
What to see, where to go and what to do in Prague with a child (children)
Vltava River
The Vltava River, which divides Prague into two parts, is an integral part of the appearance of the city.
Many tourist routes around the city run along the bridges that span the river. The most famous of the bridge is the medieval pedestrian Charles Bridge (Karluv most), decorated with three-dimensional sculptures of saints and on both sides of which towers with viewing platforms rise (Malostran bridge towers, Old Town Bridge Tower).
For a family pastime, it will be interesting not only to walk on the bridge, but also river excursions along the Vltava River.
On Slavyansky Island (Slovanský ostrov), which is located on the Vltava River in the center of Prague, there is a playground, recreation areas, several rental points for rowing boats and catamarans, a children's steam train and a copy of the historical "steam locomotive". More about the Vltava River…
Animal World
Prague Zoo (Zoo Praha, Zoologicka zahrada hl. m. Prahy) is one of the largest and most famous zoos in Europe.
The pride of the Prague Zoo is the Elephant Valley - a vast territory inhabited by a herd of Indian elephants.
The zoo also attracts attention: the pavilion of rare parrots, the aquarium, the pavilion of the Indonesian jungle with tropical plants with Komodo lizards, the African house with giraffes and other herbivores from the savannah, the gorilla pavilion and the Darwin crater with Tasmanian and Australian animals.
Prague Zoo website: zoopraha.cz.
Address of the Prague Zoo: U Trojského zámku 3/120, 171 00 Praha 7 - Troja.
Aquarium "Sea World" (Mořský svět), where you can see fish, sharks, rays, barracudas, jellyfish, turtles and other marine inhabitants of the world.
At certain hours, you can be present when feeding marine animals.
Aquarium website: morsky-svet.cz.
Address of the aquarium: Výstaviště 67, 170 00 Praha 7-Bubeneč, Чехия.
Aquarium "World of jellyfish" (Svět Medúz), home to more than 30 species of jellyfish. Website: svetmeduz.cz. Address: Na Pankráci 1727/86, 140 00 Praha 4 - Nusle, Чехия.
Crocodile Zoo (Krokodýlí Zoo Praha) is a zoo with alligators, caimans and a wide variety of turtle species. On certain days and hours, you can see the feeding of crocodiles. Website: krokodylipraha.cz. Address: Tusarova 1548/39,Praha 7 - Holešovice.
Butterfly house "Papillonia" (Papillonia) with exotic butterflies. Website: papilonia.cz. Address: Hamleys (1. patro, Na Příkopě 854/14, Nové Město, 110 00, Чехия.
Krzyzhikov fountains
Krzyzhikov Fountains (Křižíkova fontána) is a complex of light-singing fountains, which are named after the chief engineer František Krzyzyk.
There are various open-air performances and shows using water, light, music and fire.
It is better to attend the fountain show after dark. Attendance of shows and performances is paid.
Fountain Website: magickafontana.cz.
Address of fountains: Výstaviště 170 00, 170 00 Praha 7 - Bubeneč, Чехия.
Prague Planetarium
Prague Planetarium (Planetárium Praha) with an observatory on Petrshin Hill, observation of the night sky, space shows and astronomical exhibitions.
The dome of the planetarium with a diameter of 23.5 meters is one of the largest in the world. Also in the planetarium: a digital planetarium with a resolution of 8K, a tour of the night sky in any weather, an interactive exhibition and 4D simulators, a summer cafe on the terrace and a shop.
Planetarium website: planetum.cz.
Planetarium address: Královská obora 233, Bubeneč, 170 21 Praha 7, Чехия.
Orloy Clock and the center of Prague
in the heart of Prague, on Old Town Square, is the complex old town hall (staroměstska radnice) on the side wall of which tower is located the famous and unique astronomical clock Orloj (Prazsky Orloj or staromestsky Orloj).
The clock is decorated with sculptural figures and figures with moving parts, which show a show performance during the battle of the Prague Chimes.
Today, in the "show" of the Prague Chimes, every hour (from 9:00 to 23:00), you can see a representation of moving figures. Here 12 apostles and other figures appear on the sides of the astronomical clock - Death in the form of a human skeleton, which rings, turns the hourglass and indicates to the standing Turk that his time has expired.
The performance can be viewed for free from the Old Town Square. Learn more about the Eagle watch with photos and videos of the fight…
The inspection of the Orloy clock is well combined with walks through the historical part of Prague, with an abundance of small squares and narrow streets with dense and bright buildings.
As an option, you can go through The Royal Way (Královská cesta) is the name of the historical route in Prague, along which future Czech kings passed to the coronation, and today this path is a popular tourist route of Prague.
The route of the Royal Way passes through the central historical part of Prague and leads from Republic Square (Namesti Republiky) in Prague Castle. More about the Royal Way…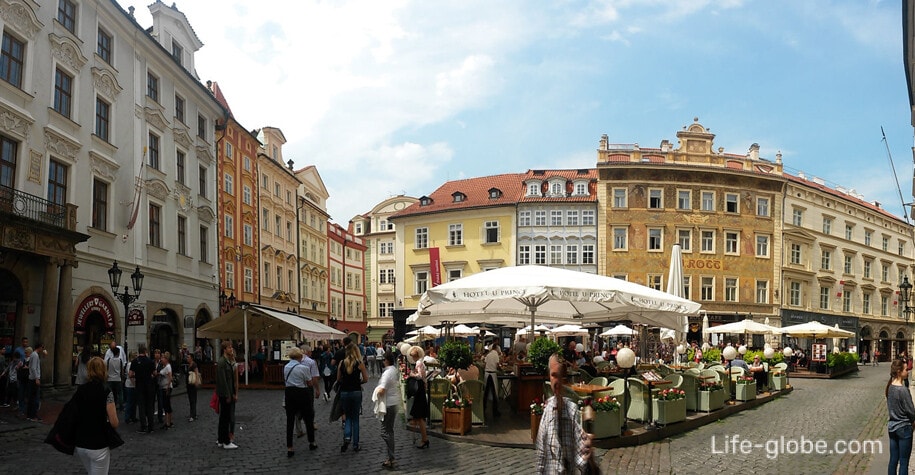 Prague Castle (Toy Museum, Golden Lane, observation tower, gardens)
Prague Castle (Pražský hrad) is a majestic castle complex in Prague, which dates back to the 9th century and is one of the largest castle complexes in the world.
Prague Castle consists of courtyards, streets, former palaces (now museums), auxiliary and residential buildings, St. George's Basilica, the Chapel of the Holy Cross, the picturesque Golden Street and the dominant of Prague Castle - St. Vitus Cathedral with a high tower, which houses an observation deck.
For children in Prague Castle, the Toy Museum (Toy Museum Prague) will be interesting, displaying four centuries of toy development. Museum exhibits: trains, cars, airplanes, bears, dolls, kitchens, wooden toys, zoos, Barbies, Star Wars, robots, etc. This is a private collection of toys by Ivan Steiger. Museum website: toymuseumprague.com.
Also in Prague Castle, you should not ignore Golden Lane (Zlatá ulička) is a small cobbled street with a characteristic appearance with small colorful houses having a fabulous look and built into the former fortress wall Prague Castle.
In some of the houses along the Golden Street there are expositions with interiors showing the daily life of local residents over the past five centuries. So, there is a house of a clairvoyant, herbalist, seamstress, movie lover, a tavern and an exposition of knight's armor, weapons and instruments of torture.
For families with older children, it will be interesting to climb the observation deck of the tower St. Vitus Cathedral which offers panoramic views of Prague.
At and under the Prague Castle, on the south and east sides, there are gardens and vineyards, with terraces that offer views of Prague.
Gardens can be great places for family walks and relaxation in the warmer months. More about Prague Castle and Gardens…
Petřín Hill
Petřín Hill (Petřín) is a green hill located in the center of Prague on the left bank of the Vltava River and is one of the highest hills of the Czech capital.
On the hill: gardens, paths and alleys for walking, places to relax, funicular, fountains, monuments and sculptures, observation decks, churches, Hungry Wall, ethnographic Museum The National Museum of Prague (Národopisné muzeum Národního muzea), as well as panoramic cafes and restaurants.
For children on Petrshina will be interesting:
- Mirror maze (Zrcadlove bludiště), which looks like a small castle, in which there are: a mirror maze leading guests to the image of the battle of Prague with the Swedes on the Charles Bridge in 1648, and "Hall of laughter", equipped with curved mirrors;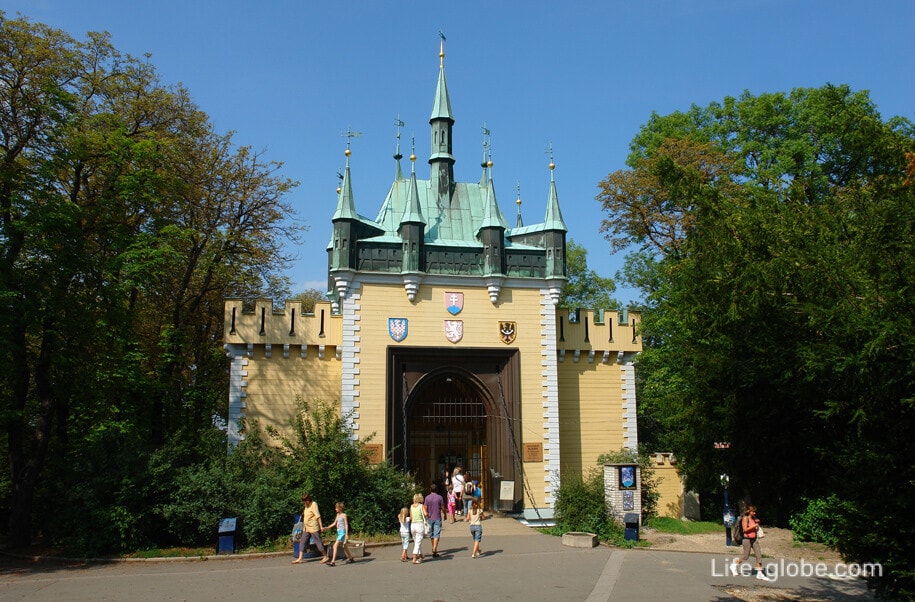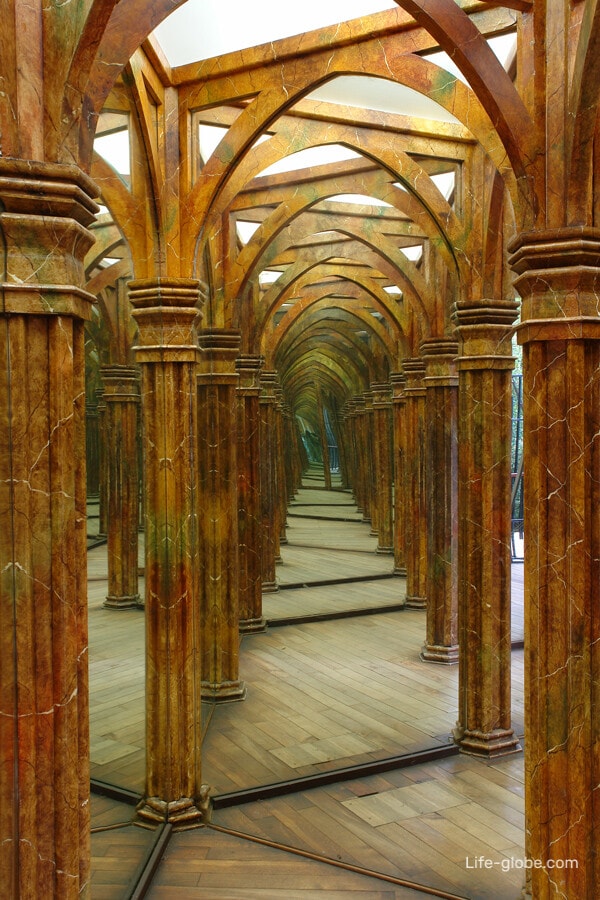 - the Stefanik Observatory (Štefánikova hvězdárna) with a permanent astronomical exhibition and the possibility of observing the sky;
- The Petrshinskaya observation Tower (Petřínská rozhledna) is a steel tower that is a free-standing reduced copy the Parisian Eiffel Tower and from the upper observation deck which offers stunning views of Prague. More about Petřín Hill…
On Petrshin is 4-star apart-hotel Nebozizek Hotel a Restaurant, from the rooms of which offer panoramic views of Prague Castle and the Old Town. Breakfast is included in the room rate. Link to the hotel
Dancing House
The famous Dancing House (Tančící dúm) is part of modern Prague architecture.
The house was built in 1992-1996 according to the project of world famous architects Vlad Milunich and Frank O. Gehry.
In the Dancing House you can visit a gallery, a restaurant and a bar with an observation deck on the 7th floor.
In addition, on two floors of the Dancing House there is 4-star Dancing House hotel - Tančící dúm hotel with rooms with an unforgettable view of Prague. Breakfast is included in the room rate. Link to the hotel
Address of the Dancing House: Rašínovo nábřeží 80 / Jiráskovo náměstí 6, 120 00 Praha 2 - Nové Město. More about Dancing House…
Museums
There are many different museums in Prague, some of which are suitable for family visits. From museums,
- The Lego Museum (Muzeum LEGA Praha) is a large museum of the history of the Lego constructor with Lego models, vintage sets and a children's corner. Museum website: muzeumlega.cz. Address: Národní 362/31, 110 00 Staré Město, Чехия;
- museum of chocolate and wax figures (Choco-Story museum), where you can learn about the ancient customs of the Aztecs and Maya, about the evolution of chocolate production and how chocolate influenced world history. In the museum you can see how chocolate is made. A visit to the museum includes tasting several types of chocolate.
Also in the chocolate museum there is a wax museum with 30 wax figures of world legends.
A single ticket to museums. Museum website: choco-story-praha.cz. Address: Celetná 10, 110 00 Praha 1;
- Madame Tussaud's Wax Museum (Madame Tussaud's Prague) with figures of famous characters, world stars, athletes, important cultural figures and legendary personalities of the history of Prague. Museum website: madametussaudsprague.cz. Address: Celetná 6, 110 00 Praha 1;
- museum of miniatures (Muzeum miniatur) with a collection of miniature paintings and other objects that need to be viewed through a magnifying glass, for example, a bicycle made of pure gold on a sewing needle. Museum website: muzeumminiatur.cz. Address: Strahovské nádvoří 11, Praha 1;
- museum of Alchemy and Magic; Prague legends and ghosts - two unusual museums dedicated to the history of alchemy, ghosts, legends and magicians.
The complex also includes: Apropo Theater (Divadlo Apropo) and alchemical pub (Alchymistická hospůdka Kellyxír). Website: mysteriapragensia.cz;
- the kingdom of Railways (Království železnic), which presents a large interactive exposition of models of railways with digital control, as well as a model race track, prefabricated constructors, simulators from real cars and projections, models, exhibitions, virtual games and a room for young children. Museum website: kralovstvi-zeleznic.cz. Address: Stroupežnického 23, 150 00 Praha 5 - Smíchov, Чехия;
- National Museum of Technology (National technické muzeum) with extensive collections documenting the development of many technical fields, natural and exact sciences and industry in the territory of today's Czech Republic. The museum houses permanent exhibitions (transport, construction and design, astronomy, architecture, mining and engineering, household appliances, chocolate, shot studio, etc.) and temporary exhibitions are held. Museum website: ntm.cz. Address: Kostelní 1320/42, 170 00 Praha 7 - Letná, Чехия;
- The National Museum of Agriculture (Národní zemědělské muzeum), which presents exhibitions reflecting a look at agriculture and related topics dedicated to: agricultural technologies, natural resources (hunting and fishing), agriculture as one of the greatest discoveries of mankind, nutrition.
On the roof of the museum there is an exhibition "Life" with a garden with grass, a picnic area and bee hives. The terrace offers an attractive view of Prague.
Museum website: nzm.cz. Address: Kostelní 44, 170 00 Praha 7 - Holešovice;
- the Museum of Feelings (Muzeum Smysl?) is an interactive museum in which every guest becomes a part of it. There are exhibits to explore, from a variety of distorted rooms to installations and images with optical illusions. Each of the exhibits provides an opportunity to ask questions and learn about our feelings and perceptions: smells, sounds, visual perception, movements, etc. Museum website: muzeumsmyslu.cz. Address: Jindřišská 20, 110 00 Praha 1-Nové Město.
- Karl Zeman Museum (Muzeum Karla Zemana) is a small interactive museum dedicated to cartoons and special effects in Karel Zeman's films shot in the 20th century: from the first animated and puppet films of the 1940s to the works of his last creative period. A significant part of the museum is dedicated to his most important films - "The Road to Prehistory", "The Invention of Destruction" and "Baron Prashil". The museum offers a game concept where guests have the opportunity to take part and try out the stunt techniques that Karel Zeman used in his films. Museum website: muzeumkarlazemana.cz. Address: Saská 520/3, 118 00 Malá Strana, Чехия;
- Czech Police Museum (Muzeum Policie České republiky), dedicated to the Czech police with an exhibition of items related to police work: police uniforms, cars, motorcycles, weapons, safes opened by bear guards, etc. There are police vehicles, a helicopter, a river vehicle, an armored personnel carrier, etc. in the yard.
The museum is suitable for teenagers and parents. Museum website: muzeumpolicie.cz. Address: Ke Karlovu 453/1, 120 00 Nové Město, Чехия;
- Aviation Museum in Kbely Military History Museum (Vojenský historický ústav Praha, Letecké muzeum Kbely) is an exhibition dedicated to the history of aviation with an emphasis on the Czechoslovak and Czech air forces.
Entrance to the museum is free. Museum address: ul. Mladoboleslavská, Praha 9 - Kbely. The Kbel Aviation Museum also includes an exposition located in the hangars of the Old Aerovka in Letnyany. The hangars are located about 900 meters from Kbel Square, the entrance is from Gulkova Street.
The Military History Museum also includes other museums. Museum website: vhu.cz;
- The Museum of Urban Transport (Muzeum městské hromadné dopravy) is a museum in a former tram depot with a collection of more than 40 historical vehicles, as well as other exhibits, such as historical photographs and documents, tickets and posters, models of old trains and a "dark tram" that was used during the time of the Second World War. Museum website: dpp.cz/muzeum-mhd. Address: Patočkova 132/2, 162 00 Praha 6 - Střešovice, Чехия.
Dungeons
The underground bunker "Folimanka" (Folimanka Underground Bunker), located behind reinforced doors on the street Near Karlov (Pod Karlovem), was built during the Cold War (1950s-1960s) as a shelter for civilians in case of a threat.
The bunker contains a vast maze of corridors and rooms. So, the bunker has its own well, toilets and infirmary. An autonomous generator provides light and heat, and ventilation is carried out using pressure air. The total length of the bunker corridors is 125 meters and its area is 1,332 m2, making it the largest bunker in Prague 2. The bunker can accommodate 1,300 people, and its reserves can allow people to survive up to 72 hours. The bunker is in good technical condition and in case of an emergency can be used for its original purpose.
The bunker has an exhibition with photos of other civilian bunkers located throughout Prague. The exhibition is periodically updated.
You can visit the bunker for free during the open brother-in-law days. Usually it is once a month on Saturday from 9:00 to 15:00 hours.
The exact information about visiting the bunker can be found on the website: krytfolimanka.cz.
The entrance to the bunker is located in Prague 2, on the street Near Karlov, opposite house No. 2. The nearest tram stops are "Pod Karlovem" and "Nuselské schody" (lines 6 and 11).
The National Monument to the Heroes of the Heydrich Terror (Národní památník hrdinów heydrichiády) is an exhibition and an authentic World War II battle site that the Czech Orthodox Church provided to Czechoslovak paratroopers from May 27 to June 18, 1942 after the attack on Reinhard Heydrich.
The exhibition is located in the underground crypt of the baroque Church of Saints Cyril and Methodius (Temple of Saints Cyril and Methodius), at address: Resslova 9a, 120 00 Praha 2 - Nové Město.
Admission is free.
Information about the visit can be specified on the website: vhu.cz/muzea/ostatni-expozice/krypta/.
Barrandov Film Studio
Barrandov Studio is a film production studio founded in 1921. It is the most famous and largest film production company in the Czech Republic and one of the largest film studios in Europe.
In the studio, you can visit an exhibition dedicated to the films made, as well as cinema and its historical development.
Here you can see iconic costumes of Czech cinema, props, as well as interesting historical facts or technologies. The exhibition presents : a ball gown from the fairy tale "Three Nuts for Cinderella", rings and regalia from the TV series "Arabela", a car from the fantasy series "Guests".
There are guided tours of the studio, during which you can also look at some film studios, visit the costume and props department, walk around the entire complex and learn something about the origin and development of the studio.
Website: barrandov.cz/o-nas/pro-verejnost.
The address of the film studio: Kříženeckého nám. 322/5, 152 00 Praha 5 - Hlubočepy, Чехия.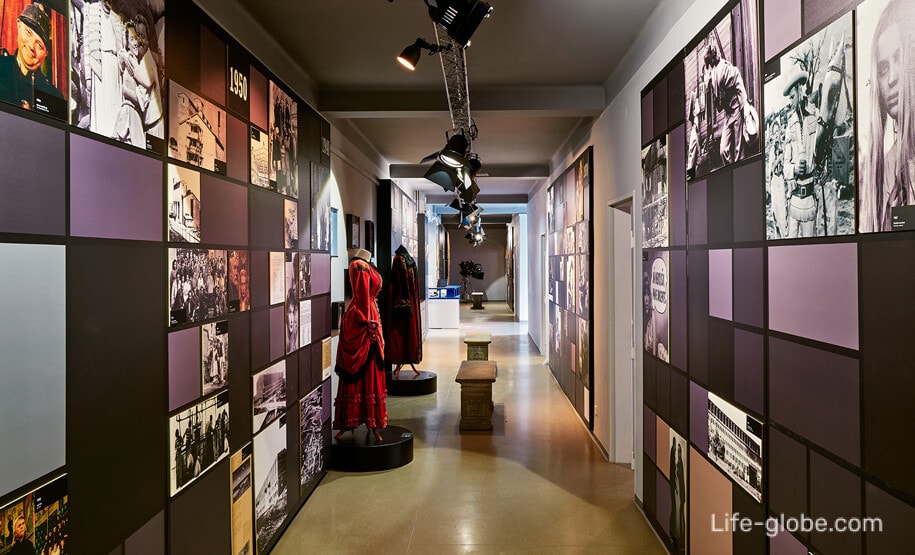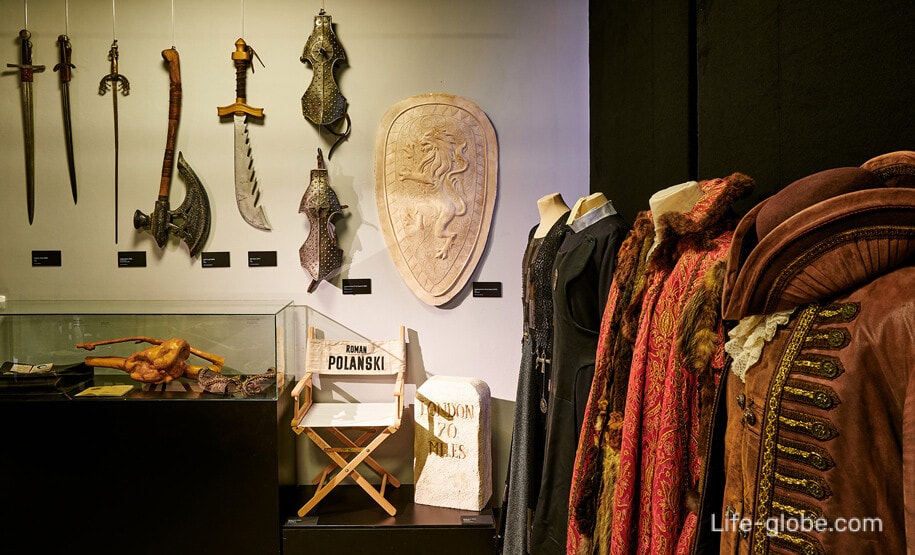 Parks and places of entertainment
Dinopark (DinoPark Harfa), where you can go on a trip to the Mesozoic era among static and robotic models of dinosaurs in full size, with scenery of Mesolithic nature, a children's paleontological playground with a hidden skeleton of a prehistoric creature, a 4D cinema, educational trails, children's attractions and other entertainment.
Dinopark is located on the roof of the shopping center "Galerie Harfa", at address: Českomoravská 15a, 190 93 Praha 9, Чехия.
Entrance is paid. Website: dinopark.cz/cz/praha.
The Prague Botanical Garden with the Fata Morgana Botanical Garden is spread over almost 30 hectares, with exhibition areas including the historic vineyards of St. Clare, the Japanese Meditation Garden and the tropical Fata Morgan Greenhouse. The greenhouse, divided into three separate zones with different temperatures and humidity, offers a trip through tropical nature at any time of the year.
Entrance to the botanical garden is paid.
The website of the botanical garden: botanicka.cz.
Garden address: Trojská 800/196, 171 00 Praha 7 - Troja.
A large toy store "Hamleys", located in the heart of the historical part of Prague, at: Na Prikope 854/14, 110 00 Praha 1 - Nove Mesto. The trick of the store is that in addition to selling numerous toys, there are free entertainment and attractions on two floors of the store. More about the store…
Also: children's entertainment center TOBOGA Fantasy Praha, rope park Lanové centrum PROUD, bobsleigh track Bobová dráha Prosek, multifunctional sports complex Gutovka, sports and recreation center Areál Vltavanů 229, entertainment park Action Park, trampoline center JumpPark Jarov and others.
Children's playgrounds are located in many parks in Prague and on the islands of the Vltava River, including on Detsky Island (Dětský ostrov), Slavyansky Island, in Riegrovy Gardens (Riegrovy sady), etc.
Water parks
Aquapalace Prague Water Park (Aquapalace Praha) is one of the largest in central Europe.
The water park has a closed area with slides, pools, saunas, cafes and other services all year round, and in summer there is also an open area with a swimming pool, slides and places for outdoor recreation.
At the water park there is 4-star Aquapalace Hotel Prague, guests of most rooms of which they can visit the water park for free and without restrictions. Breakfast is included in the room rate. Link to the hotel
Aquapark website: aquapalace.cz. Address: Pražská 138, 251 01 Průhonice - Čestlice.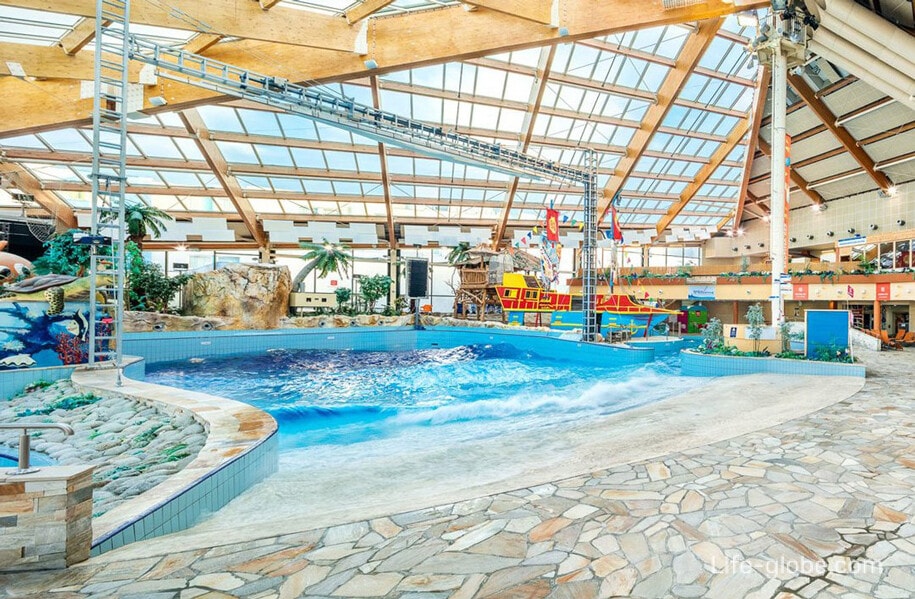 Other water parks in Prague:
- Šutka aquatic center with adult and children's pools, slides and attractions. In good weather, an outdoor recreation area is open;
- AquaDream with slides, indoor and outdoor pools;
- Letňany Lagoon with swimming pools, slide, children's playground and wellness center.
Historical trams and train
Two historical tourist trams run through Prague routes of lines 42 and 43, which pass through the historical center of Prague and operate on the hop-on hop-off principle.
The standard PID fare in historical tourist trams does not apply. Payment is separate. Tickets can be bought in trams or in tourist information centers of the city.
The nostalgic tram line No. 23 also runs through the city. The line has a standard PID tariff.
All information about routes, stops, fares, ticket purchases and tram schedules can be found on the official website: dpp.cz/zabava-a-zazitky/historie-dpp.
Historical rail bus, which departs from the main railway station. First, it will take you through the Vinogradsky Tunnel, then across the Vltava River with a view of Visegrad and Prague Castle, then along the impressive viaducts of Hlubochepa and the Koshirje-Motol Nature Park to the Zlichin Railway Station and back.
Websites: pid.cz/zabava-a-zajimavosti/prazsky-motoracek/, kzc.cz/?sekce.
Food and shopping
There are special children's menus in cafes and restaurants in Prague.
On Wenceslas Square there is a cafe located in the historic tram "Tram Cafe".
From street food attracts the attention of ice cream and very tasty hot trdelniki, which you can try both classic and with various fillers.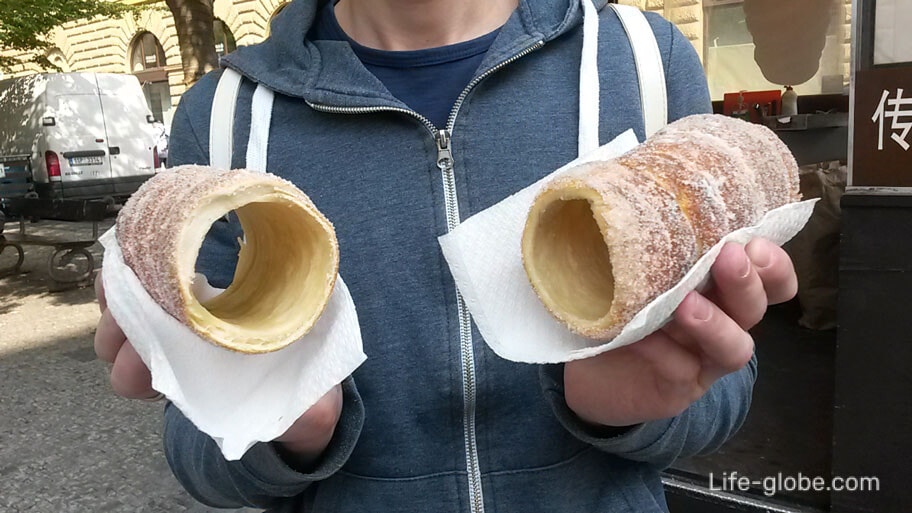 Famous czech souvenirs, as if descended from the pages of children's fairy tales, will be interesting to people of all ages, especially children adore them. These are souvenirs such as the famous Czech colored pencils and everything connected with them, a mole from a popular Czech cartoon or colorful puppets on strings of all colors and types.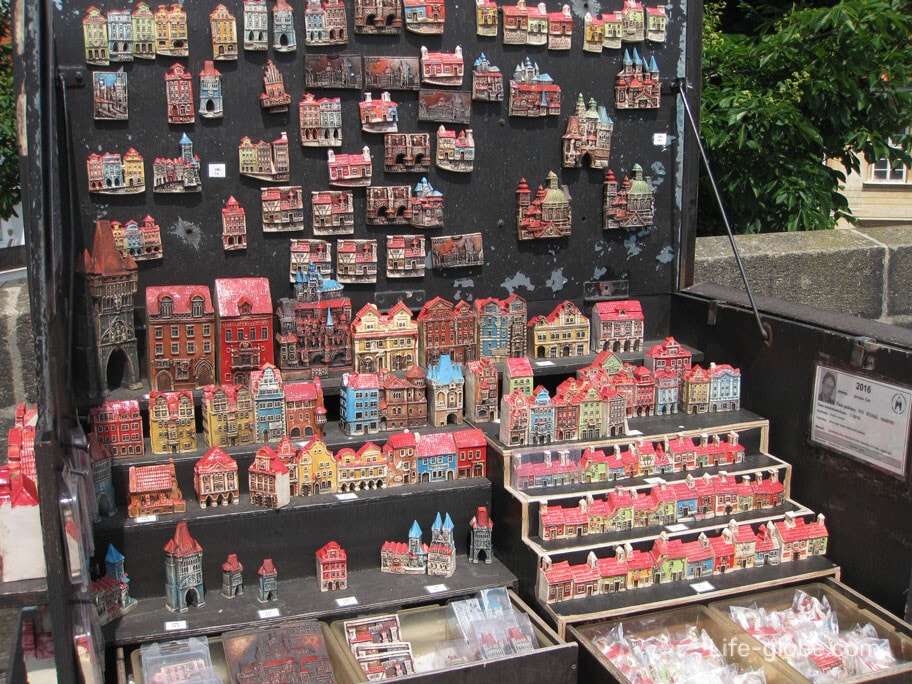 All accommodation facilities in Prague (hotels, apartments, guest houses, etc.), including family ones, located in the historical center of the city and more remote from it, can be view and book here