Terra Natura - themed nature Park in Benidorm, in our opinion, simply the zoo. Unlike Park Terra Natura from the usual for us and friends since childhood zoos in the Park Terra Natura presents not only animals but also various kinds of plants (flora). Besides, Terra Natura is a modern zoo, in which its inhabitants created comfortable conditions for life, as close to the natural habitat of animals, without the use of visible barriers (where this is possible, predators, of course, an exception). Due to such barriers, visitors have the opportunity to immerse themselves in the world of wildlife.
In the Park there are places, contact zoo, where you can touch some of the harmless animals or birds, ride on a donkey or pony, to see how near you have to hand-feed the elephants or camel and enjoy the show, which take place twice a day at the Park arena.
Next to Terra Natura is Aqua Natura (Aqua Natura). You can visit each Park separately or buy a combined ticket to both the Park.
Terra Natura Park is divided into four themed areas: Pangea, America, Asia and Europe. Each zone correspond to the animals that live in different parts of the world.
Transitions from animal to animal is made in the form of shaded paths to walk which in itself is a pleasure. In the Park of peacocks roam freely.
Area of Pangaea (Pangea) in the Park Terra Natura
Pangaea - the entrance area to the zoo. It is home to snakes and insects. There are offices, a gift shop, café, toilets, medical center, room mother and child, Luggage storage, etc. This area is very colorfully stylized.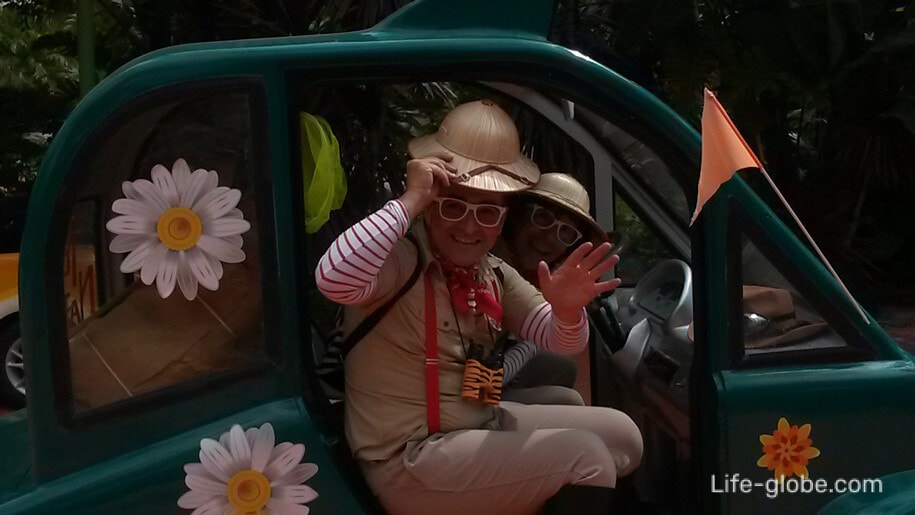 Zone Is America
The second largest area of the Park. In this area you can see birds: parrots, flamingos, ducks, geese, etc. All of them are away from you at arm's length.
Monkeys, turtles, Jaguar, Panther, leopard and other small, but no less cute animals
Area zoo
Area Asia in the Park Terra Natura
The largest and Central part of the zoo. Here elephants, camels, monkeys, lions, tigers, crocodiles, hippos, hoofed, birds of prey and other animals that live in Asia.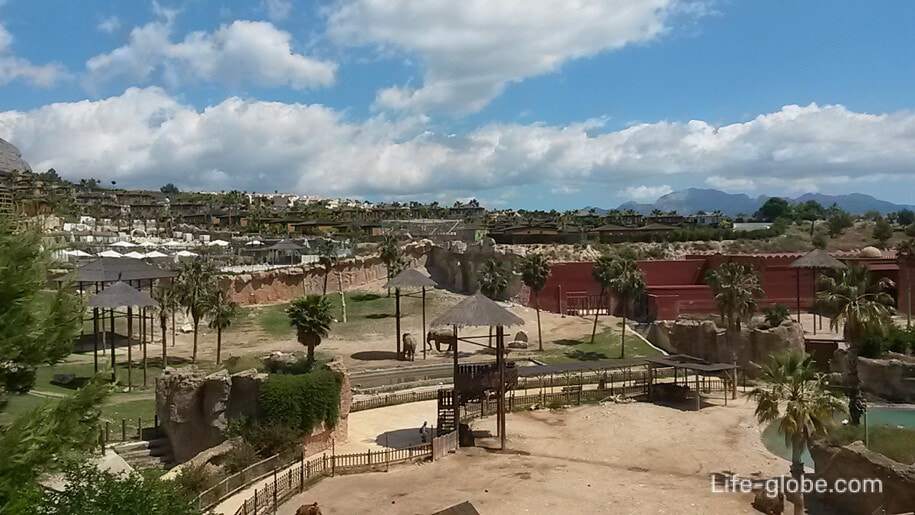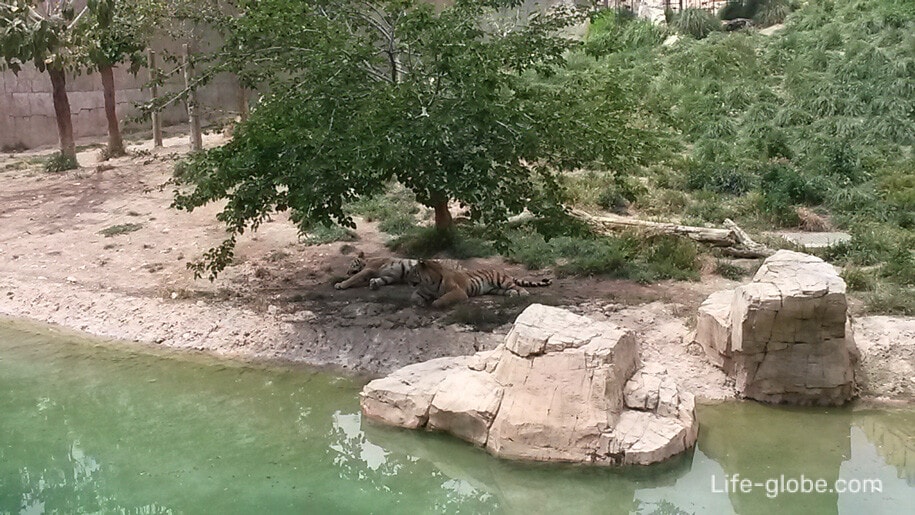 Apart from the animal world in the area of Asia are cafes and picnic, and a children's Playground and Multiaventura/Multiaventura, where you can relax and have fun, not only for children but also for adults, overcoming various obstacles.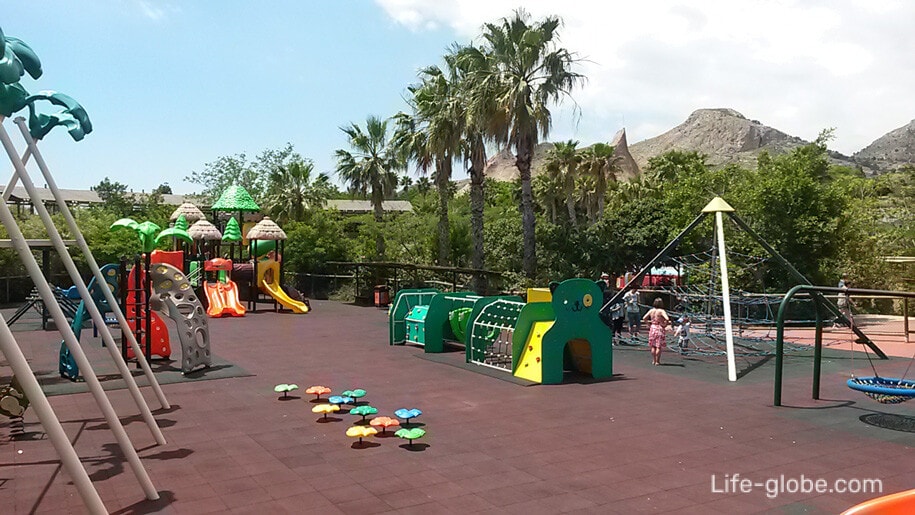 Is the arena in which twice times a day in front of your eyes takes place with participation of animals and birds of prey. The show runs at 12:00 and 16:00 hours.
Zone Europa in the Park Terra Natura
The third largest area of the Park Terra Natura.
Well what animals based live in Europe? Correctly, for the most part cute and quite harmless! Europe is a petting zoo. Here the animals you can pet, feed and just walk with them along equipped paths.
At the zoo and the water Park is a 4-star hotel Magic Natura Animal, Waterpark Polynesian Lodge Resort.
The hotel occupies a large area on which the Bungalow. The bright and spacious bungalows with air conditioning and free Wi-Fi. All bungalows are equipped with a microwave and a flat-screen TV and a private terrace and an EN Suite bathroom with a Hairdryer and free toiletries.
The hotel offers stunning views of the Park Terra Natura. For leisure, guests can enjoy numerous water sports and to take part in a day/night Safari or in workshops on the protection of the environment and science.
Opening hours of the Park Terra Natura
The Park is open to the public all year round.
Hours of operation Park from 10:30 or 11:00 to 17:30, 18:00, 18:30 or 19:30 hours, depending on season and day of the week.
The cost of tickets to Terra Natura Park
There are various Park tickets: tickets for one day or for families and groups, as well as annual subscriptions; on a visit to one of the parks - Terra Natura or the water Park or a combo ticket to visit two parks.
Tickets can be purchased at the box office of the Park (on the spot), and pre - online.
To see the mode of operation of the Park Terra Natura and the water Park, cost of tickets and purchase the tickets online on the official website of the Park Terra Natura.
How to get to Terra Natura Park from the centre of Benidorm and Finestrat
Terra Natura Park is located in close proximity to the entertainment Park Terra Mitica.
Get to the Park by car, taxi or public bus.
For guests to Park a car near the Park with a spacious Parking lot. The cost of Parking is 5 Euros.
Park city bus No. 1, 3 and 15. Buses No. 1 and 3 pass by the Park Terra Natura and follow to Park of Terra Mitica. In the daytime, often there is a bus No. 1. The fare is € 1.50.
Bus No. 1 from to Aqualandia, Terra Mítica, Terra Natura through. Bus route No. 1: Aqualandia/Mundomar Severo Ochoa - Ametlla Mar - Rincón Loix - Mediterraneo - Bnd. Centro - Estacion Tren - Terra Natura Terra Mítica.
Bus route No. 3: E. Autobuses - Europa - Triangular - 'aigüera/Rufaza - Jaime I - Pº de Poniente - Bali - Calas - C. Comerciales - Mítica T. - T. Natura.
Bus number 15 should of Finestrat. Bus route No. 15: Pueblo Finestrat - Balcon de Finestrat - Golf Bahia - Tapiada Umbria - Terra Natura - Centros Comerciales - y Calas Finestrat Villajoyosa - Bali.