Saint Julian's Bay is a Bay (big Bay), which is a relatively large, according to Maltese standards, sea Bay, uniting parts of the towns of St. Julians and neighbouring Sliema on the island of Malta.
Although this bay is considered to be large, however, it is possible to bypass all its coast in unhurried steps in two hours.
Along almost the entire coast of the Gulf lie the walkways (promenades), along which cafes and restaurants there are also shops, several beaches, hotels and attractions.
Part of the Bay of St. Julian's consists of three smaller Bay
Spinola Bay, located in the town of St Julian's. It is the most sought after, famous and large bay of St. Julian's Bay.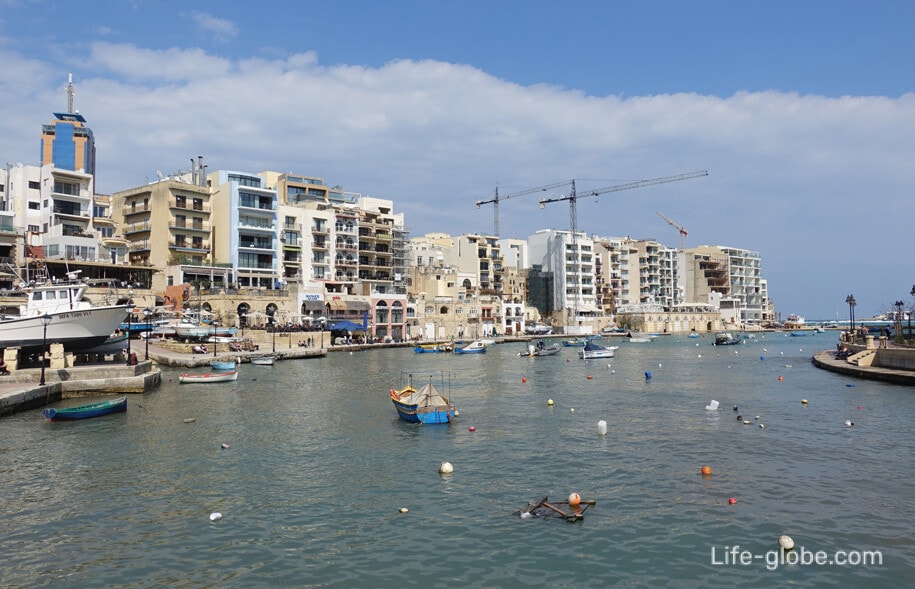 The main attractive places of Spinola Bay are:
- the Northern part of the Bay, with promenade, restaurants and colourful fishing boats. Also in this part of the Bay is a 4-star hotel Cavalieri Art with sun terrace and swimming pool on the beach;
- Immaculate Conception Church, the first stone of which was laid on 16 June 1687;
- sculpture "LOVE" in mirror - one of the favorite places for photographing and meetings. Read more about Spinola Bay...
Balluta Bay, also related to the Saint Julians.
Compared to Spinola Bay, Balluta Bay is a small, but pleasant for walking and recreation.
Along the bay there is a promenade with cafes and restaurants, there is a small beach, and areas for relaxing and swimming are also equipped.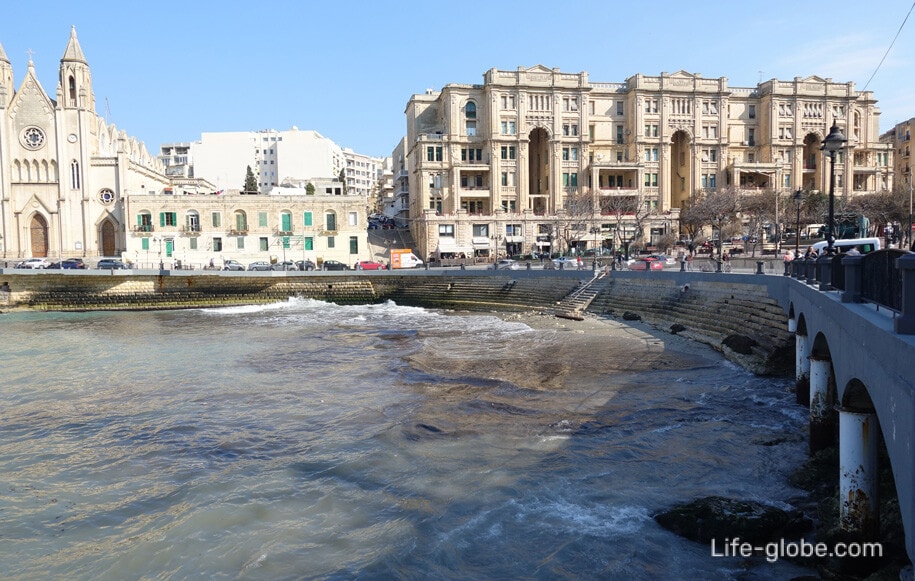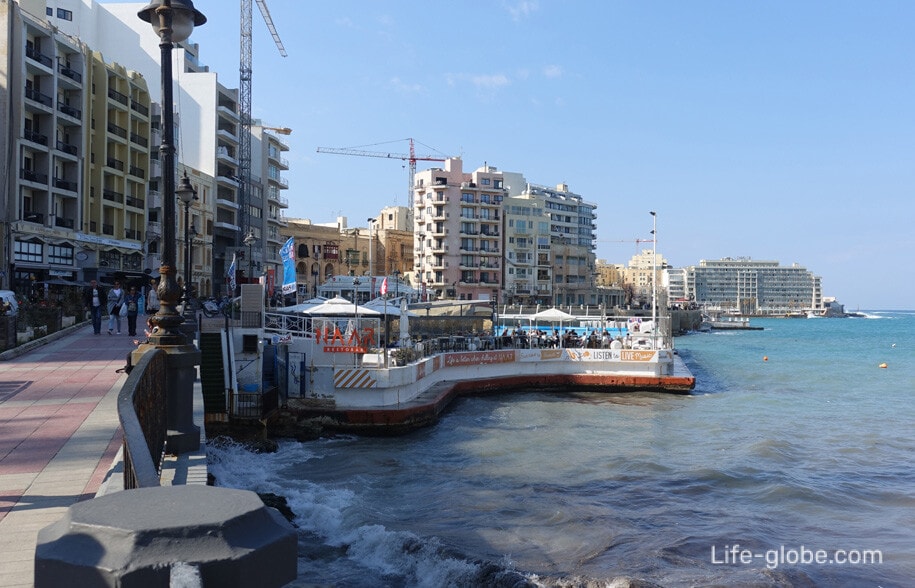 The sights of Balluta Bay:
- neo-Gothic parish Church of the Carmelites - the main and most beautiful Church, St Julian's;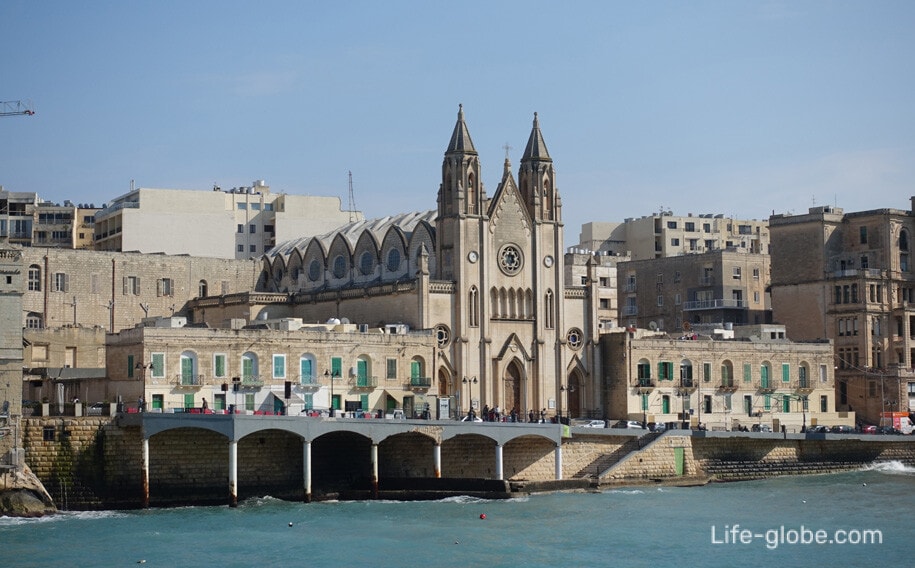 - Balluta square of the same name, the center of which is decorated with an elegant fountain;
- the building in art Nouveau Balluta (Balluta Buildings) - residential building, built in 1928 for the Marquis John Scicluna. The house was designed by Giuseppe Psaila. The building is considered one of the best preserved examples of modernist architecture in Malta and one of the most iconic buildings on the island. Read more about Balluta Bay...
Exiles Bay - the third and last Bay more Bay, St Julian's.
Exiles is the most inconspicuous bay (cove), located in the town of Sliema, on the border with the neighboring town of St. Julians.
In the bay of Exils there is a rocky beach of the same name. In some parts of the beach strip, railings are equipped for more comfortable entry into the sea.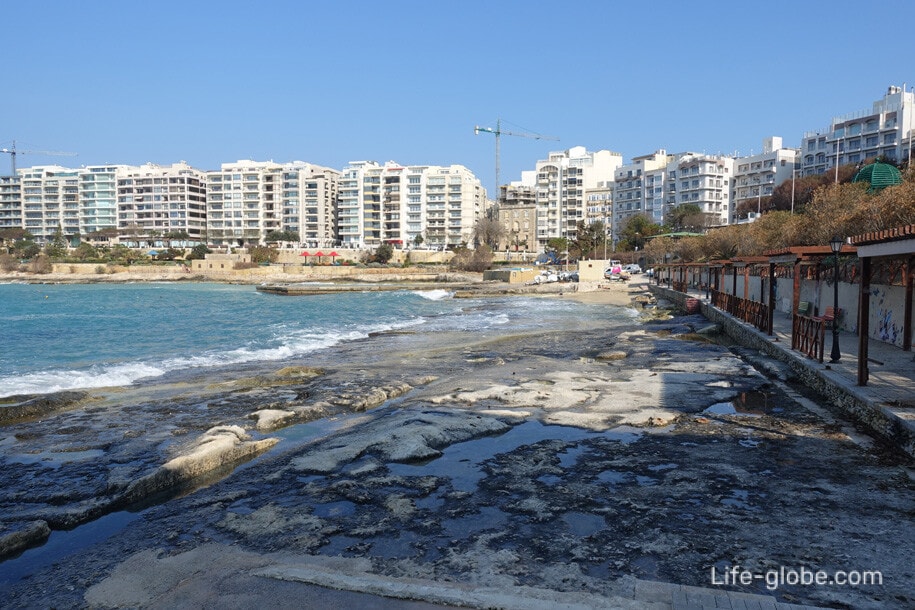 The Exiles Bay captures part of the Independence gardens, which are equipped with walking areas, recreation areas, playgrounds, kiosks with food and drinks, as well as toilets and a small fountain.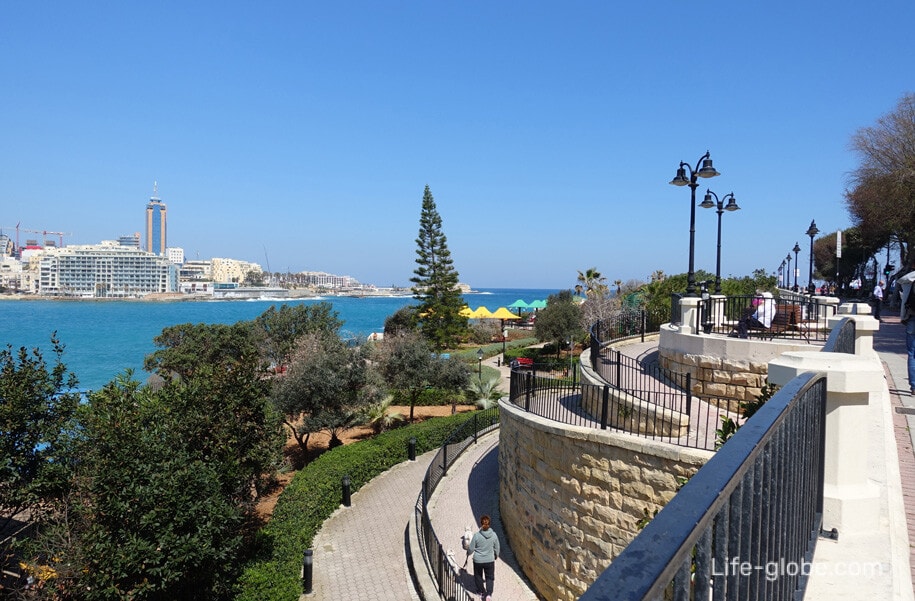 Along the Bay of Exils and only Independence Park from the sidewalk (embankment, promenade) and road.
On the waterfront: places to stay, cafes, kiosks with food and drink, sculpture and a fountain in the form of a spinning ball. Read more about the Exiles Bay...