Portomaso Marina is a luxury residential and business complex located in St. Julian's, near the Bay of the same name.
Coordinates: 35 ° 55,264 'North latitude, 14 ° 29,697 'East longitude.
Currently Portomaso is not only a residential complex but also a popular place for walks and rest, where, if you want, you can stay for a few days.
Portomaso Marina was opened in 1999. Within the Harbor are three swimming pools with berths for ships.
Near the moorings are located in elite residential complexes, including residential houses, hotels and apartments with swimming pools, sun terraces and restaurants.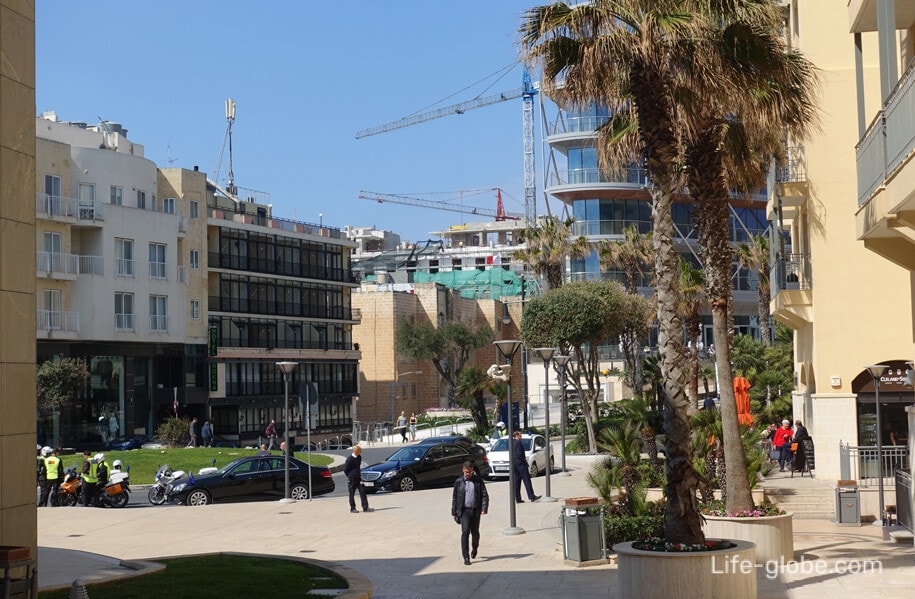 The 5-star hotel Hilton Malta from a Spa center with the indoor pool, 4 outdoor pools and 2 kiddie pools. It offers panoramic views of the Mediterranean sea.
Marina View Luxury apartment with private Parking, terrace, air conditioning, free Wi-Fi and a flat-screen TV.
In the Portomaso complex is also part of its main attraction - the tower Portomaso (business center "Portomaso"), located just above the Marina.
Portomaso Business Tower is the highest building of the island of Malta, which is well seen from many points as the St. Julian's and nearby towns. The building was opened in 2001, has a height of 97,54 m (320,0 ft) and 23 floors of mixed commercial office space.
On the ground floor are retail space, while the upper night club with an outdoor area, with views of the island of Malta. Also in the tower is a casino.
The Website Of Portomaso Marina.
Close to Portomaso is located in a historic building - Spinola Palace, built in the 17th century by the knights of St. John.
Originally, the palace was built on the rocky shore of Spinola Bay, but today more modern buildings separate it from the bay.