Portofino Harbor - a small harbor (Port of Portofino, Bay), around which the small town of Portofino is grouped.
On both sides of the harbour of Portofino, surrounded by hills, between which is a narrow passage for the yacht, whereas on the part of the city, near the harbour, is the most famous and visited area of Portofino Martiri Dell Olivetta (Piazza Martiri Dell Olivetta) better known as the Piazzetta (Piazzetta).
The harbour and the square represent a single whole and are most sought after location in Portofino, the image of which you can see on numerous postcards and Souvenirs.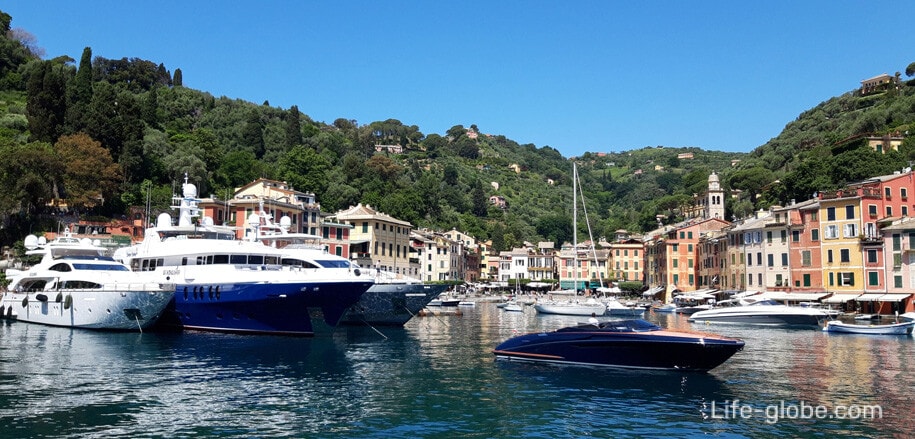 Along the perimeter of Martiri del Olivetta square, colorfully painted buildings are located close to each other, on the ground floors of which there are cafes and restaurants with outdoor tables. There are also hotels and apartments.
From the square is clearly visible bell tower of the Church of St. Martin of the 12th century (Chiesa di San Martino). This Church is the largest in Portofino and is the main Church of the city. Read more about Saint Martin Church...
At the edge of the area bordering on the Harbor, there is a descent to the sea, where yachts are moored.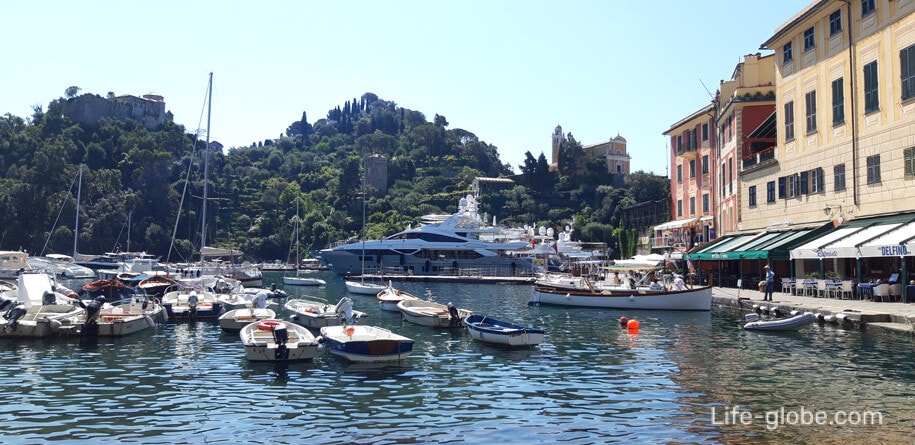 From the Northern part of the square originates street Calata Marconi, which runs along the Harbor. There are cafes and restaurants, there are several small shops.
From the southern part of the square lies Molo Umberto I, where more expensive yachts are moored, there is a yacht club.
From the port of Portofino you can take boat trips to the Abbey of San Fruttuoso di Capodimonte, in the resort town of Santa Margherita Ligure or national Park Cinque Terre.
Near Molo is a Park Museum with various sculptures on site (Museo del Parco). The entrance fee is 5 Euros.
Molo Umberto I lies at the foot of the Cape, overlooking the port of Portofino, where there are three attractions: brown castle, the lighthouse of Portofino and the Church of St. George, near which is an observation deck, which offers the best views of the Gulf of Portofino and Martiri del Olivetta. Read more about Church of St. George and the observation deck...