Polyana 540 is one of the heights and the lower level of the year-round mountain resort Krasnaya Polyana (formerly Gorki Gorod).
Polyana 540 is located in the village of Esto-Sadok (Krasnaya Polyana) at an altitude of 540 meters above sea level.
Unlike all other heights of the Krasnaya Polyana resort, you can easily get to Polyana 540 by public transport (buses, electric trains) - there are public bus stops in Polyana 540, and there are railway stations nearby.
Also in Polyana 540 there is the lower station of the resort's cable cars, from where, first on the Krasnaya Polyana gondola cable car (K-1), and above on other lifts, you can climb to various heights of the resort located on the Aibga ridge.
Glade 540 runs in a mountain gorge on a plot of about 2.2 kilometers. On the one hand, Polyana 540 is bounded by the Mzymta River, and on the other - by Estonskaya Street, which is the main transport highway of Esto-Sadka and along which there are bus stops.
The main arteries of Polyana 540 are two streets: Gornaya Karusel Street, which runs along Estonskaya Street, and the embankment of the Mzymta River-it is also Vremena Goda Street or Vremena Goda embankment.
The embankment of the Seasons is the main pedestrian street of Polyana 540. The embankment is landscaped, has recreation areas and a path that is suitable for walking and jogging.
All the main infrastructure of Glade 540 is concentrated along these two streets and in the depth of the streets, that is, between them. There are hotels and apartments, shops and salons, cafes and restaurants, pharmacies and parking lots, there is a shopping center, a park, children's and sports grounds, places for recreation, a fair, a casino, a museum and a concert and entertainment arena.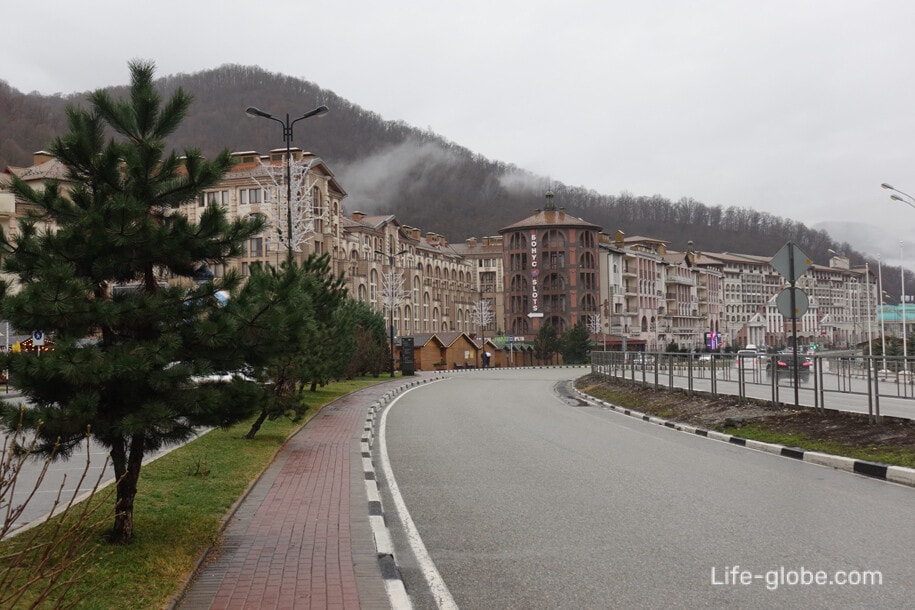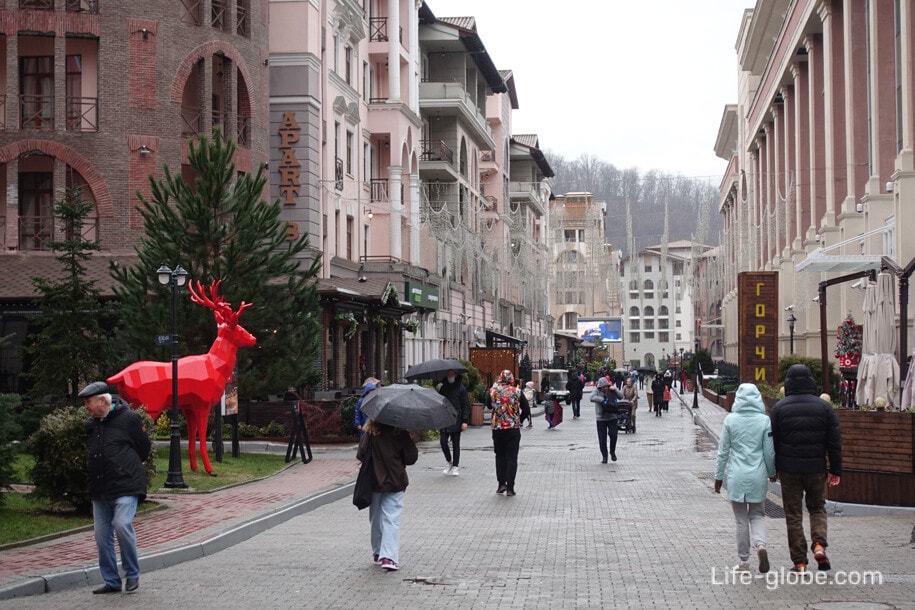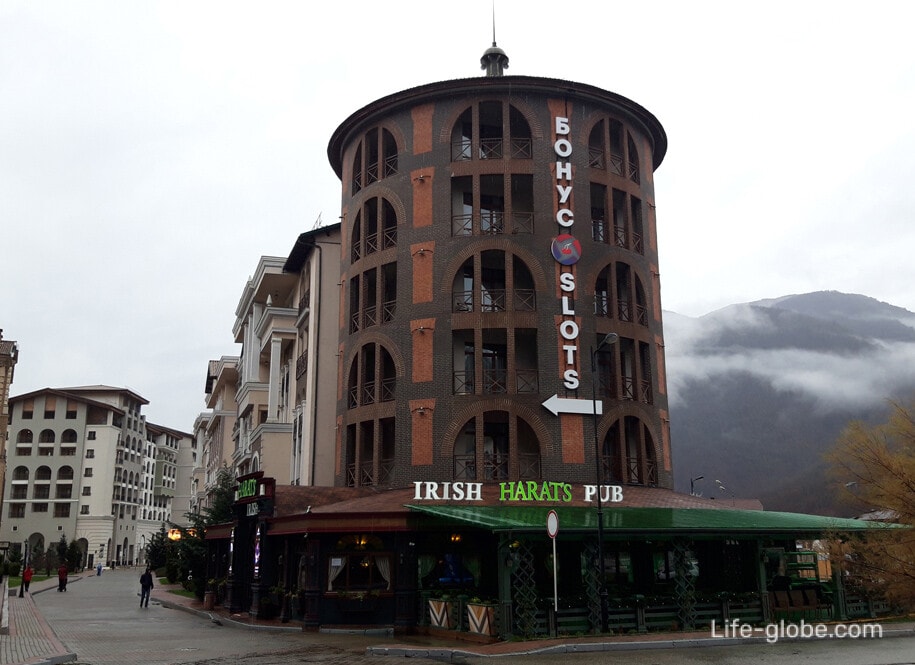 The most respectable hotel in Polyana 540 is the 5-star Marriott Sochi Krasnaya Polyana Resort with an outdoor swimming pool, a restaurant, a bar, a fitness center, a children's club, free Wi-Fi, a ski storage room and ski equipment, a spa center with a sauna, a steam bath and an indoor pool.
The rooms are equipped with airconditioning, a flat-screen TV with satellite channels, a refrigerator, a safe, a minibar, a work area and a seating area with a sofa. Featuring a bath or shower, the private bathroom also comes with a hairdryer, bathrobes, slippers and free toiletries.
Breakfast is included in the room rate. Link to the hotel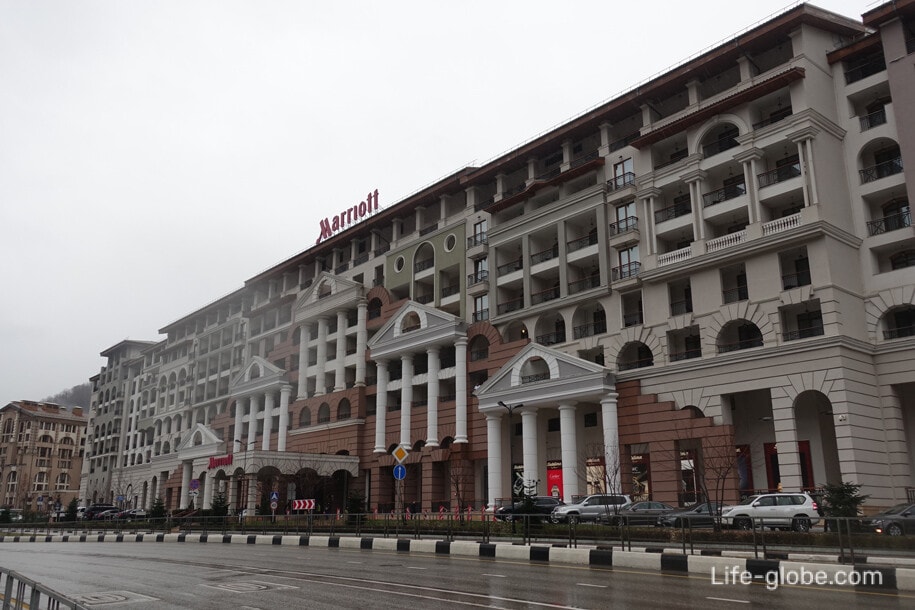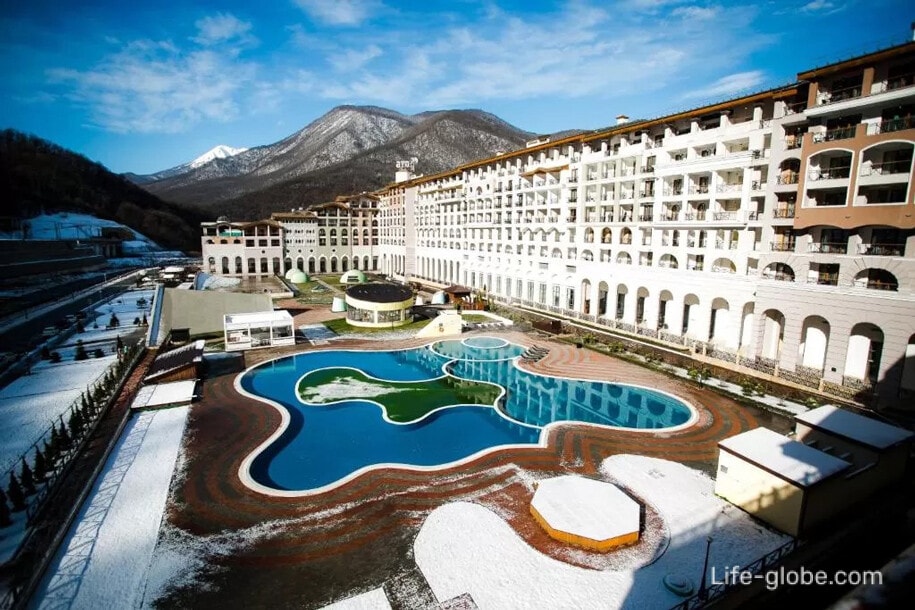 Also not bad: 4-star Courtyard Marriott Resort Sochi Krasnaya Polyana, 3-star Bonus Hotel Krasnaya Polyana, Gorki Gorod Apartments and apart-hotel Gorki Gorod Apartments 540m.
All accommodation facilities in Esto-Sadok, including in Polyana 540, can be viewed and booked here
Four Seasons Park
Vremena Goda Park is a space with well-maintained alleys for walking and places for recreation, a children's playground, outdoor exercise equipment, the largest skate park in Krasnaya Polyana, a sports territory for fans of workout, football and basketball.
The skate park has an area of 1060 sq. m and is designed in accordance with the recommendations of the Russian Skateboarding Federation. The main area of the park is a concrete pool with radius walls, along the edges of which there are elements of the street: a handrail (railing) and grindboxes (concrete parapets). The skate park is suitable for both beginners and advanced riders riding a skateboard, BMX / MTB bikes and roller skates. There is a skateboard and roller skating school in the park, where instructors can teach you how to ride a skateboard, roller skates or a scooter. You can also rent everything you need for a skate park at the school.
In the Seasons Park there is a stage where a program for children of different ages is held: dances, interactive games and contests with prizes and gifts.
The Seasons Park is open to everyone all year round, admission is free (free of charge). The park is located on the territory between the 8th apartment and the embankment of the Mzymta River.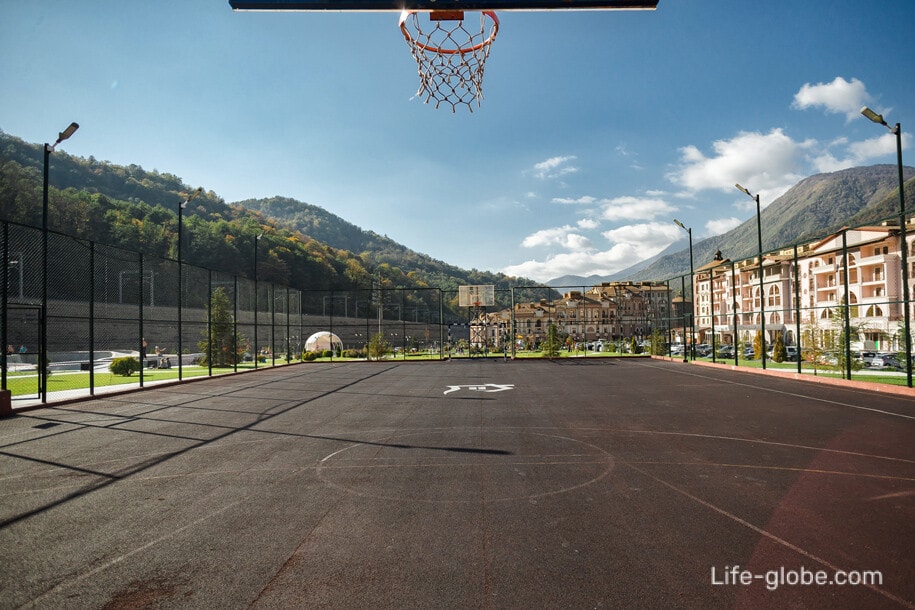 Rope park and climbing wall
A small rope park and a climbing wall are located on Gornaya Karusel 6 Street.
Fair
The fair of taste and entertainment is located on the fairground.
At the fair, various goods are sold from wooden tents.
There is a children's carousel here.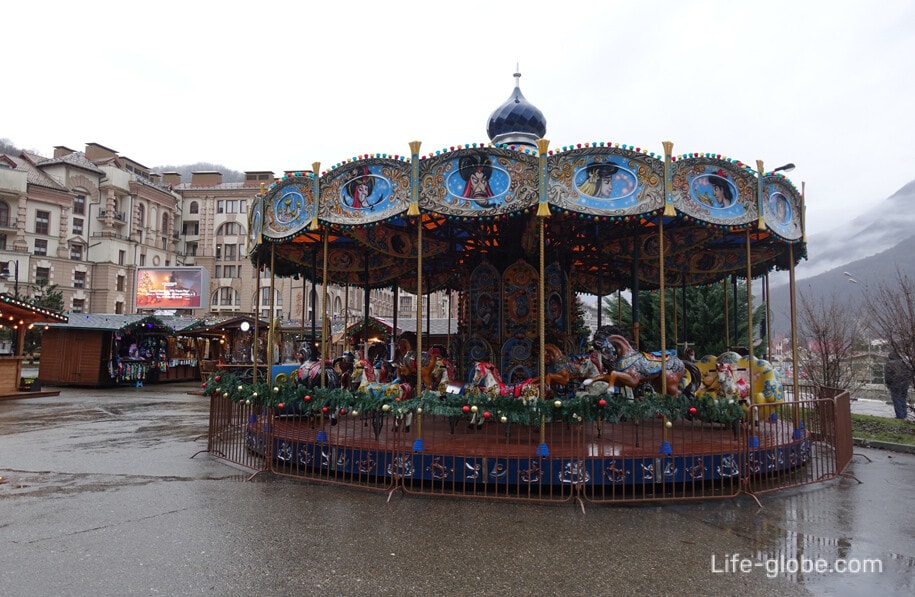 Gorki Mall Shopping Center
Gorki Mall is a multifunctional shopping and entertainment center, where there are: shops and salons, ATMs and pharmacies, laundry and dry cleaning, a large supermarket, a water park, a cinema, bowling and billiards, a children's club, an esports club, an entertainment zone and catering.
The shopping center "Gorki Mall" is located at the address: Gornaya Karusel Street, 3. Learn more about the Gorki Mall shopping center…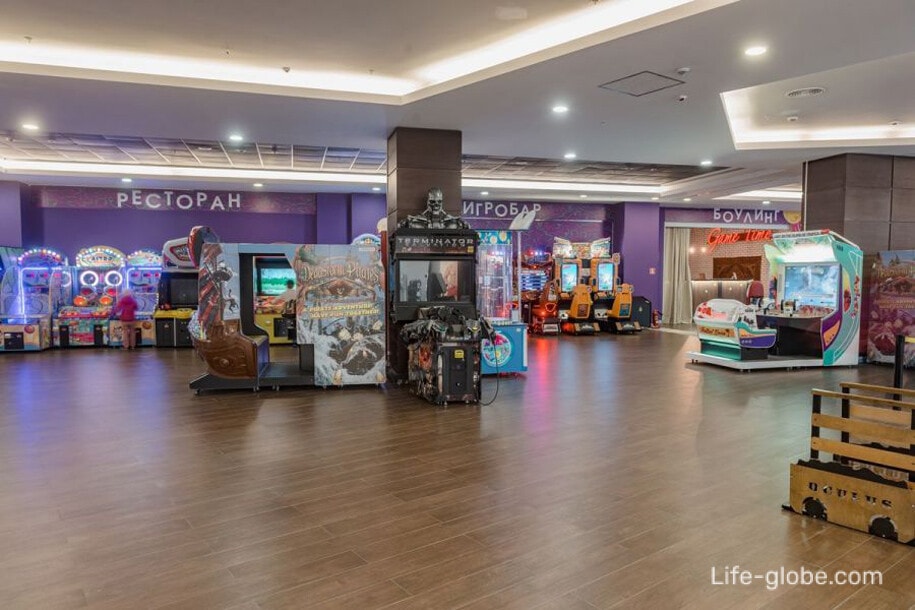 Sochi Casino
Sochi Casino is a cultural and entertainment complex located on 33,000 square meters.
In the casino: restaurants, a bar, a poker club, a slot machine hall, roulette.
The casino offers gaming halls with the latest generation slot machines, American roulette tables and card tables, as well as a separate poker club for fans of cash games and tournament poker.
The casino hosts entertainment show programs, live performances of musicians and concerts of famous Russian and world stars, themed parties, broadcasts of leading sports events and intellectual shows.
The Sochi Casino complex also includes a banquet hall, a cabaret theater and a conference space.
The address of the Sochi Casinois 51 Estonskaya Street. More about Sochi Casino…
WOW Arena
WOW Arena is a concert and entertainment venue with the possibility of organizing events of any level.
The arena was built according to a Dutch project with the use of modern technologies in construction, which makes it possible to make the site mobile-transformable for any event formats: concerts, fights, conferences, exhibitions, discos, etc.
The total capacity of the auditorium is from 500 to 3000 seats.
Various events are regularly held on the site: music programs and concerts, fights and shows, performances of artists and theatrical productions.
The address of the WOW Arenais 51 Estonskaya Street.
WOW Arena website: wow-arena.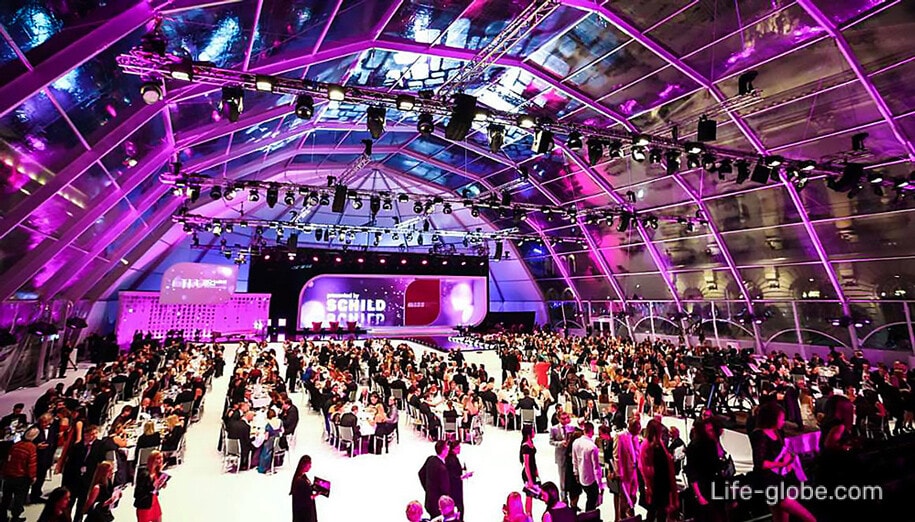 Museum of Friends
The Friends Museum is a space for people who are passionate about mountain sports, where guests are told the history of the development of off-piste skiing in Russia and the emergence of Krasnaya Polyana; where guests can see (and possibly test) historical models of snowboards and downhill skis from legendary riders, as well as watch retro movies.
The museum exposition presents samples of snowboards and alpine skis of future collections, historical models of snowboards and alpine skis, photos of off-piste skiing and active recreation, as well as other artifacts, such as maps of the area, ski passes, chest plates, sports awards.
The museum has a mini-bar and a gift shop.
The museum has a freeride center "Yeti Guide Bureau" - a platform created for holding events related to mountains, sports, hobbies and travel. On the basis of the freeride center, lectures, master classes and meetings with interesting people are held. The visit to the center is free of charge.
The Friends Museum is located in Apartment 34.
The lower station of the cable cars of the Krasnaya Polyana resort
The lower Krasnaya Polyana Station is the initial (first) and one of the cable car stations of the year-round mountain resort Krasnaya Polyana, located on the cable car square in Polyana 540.
In the lower station there are: an information center, ticket offices, terminals for the sale of ski passes and walking tickets, an instructor service, luggage storage (lockers) and a souvenir shop.
There is an adventure bureau in the ticket office building, where you can book summer trekking with guides on the slopes of the Krasnaya Polyana resort, training in a mountain bike school, training in a roller and skateboard school; rent tourist equipment, mountain and city bikes.
Near the lower station of the cable car there are: parking lots, public bus stops, ski equipment rental, cafes and restaurants, shops, hotels and apartments.
From the lower station, the ascent to the mountains begins on cable cars.
The ascent from the station is possible on the gondola (closed cabins with seats inside, with a capacity of up to 8 people) cable car "Krasnaya Polyana" (K-1).
The K-1 cable car lifts guests to the "Glade 960" mark in 7 minutes, located at altitudes of 840-960 meters above sea level and is the second height of the resort. Learn more about Polyana 960…
The length of the K-1 lift is 1721 meters. The height difference is 436 meters.
You can go up and down on the K-1 lift all year round using walking tickets (without skating), and in the winter season also by ski passes. Learn more about the K-1 cable car…
This cable car is one of the points of ascent to the ski slopes and entertainment of the resort, as well as to the peaks "Polyana 2200" and the Black Pyramid 2375.
In addition to the K-1 lift, Glade 960 can be reached by car.
Directly near the lower station of the cable cars of the Krasnaya Polyana resort and opposite to it there are stops of public buses that run along Esto-Sadk, Krasnaya Polyana, as well as from/to Sochi, Adler.
Map-scheme of Glade 540
Near the Clearing 540
On the opposite side of Estonskaya Street, in Esto-Sadka, there are also accommodation facilities, shops, cafes and restaurants, baths, there are ski equipment rental services.
From the placement funds:
-The 4-star VERTEX SPA Hotel features a restaurant, a seasonal outdoor pool, a bar, a shared lounge, a spa and wellness center with an indoor pool and sauna, a garden, a 24-hour front desk and free Wi-Fi throughout.
Breakfast is included in the room rate;
-Luxury House in Gorky is a 2-bedroom holiday home with free Wi-Fi, air conditioning, a shared lounge, barbecue facilities and free private parking.
The house featuresa kitchen with a fridge and an oven, a flat-screen TV, a seating area and 2 bathrooms with a shower;
- apartment complex Cottages Khomutovsky Dvorik with free Wi-Fi, barbecue facilities and a ski storage room.
Each cottage has a TV, a balcony and a patio. There is a fully equipped kitchen with an oven and a microwave, and a bathroom with a bath or shower and bathrobes. The rooms offer a view of the garden;
- Chalet Terrazza ApartHotel offers rooms with free Wi-Fi, free private parking, a sauna and a ski storage room.
Rooms here will provide you with a balcony, air conditioning, a flat-screen TV and a private bathroom with a shower and a hairdryer.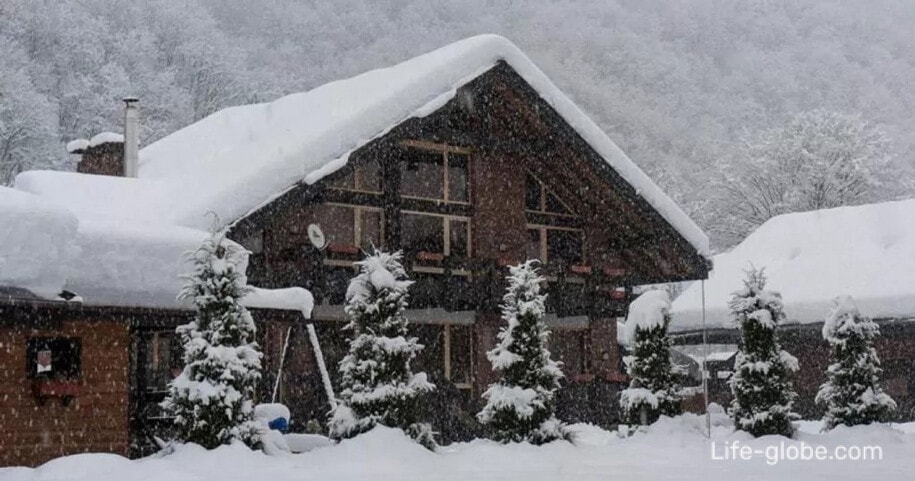 At the address: 35 Estonskaya Street, there is the house-museum of A. H. Tammsaare - a cultural, historical and ethnographic museum dedicated to the classic of Estonian literature of the 20th century Anton Tammsaare (real name Hansen/Hansen).
A. H. Tammsaare was an outstanding Estonian novelist, playwright and author of the epic novel "Truth and Justice", which brought him European fame. He lived in Esto-Sadka from May to October 1912, being treated for tuberculosis, and was fascinated by this place.
On August 6, 1988, in memory of the classic of Estonian literature, a memorial museum was created and opened in the house where he lived, which still exists today. More about the Tammsaare House Museum…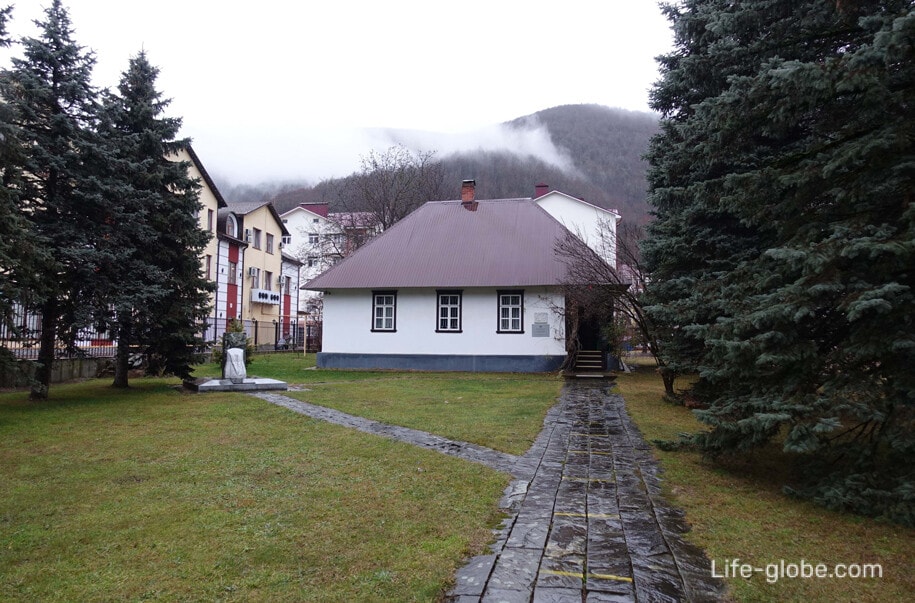 Practical information
Polyana 540 is available all year round.
How to get to Polyana 540
The nearest airport to Polyana 540 and, accordingly, to all the ski resorts of Esto-Sadok (Krasnaya Polyana) is located in the city of Sochi (Adler), 43 kilometers from Estosadka. Flights to Sochi (Adler) →
The fastest and most convenient way to get from Sochi airport to Polyana 540 (Esto-Sadka) is by taxi. You can order a taxi / transfer in advance, even from home. At any time of the day, at the airport, a driver will be waiting for you with a sign where your first and last name will be written. To order a taxi is enough to inform your flight details.
If you arrive by car, you can leave it near the lower station of the cable cars of the Krasnaya Polyana resort. There are also parking spaces on the territory of the entire Glade 540 and in the Glade 960 (parking is paid).
More information about how to get to all the ski resorts of Krasnaya Polyana (Esto-Sadok), including the mountain resort of Krasnaya Polyana, can be found here →
All possible year-round accommodation facilities (hotels, apartments, chalets) in the Krasnaya Polyana resort are located in two places: on the lower level - "Polyana 540" and on the second level of the resort - "Polyana 960".
All accommodation facilities in Esto-Sadok, including at the Krasnaya Polyana resort (Polyana 540 and Polyana 960), can be viewed and booked here