Stadtpark Neue Welt (Neue Welt Park) is a Park in the city of Memmingen Bayern.
Visiting, even passing through a small but very well maintained and pretty town in Bavaria - Memmingen, it's impossible not to find the time and look at a pair of Neue Welt.
Park Neue Welt is located near the train station and the city centre of Memmingen on the street Schumacherring (Summering). It is best to reach the Park is by foot. Generally Memmingen, a small town easy to walk around, admiring the views and measured life of local residents. Detailed route from the train station and the city center (Central street Maximilianstraße (maximilianstraße)) to the Park can be viewed here.
In warm and Sunny money is a great place to stroll with the whole family, to enjoy the scenery and relax. The Park has plenty of greenery, there is a natural body of water (river) and always pretty quiet.
Summer in the middle of the Park there is a summer café where you can sit and drink German beer. We walked through the Park in early October and unfortunately the cafe has not worked.
The river in the Park leads from the Northern part of the Park to the South and continues to the city. Along the river are placed benches on which to sit, relax, read a book or eat.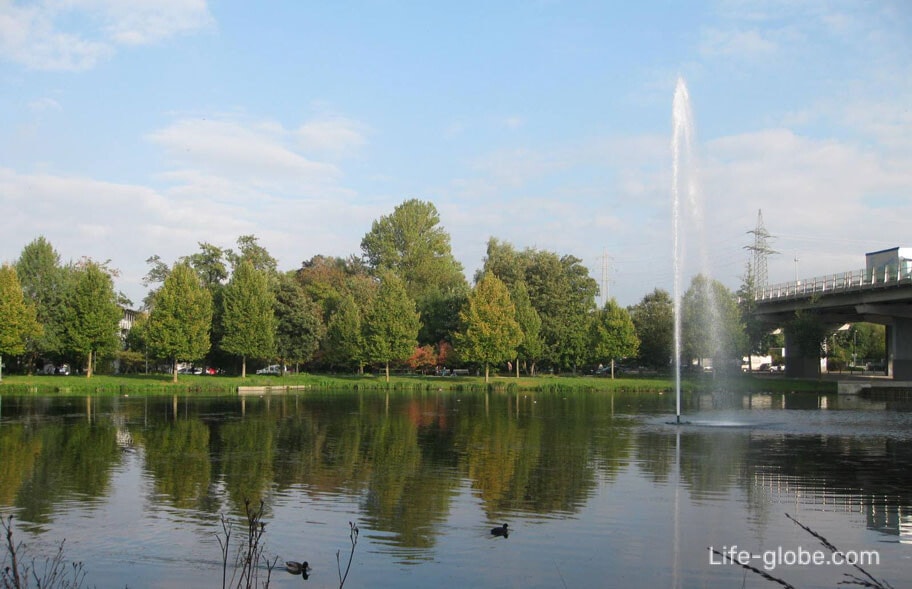 In the Northern part of the Park in the pond inhabited by ducks and swans. They can admire and feed that will be good fun for the whole family.
This for us was a surprise! All for You, only clean up after your pet!
Although a few months later, on the promenade of Svetlogorsk in Kaliningrad region, we have seen exactly the same. The proximity to Europe, leaves his fingerprints)).