Palazzo San Giorgio Palazzo delle Compere di San Giorgio (Palazzo San Giorgio Palazzo delle Compere di San Giorgio) is one of the most important, and, no doubt, the beautiful historic buildings of Genoa.
The Palace of San Giorgio in the waterfront district of the old port of Genoa, in Piazza Caricamento (Piazza Caricamento) and is its decoration.
Palazzo San Giorgio consists of two separate parts (buildings):
- the older part, typical example of medieval civil architecture of red brick and stone Foundation, surmounted by a scalloped wall with a rectangular plan, with the facade facing the internal space of square Caricamento.
The building has a portico formed by five pointed arches supported by four columns and more massive columns at each corner;
- Renaissance bright part facing the sea, with facades completely covered with frescoes. The upper part of the Central (Western) facade of the building facing the sea, decorated with a tower with a clock.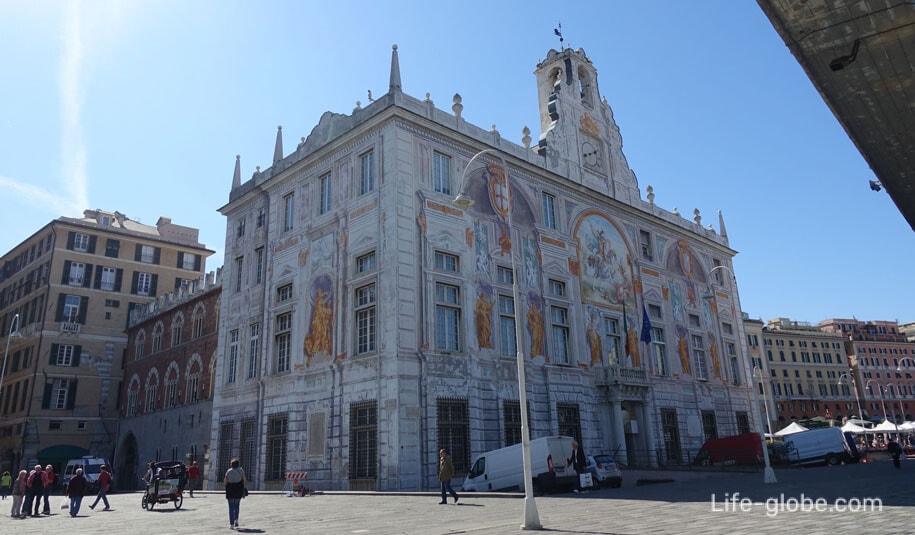 The Palazzo originally consisted of one building, built between 1257 and 1260 years, by order of captain Guglielmo Boccanegra and was called the Palazzo del Mare or sea Palace (Palazzo del Mare), because going out directly to the sea.
Since the 15th century, the Palace was one of the oldest banks - the Bank of San Giorgio, from which the Palace got its current name.
The most important extension of the Palace had to 1570, when the East side was added to the building adjacent to the existing, with a monumental facade, facing port.
On the ground floor of the new wing was placed customs offices and so vault in which were coins and precious metals; the second floor housed the archives of the Banco.
Later, the facades of the new building was painted with frescoes nobles of the period 1606 and 1608 and the center of the main facade was adorned with a mural depicting a victorious act over the dragon.
In the 17th century in the center of the facade was erected clock tower.
The Bank of San Giorgio (Banco di San Giorgio) ceased operations with the fall of the independent Republic in 1797, and was finally disbanded in 1805, after the Italian campaign of Napoleon.
In the late 19th century had a complete reconstruction of the oldest part of the Palace and the main halls. Subsequent restoration of the Palace occurred in the 20th century.
Currently, the Palazzo San Giorgio is the administration of the Genoese port.
The inner space of the Palazzo San Giorgio remarkably narrow rectangular courtyard with stone pillars, a bas-relief of the 15th century, a Grand staircase leading to the second floor, hardwood and mosaic, statues of benefactors of the Bank and visible fragments of the ancient part of the Palace.
Website: palazzosangiorgio.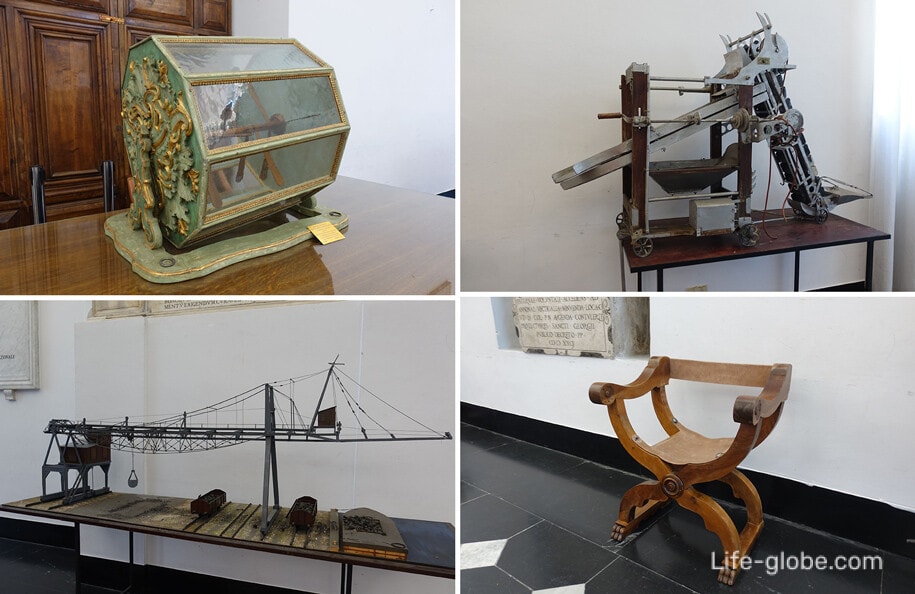 All accommodation facilities in Genoa, including in the city center, near the beaches and more remote from them, can be viewed and booked here