Benidorm, the main and one of the most popular resorts on the shores of the resort area of the Costa Blanca.
Benidom the coastline stretches for several kilometers along the line of the Mediterranean sea. In Benidorm and the nearby (walking) area, including the municipality of Finestrat and the Eastern part of the city of Villajoyosa, there are seven different beaches, two of which are suitable for those who like to sunbathe and swim naked.
Nudist beaches of Benidorm and the surrounding area - la Almadrava and Raco Del Conill
Both beaches are secluded rocky coves, hidden from curious prying eyes. The beaches are located on both sides of the center of the city: one on the East side, second from the West.
The Beach Of Almadrava
Almadrava beach (Cala L'almadrava) is located in the natural Park of cold mountain (Park Natural de Serra Gelada). Almadrava beach is an unofficial nudist beach, where you can also sunbathe naked out there in a bathing suit.
The beach is a small natural Bay, flanked by rocky ledges. On the beach sand, interspersed with stones and boulders. The bottom is rocky, the sea water is clear and clean.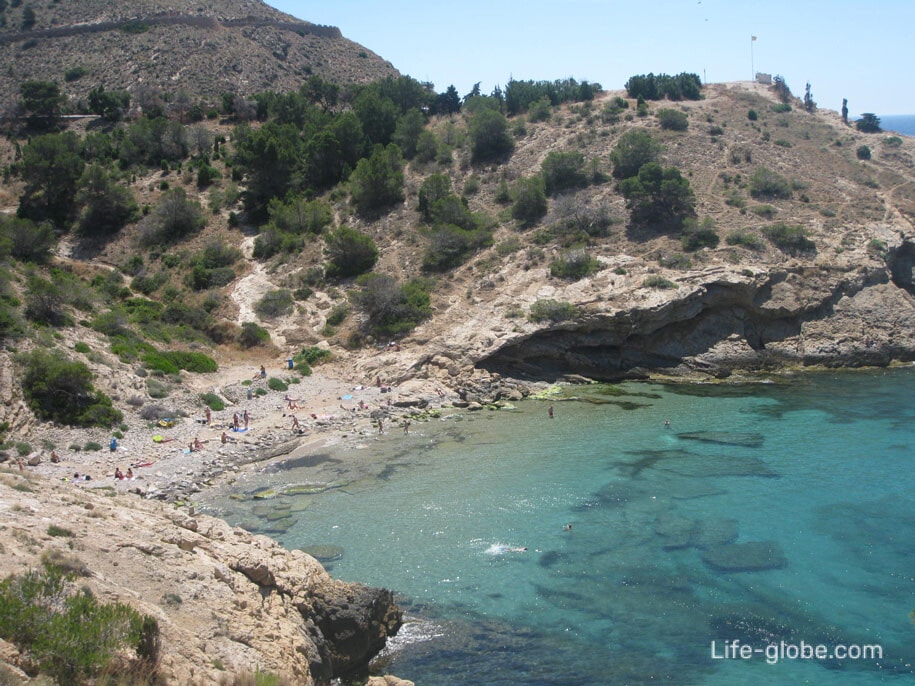 From the beach of Levante beach Almadrava separated by a mountain. To get to the beach you can follow to the end of the Levante beach, then follow the road up the hill. Beach Almadrava is located to the right of the road. Near the beach there are places where you can Park your car.
The road to the beach is a downhill mountain trails
In case anyone is interested, we have a review of all the beaches of Benidorm, ranging from the small and quiet coves, ending the main sandy beaches.
Beach, Raco Del Conill
Official nudist beach. Geographically, the racó beach, each of Conill (or Crustacea, Kony) is located outside Benidorm and refers to the town of Villajoyosa (Villajoyosa or). But to reach it from the centre of Benidorm is quite real.
The beach is a secluded small Bay, sheltered from prying eyes rocky coast. On the beach sand, mixed with stones and rock formations. This is a favorite place for nudists in and around Benidorm. The sea is transparent and clean.
To the beach are the decks and stairs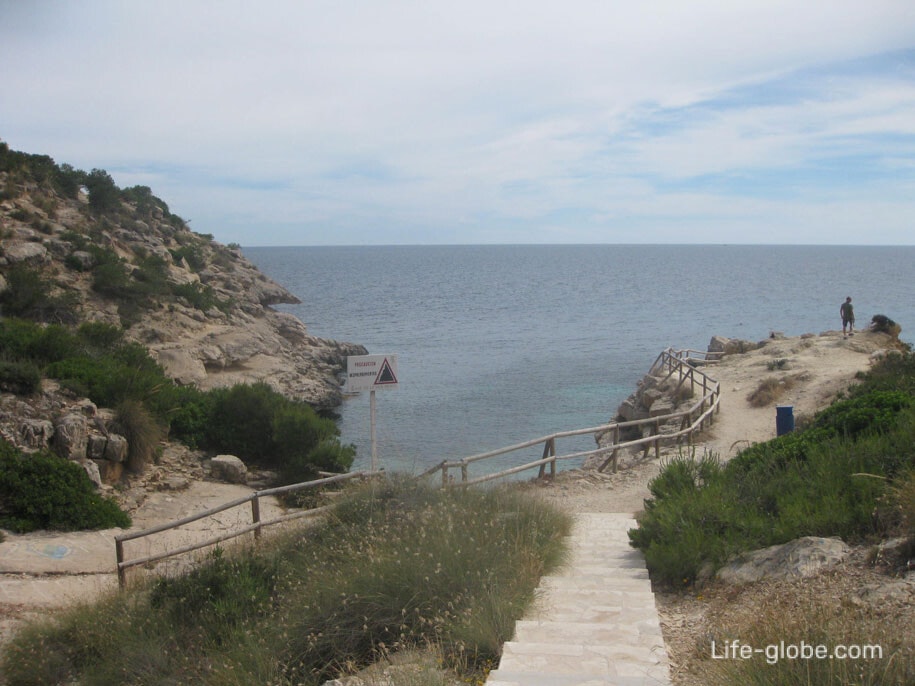 This beach is located West of the beaches of Poniente (Poniente) and Finestrat (Cala Finestrat), with the mountain. To get from Benidorm is by car or Bicycle and on foot. In order to walk to the beach of Cala Finestrat, a little climb up the road Tramuntana (Tramuntana Carrer), then turn on Mistral (Av. Mestral) and go along the white fence
then turn left and follow the mountain paths to the sea. On the road you will see blue marks on stones and trees.
Following according to the label, directly go to a nudist beach, Raco Del Conill. In the vicinity of the beach, among vegetation and rocky coast can find a lot of hiding places for people practicing nudism.
Near the beach, Raco Del Conill there are places for Parking
Sea water on the two above mentioned beaches are clean and transparent, and craggy rock formations along the shore, a great snorkeling. So, if you are going to visit these beaches, don't forget to take a mask and snorkel, but the swimsuits are best left at home:-)