Markets in Thailand are not only a place where retail sales of goods are carried out, but also a whole culture. The markets are always full of life, in which locals take a direct part, here they shop, eat, buy ready-made food, communicate and just spend time.
Some beaches in Phuket have their own night market, including Karon Beach and nearby Kata Beach.
Night markets, or rather evening markets, are exit markets. They work outdoors (they are also called street) on certain days in the evening, and are suitable for small purchases, in the form of beachwear, inventory, souvenirs, handmade products and other trinkets, as well as enjoying local street food and fruits.
The night market on Karon is a popular place visited not only by tourists, but also by locals.
The location of the market on Karon, how to get there
The Karon Night Market is located in the center of the "tourist" Karon, on the territory of the Karon Temple (Wat Karon), also known as the Dragon Palace. The market is called Karon Temple Market (Karon Temple Market).
The easiest way to get to the market from Karon Beach is by following the ring up Patak Rd, past numerous cafes and restaurants, straight to the first turn. At the turn, on the left side of the road, the temple will be located. A bus passes near the market, following the route "Phuket Town - Karon - Kata".
Operation of the Karon market
The night market on Karon is open to the public every Tuesday and Friday.
The market starts working when the heat subsides. There is no exact start time of the market, and to a greater extent the opening hours depend on the weather - if it is cloudy in the sky, then traders can start work earlier, if it is too hot, then a little later. The first tents appear at about 16:00 hours. The market starts working fully from about 16:30 - 17:30 hours.
Most tourists visit the market when it gets dark and there is nothing to do on the beach, it's around 19:00 hours.
Since the market is mobile, the number of tents depends on the season, weather, Thai holidays, etc. Most tents are on the market during the high tourist season (from December to March inclusive) and in good weather.
The market is open until 22:00. The size of the market also depends on the number of buyers, the remaining goods and the weather. Traders can start gathering earlier or stay late and trade longer.
Products at the Karon Night Market
On the territory of the temple, merchants set up tents, from which there is a lively trade.
The main part of the market territory is occupied by tents with clothes, bags, shoes, various souvenirs, oils, cosmetic products and all sorts of things, mainly aimed at tourists.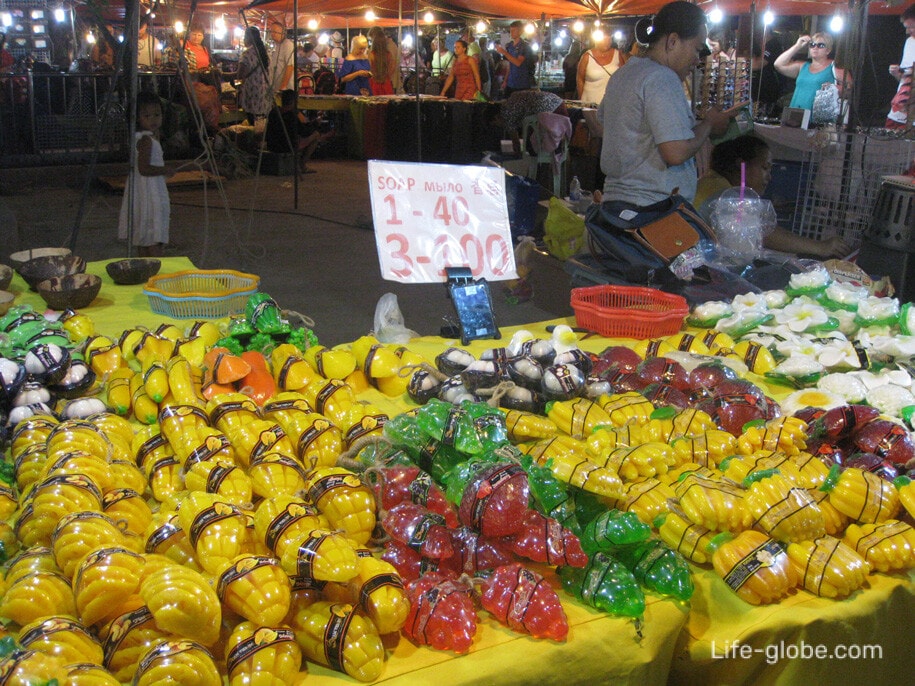 But tourists and locals are particularly interested in that part of the market where they sell ready-made food, some of which are prepared here, with you.
There is enough ready-made food on the market.
There are various vegetables and fruits, both in kilograms, and cut into pieces and packed.
Juices and fresh drinks
You choose a cup of fruit for yourself, and they will make fresh fresh out of the contents, however, they will add ground ice from a large vat there.
Remark! This ice and water didn't look very good. We preferred to buy fresh fruit.
When you cook and immediately sell snacks and skewers: meat, fish, sausages, soy and meat balls, skewers made of tofu cheese, etc., a great variety. Fried shrimp and other snacks.
There are large shrimp on skewers, at a price of only 15-25 baht. Many people confuse them with real shrimp. We have repeatedly heard people standing near such shrimps saying: "Wow, what shrimp and so cheap, let's get it." Stop! It's not shrimp! These are ordinary crab sticks made in the form of shrimp. Also, crab sticks are put in inexpensive Thai rolls with shrimp.
The market also sells smoked fish, duck, ribs, shrimp, eggs, donuts, pancakes, French fries, salads, rice with various fillers and other ready-made food.
Thai rolls (sushi); it tastes nothing. Boiled rice is inside, and the whole filling is on top. The filling is different: fish, eggs, seaweed, shrimp, octopuses, caviar, salads, crab sticks ... there are many variations. Soy sauce and wasabi included. Come up, take a plastic container and type into it how many and what kind of rolls you want, after which they will be counted to you and pay based on the quantity.
The famous Pad Thai noodles. Here it will be cooked in front of your eyes. There is always a queue for a portion of noodles.
Prices at the Karon Night Market
Prices at the Karon night market are different. There are goods that are cheaper than in other places of Karon, and there are those that are more expensive, for example, some fruits.
Merchants can first call the inflated cost of goods, you need to bargain. Someone willingly lowers prices, when others do not make concessions.
Practical information
Karon Night Market Address: 456, Patak Rd, Karon, Mueang Phuket District, Phuket 83100, Thailand.
You can get to the Night Rank and Karon Beach from Phuket Airport directly by minibuses, which you will find at the exit from the airport.
By public buses from Phuket Town, from Ranong Street, the bus "Phuket Town - Kata - Karon". This bus passes through two streets of Karon, first along the upper Pathak, then follows the street along Karon Beach.
Also, from Phuket airport and other places on the island, you can get to Karon by taxi, tuk-tuks, rented motorbike or car.
Rent a car in Phuket (all places and airport) →
All accommodation facilities on Karon (hotels, apartments, etc.), both directly near the beach and more remotely from it, can be viewed and booked here