New York Palace hotel, also known as the new York Palace Budapest - the eclectic building - a former Hungarian office of the new York company of life insurance.
The New York Palace was built between 1892 and 1894 years by architects Alajos Hauszmann, by Flóris Korb and Kálmán Giergl for the Hungarian head office of the new York company of life insurance, where historical Greek, Latin, Renaissance and Baroque styles are mixed in typically the creative structure of art Nouveau.
After a period of decline during the two wars, thanks to a meticulous restoration, the Palace doors opened again in the mid 1900-ies. After the collapse of communism, the building was bought by Italian Boscolo Hotels chain in February 2001, after which it was completely refurbished and reopened on 5 may 2006 as a luxury hotel and a fully refurbished café on the ground floor.
Nowadays, the New York Palace is one of the most recognizable and luxurious buildings in Budapest.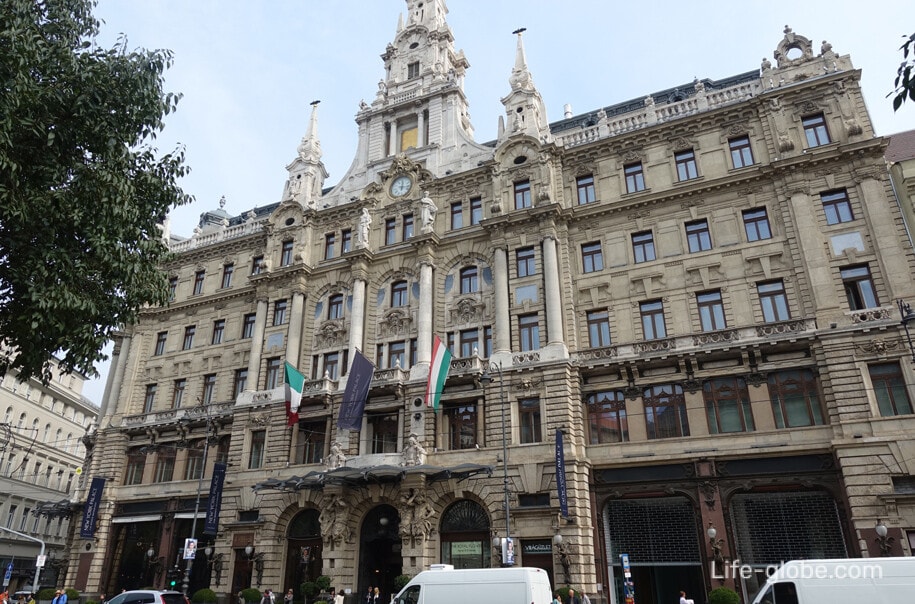 On the first floor of the building is the legendary café "New York", opened in 1894 by the Hungarian coffee industrialist Sandor Stasera. After the opening, the Budapest New York cafe quickly became a privileged meeting place for the local elite, which also frequented and ordinary citizens.
The interior of the cafe with high columns, impressive frescoes, gilded stucco, marble and partly resembles the design of Church halls in the Baroque style.
Visit new York café can be anyone. During the high tourist season to take a table, you may have to stand in the lobby. You can reserve a table in advance.
Site new York cafe in Budapest: newyorkcafe.
The main part of the building the new York Palace is a luxurious 5-star brand hotel chain is Dedica Anthology / Autograph Collection, formerly known as Boscolo.
To services of visitors of hotel: free Wi-Fi, a fitness centre, a Spa centre with hydromassage pool, sauna and steam room, a piano bar with live music and a restaurant.
Rooms are equipped with air conditioning, Italian furniture and chandeliers in Murano glass. The walls are covered with silk Wallpaper. In the rooms: mini-bar, tea/coffee maker, safety Deposit box and interactive satellite TV.
Room rates may include Breakfast. Link to the hotel
New York Palace hotel is located in the centre of Budapest, just a few steps from the metro station Blaha Lujza (M2 line), at: Erzsébet krt. 9-11 - 1073 Budapest.
From Budapest international airport Ferenc Liszt, located about 20 kilometres, the hotel can be reached by taxi in approximately 30 minutes.
Taxis can be booked in advance (online), even from home. At any time of the day, at the airport, you will meet your driver with a sign, which will be written your name and surname. To order a taxi is enough to inform your flight details! Taxi in Budapest →