The Museum Bridge (Museumsbrücke) is one of the bridges over the Pegnitz River in the historical center of Nuremberg.
Name of the bridge
Over its long history, the bridge has had so many names, including: Barefoot Bridge (Barfüßerbrücke / Barfüsserbrücke), Joseph Bridge (Josephsbruecke / Josefsbrücke) - in honor of King Joseph I and the Royal Bridge (Königsbruecke / Konigsbrücke).
The "Museum" bridge received its current name in the 19th century, since the "Museum" Society owned a house that was built on the site of a former Franciscan monastery located near the bridge.
History and architecture of the Museum Bridge
The Museum Bridge is historical. Initially, the site of today's bridge was believed to be the oldest bridge in Nuremberg across the Pegnitz River - a wooden bridge that was documented in the 13th century.
In the following centuries, floods repeatedly destroyed the wooden bridge. In 1484, a new bridge was erected, having stone substructures and a wooden superstructure. However, the bridge was again severely damaged by flooding. In 1699, the city decided to replace the bridge with a more durable structure.
In 1700, the light saw a new stone bridge with two arched openings.
During the Second World War, the bridge was damaged by bombs. In 1954, the old city of Nuremberg was restored, together with the bridge, as part of flood protection measures. The bridge was rebuilt with the preservation of the architecture of 1700, but with twice the width and with three arched openings.
There are two Baroque-style pulpit structures with wrought-iron railings on the Museum Bridge: in honor of Emperor Leopold I and King Joseph I. In addition, the monuments are decorated with medallions, there are also coats of arms of the Holy Roman Empire, the Kingdoms of Hungary and Bohemia, Nuremberg and Nuremberg dignitaries (members of the city government).
Eastern Monument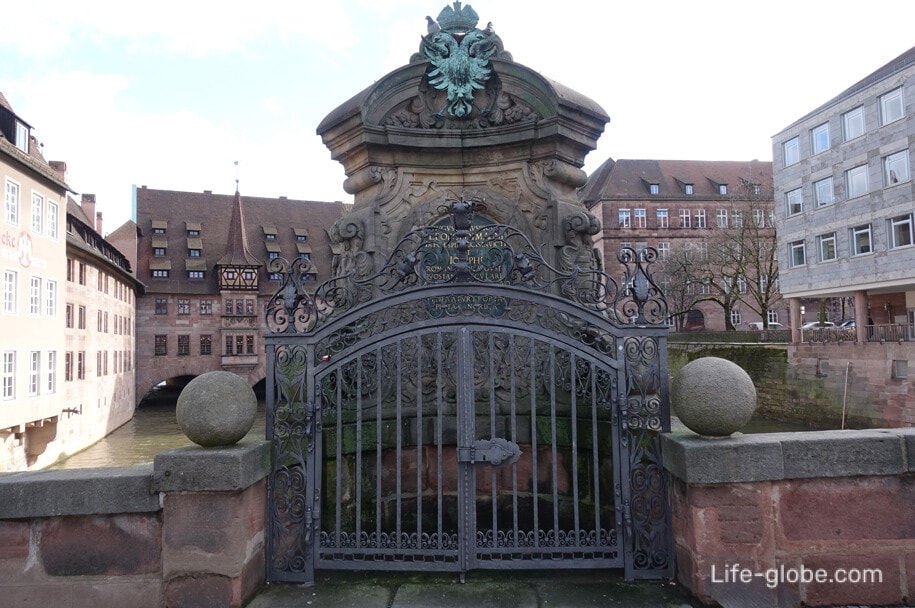 Western Monument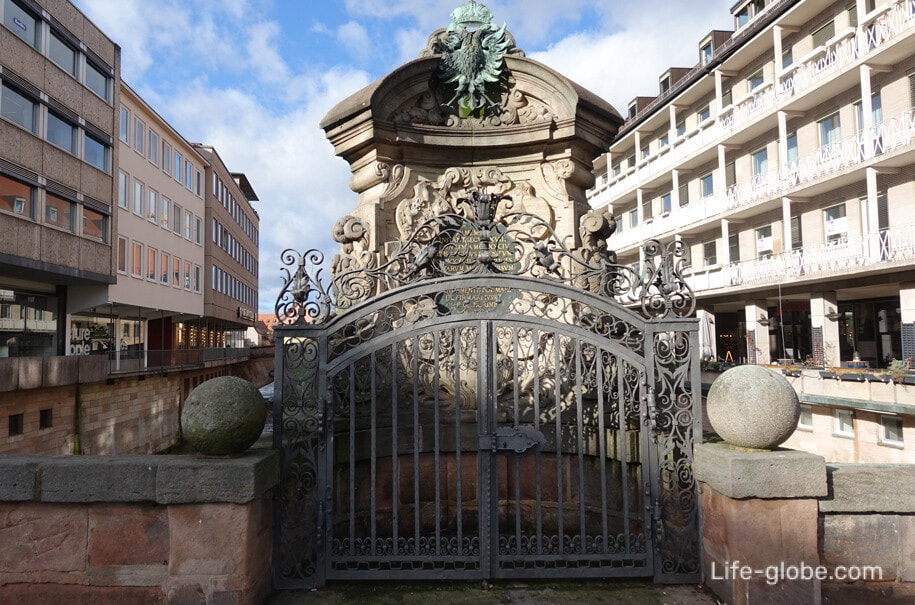 Views from the Museum Bridge
From the Museum Bridge, on both sides (east and west), there are views of the Pegnitz River and rows of buildings that come close to the waters of the river.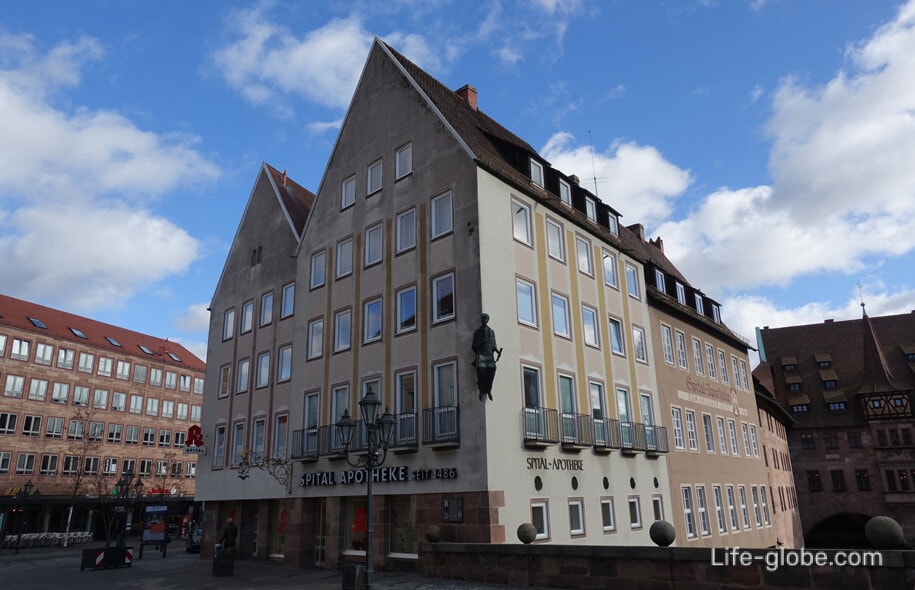 The historic building of the Hospital of the Holy Spirit (Heilig-Geist-Spital) is visible in the eastern direction.
In the west - Meat bridge (Fleischbrücke).
Practical information
The Museum Bridge is located in the old city of Nuremberg and connects two Nuremberg districts that are sides of the old city: Sebald and Lorenz, including Plobenhofstrasse and Königstrasse.
The Museum Bridge is part of the path that leads from Market Square (Hauptmarkt) to Lorenz Square (Lorenzplatz), where the Church of St. Lawrence (Kirche St. Lorenz) is located.
All accommodation facilities in Nuremberg, including in the city center and near the Museum Bridge, can be viewed and booked here