The Ostap-Bender Monument is a monument in St. Petersburg dedicated to the literary hero Ostap Bender.
The monument to Ostap Bender is located in the historical center of St. Petersburg, near the house of Jaco on 4 Italianskaya Street.
The Jaco House, which is also known as the Dashkov house, made in the classicism style, was built in the 1820s and 1830s by architects Pavel Petrovich Jaco and Karl Ivanovich Rossi. During its history, the house belonged to the family of the architect Jaco and the diplomat, the ambassador of Russia in Sweden, the actual privy councilor-Yakov Andreevich Dashkov, for whom the building was rebuilt in 1862-1863 by the architect Jerome Corsini.
In the early 2000s, the restaurant "Golden Ostap" worked in the basement of the house, at the entrance to which in 2000 a bronze statue of Ostap Bender was installed, which can still be seen today near the historic building on Italianate Street.
The monument to the hero of Ilya Ilf and Evgeny Petrov was created by the sculptor Albert Serafimovich Charkin and the architect Vyacheslav Borisovich Bukhaev.
The monument is a composition cast in bronze, in which Ostap is depicted as similar to the actor Sergei Yursky, who played the great combinator in the film "The Golden Calf" in 1968.
In the monument, Ostap is depicted as in the movie "Twelve Chairs" - next to the character there is a chair that was the target of the actor Andrei Mironov's hunt. Ostap himself is dressed in the famous scarf that has become his integral image, as well as a cap and a suit with a jacket in the waist.
Ostap stands with his head held high, leaning on a chair with his left hand. With his right hand, Ostap Bender holds a folder with a dossier on the underground millionaire A. Koreiko from the novel "The Golden Calf".
Thus, the composition of the monument to Ostap Bender is collective. It includes two well-known works by Ilya Ilf and Yevgeny Petrov, as well as two actors who played in the films of the same name.
The height of the monument is 190 centimeters.
The monument is made in such a way that everyone can sit on Ostap's chair and take a picture.
Beliefs are also associated with the monument:
- in order for luck to accompany you in some business, and the more daring it is, the better, it is necessary to rub your nose ("wipe your nose") Ostap;
- and for success in business and other major affairs, you need to sit on a chair and ask for help from Ostap Bender.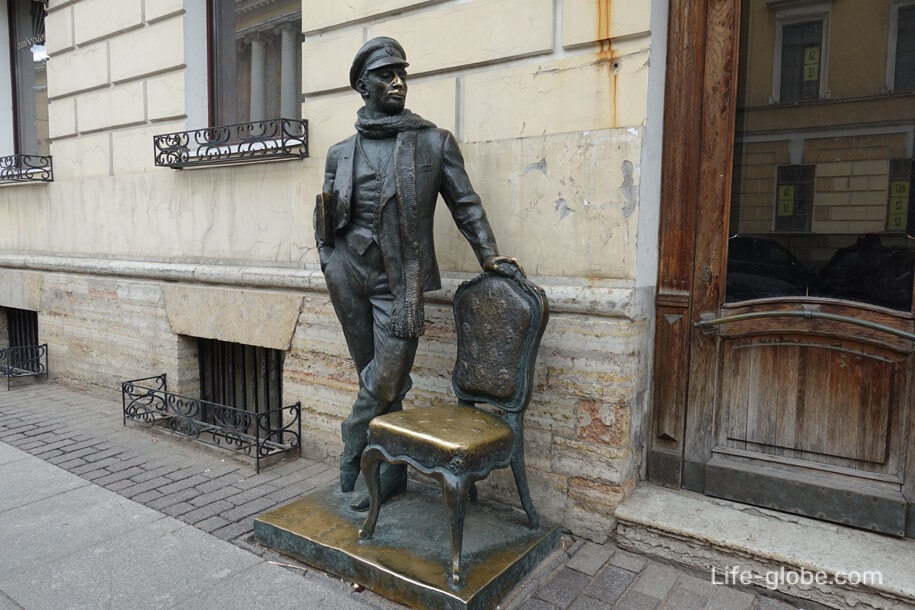 Practical information
The monument to Ostap Bender is publicly accessible. It is open 24 hours a day.
Coordinates of the monument to Ostap Bender: 59°56'13.0" N 30°19'43.0" E (59.936944, 30.328611).
Nearest metro stations: "Nevsky Prospekt", "Gostiny Dvor" and "Admiralteiskaya".
All accommodation facilities in St. Petersburg, including in the city center and more remotely from it, can be viewed and booked here