Mirror Maze (Zrcadlové bludiště na Petříně) - entertainment for children and adults in Prague, which is a popular attraction of the city.
The mirror maze is located on Petrin Hill (Petřín) in a building that looks like a small castle from the outside and was built according to the project of architect Ville as a pavilion of the Czech Tourists Club at the Anniversary Exhibition in Prague in 1891.
Initially, the labyrinth stood on the corner of the Industrial Palace (Průmyslový palác), and two years later it was moved to Petrin.
The building is an imitation of the former Gothic gate of Visegrad called Shpichka (Špička), built in the 14th century by Charles IV. The roof of the labyrinth is crowned with nine turrets. The names of the craftsmen who worked at the construction site in 1891 are placed on the weather vane of the labyrinth - they wrote them themselves.
Inside there is a mirror maze that leads guests to the image of the battle of Prague with the Swedes on Charles Bridge in 1648, more precisely, protection The Old Town Bridge Tower by the Jesuit Block.
The area of the painting is 80 square meters. In the picture it is interesting to see what the left bank of the Vltava looked like in the middle of the 17th century.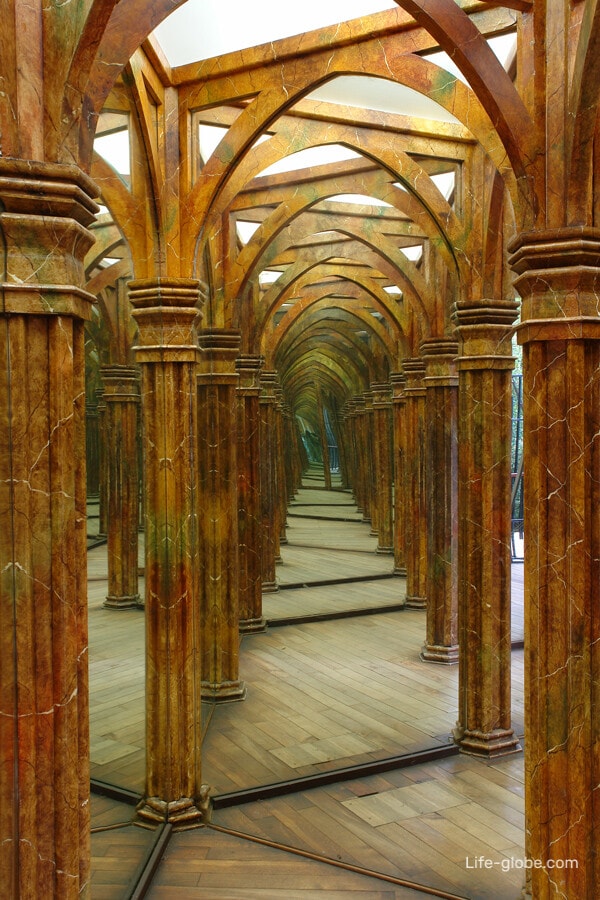 The second hall of the Mirror Maze is equipped with various curved mirrors and is called the "Hall of Laughter".
This is a favorite gym for children. Here the guests turn first into dwarfs, and then into long and tall, or thick and distorted.
Practical information
Entrance to the Mirror Maze is paid. There are discounted and family tickets.
You can also purchase a comprehensive ticket to visit the Mirror Maze and the nearby Petrin Tower with observation deck.
Website: zrcadlove-bludiste-na-petrine.
There is a Mirror maze on the Petrin hill, at: Petřínské sady, 118 00 Praha 1 - Malá Strana.
Coordinates of the Mirror Maze: 50°05'00.8"N 14°23'46.5"E (50.083550, 14.396244).
You can climb to the labyrinth along the paths of the Petrshin Hill or by the Petrshin funicular from the Uyezd tram stop (Újezd). Funicular route: County-Nebozízek-Petřín (Újezd - Nebozízek - Petřín).
A one-time funicular ticket is valid for the funicular, as well as a subscription to Prague, 24- and 72-hour city transport tickets, as well as travel documents at special rates and documents entitling you to free travel.
Tickets can be purchased at funicular stops at vending machines.
All accommodation facilities in Prague (hotels, apartments, guest houses, etc.), including in the historical center of the city and more remotely from it, can be view and book here