Maximilian Square (Maximiliansplatz Bamberg / Maximiliansplatz Bamberg), also known as Maksplatz, is a city square in the historical center of the German city of Bamberg.
On Christmas Eve, the main Christmas market of the city is located on the square.
Maxplatz is the largest and one of the most significant of the squares of Bamberg.
The square got its name "Maximiliana" in honor of the representative of the famous Wittelsbach dynasty, King Maximilian I Joseph of Bavaria, who was king of the Kingdom of Bavaria. Until 1805, the square was occupied by the Gothic church of Alt St. Martin (Alt St. Martin) of the 14th and 15th centuries, which was demolished during secularization.
The square is decorated with the Maximilian Fountain (Maximiliansbrunnen), which, like the whole square, is named after King Maximilian I. The fountain was created by Ferdinand von Miller in 1888. The fountain statues were cast in 1880.
King Maximilian I is placed on a high pedestal in the center of the sculptural composition. Around the column are sculptures of important personalities of the city of Bamberg: Henry II (973-1024), King, emperor and founder of the Diocese of Bamberg; Cunegonde of Luxembourg (Saint Cunegonde, 980-1033), wife of Henry II; Otto I of Bamberg (1060-1139), canonized bishop of Bamberg; Conrad III (1093-1152), German king, who was born and died in Bamberg.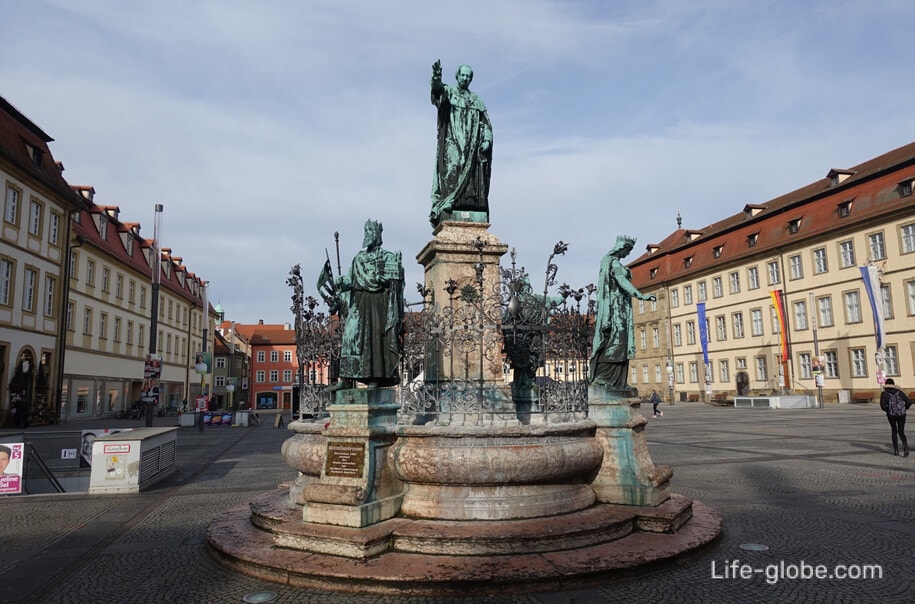 In the photo below, from left to right: the statue of Henry II, the statue of Cunegonde from Luxembourg, the statue of Otto I of Bamberg, the statue of Conrad III.
The perimeter of the square is surrounded by historically buildings that form a characteristic urban ensemble in the late Baroque style.
The main building on the square isThe new Town Hall (Neues Rathaus), erected by Balthazar Neumann in the 18th century and today is the city hall.
Something often happens on Maximilian Square. Fruit and vegetable markets are held here, a stage is set up and holidays and cultural events are held.
In winter, Maximiliansplatz becomes the most visited place in the city, because every year for a few weeks before the main holiday of the year - Christmas, the square and nearby streets turn into a "fairy tale" - the main Bamberg Christmas Market is located on the square.
During the fair, an elegant Christmas tree is installed on the square, traditionally decorated and decorated counters, from which street food, drinks, Christmas decorations and souvenirs, festive paraphernalia and other goods, including traditional handmade ones, are sold. In addition, at the fair you can see a large Franconian half-timbered nativity scene depicting various scenes from the Nativity story of Christ.
Coordinates of Maximilian Square in Bamberg: 49°53'39.5"N 10°53'22.6"E (49.894306, 10.889611).
All accommodation facilities in Bamberg, including in the historical center of the city, near Maximilian Square and more remotely from those, can be viewed and booked here