The Mal Pas beach (Playa de Mal Pas) is a small beach that is located in the heart of Benidorm, in a Bay, between two main beaches Poniente and Levante.
To get to the beach from Benidorm town centre on foot, through the Old town, steps to the sea, or pass through the port, from Poniente beach and Elche Park.
Although Cala del Mal Pas, in comparison with the other two Central beaches of Benidorm, cannot boast of its size, but the beach is the most beautiful in Alicante.
On all sides the beach is surrounded by the picturesque rocky ledges. On the left (East) side of the beach is the most visited part of Benidorm, with its historic centre, or, as they call it - the Old town of Benidorm.
In the old town the great bulk of the attractions in Benidorm - Spanish narrow streets and small squares with plenty of cafes, bars and restaurants, balcony of the Mediterranean and the old Catholic Church.
The beach is just 120 metres away. On the beach is fine and pleasant light-gold color of the sand. The beach is cleaned daily, the sand dub.
On the beach there is all necessary infrastructure: hardwood floorings, a medical center, a rescue rig, urn, soul to feet, also the beach is equipped with rental catamarans, sun loungers and sun umbrellas. The cost of 4,5 Euro lounger, sun umbrella costs the same. Sun lounger + umbrella = € 9. Two sun loungers + parasol = 13,5 Euros.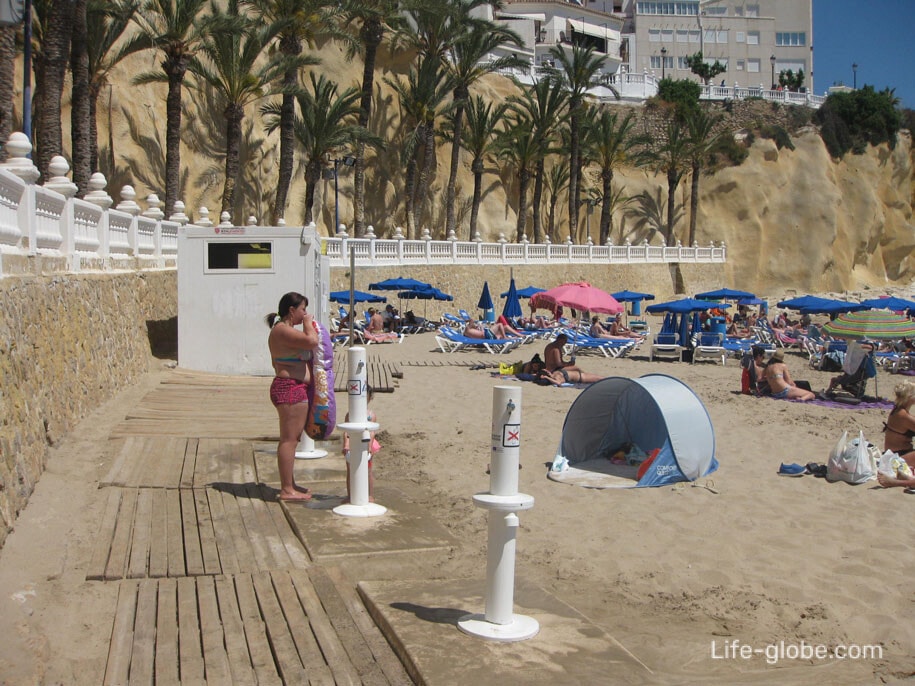 The sea water is clean and clear. The bottom is sandy, the shore is gently sloping
Confirmation of the quality and safety of the beach stands the award "Blue flag"
In case anyone is interested, we have a review of all the beaches of Benidorm, ranging from the small and quiet coves, ending the main sandy beaches.
Making conclusions about the Mal Pas beach in Benidorm, we can say the following: the beach has a convenient location, the center of the city, and he is amazingly picturesque. The most beautiful view of the beach, opens with one of the squares of the Old town - Plaza Santa Ana.
Even if you are not going to relax and swim at the beach, then walk up to it and seeing all the beauty of Mal Pas beach, we can easily recommend to everyone, arrived in Benidorm.