Kreuz Pharmacy (German: Kreuz-Apötheke) is a building in Kaliningrad, which was originally erected during the time of Konigsberg and for which the name "Kreuz Pharmacy" was fixed.
Now the building has been restored and has a bright facade.
The building was erected in Koenigsberg in 1900-1905 (according to some sources in 1888) in the Art Nouveau style along Koenig Strasse 31-32.
The building was a complex of buildings consisting of three four-storey adjacent houses with a total of five entrances. According to the numbering system adopted at that time, each entrance had its own house number.
The facade of the building was decorated with niches and pediments, beautiful stucco ornaments in the form of the sun and floral reliefs above the windows, painted with paints, and stucco molding in the form of heraldic shields served as decoration under the windows of the fourth floor.
During its German history, the building has changed several owners, the most famous of whom was the pharmacist and Doctor of Sciences Adolf Petrenets. The first floor of the building was occupied by commercial premises, the remaining floors were residential.
In the post-war years, the building was an example of a pre-war construction of the 1900s. The building housed residential apartments, and thanks to the preserved German inscription on the facade "Kreuz-Apotheke", the building was assigned the appropriate name - "Kreuz-pharmacy".
The house was resettled in 1987 for major repairs, which never took place, the building continued to deteriorate and collapse. Then there was a protracted reconstruction in the building.
View of the Kreuz Pharmacy building during the protracted reconstruction
The complete reconstruction of the building was completed in 2021.
After the reconstruction, as partly in the time of Konigsberg, the Kreuz Pharmacy acquired mixed architectural features with a bright facade, which visually consists of three different styles, strikingly different from each other.
The building has bay windows, balconies, turrets, window openings of various shapes and sizes, arched passageways and facade decorations.
Partially the facade of the building resembles the Konigsberg pre-war building.
Pre-war view of the building
Modern view of the building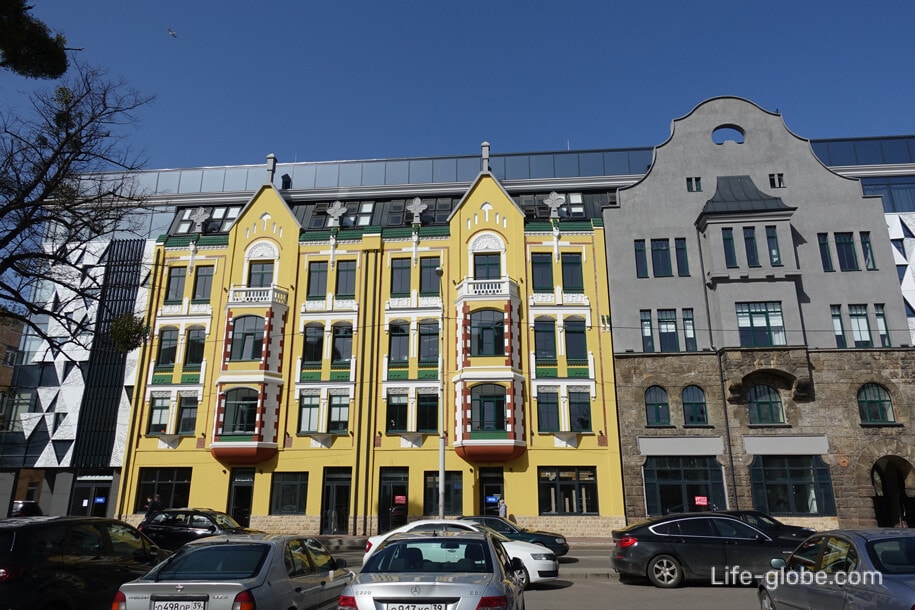 Today, a business center with cafes and shops is located in the walls of the building.
Practical information
Address of the Kreuz pharmacy: 51-57 Frunze Street.
Coordinates of the Kreuz Pharmacy: 54°42'46.0"N 20°31'35.0"E (54.712778, 20.526389).
All accommodation facilities in Kaliningrad (hotels, apartments, etc.), including in the city center and near the Kreuz pharmacy, can be viewed and booked here