The so-called house of Christopher Columbus (Casa di Cristoforo Colombo) is a reconstruction of the 18th century reconstruction of the original medieval building in which Columbus may have lived in his youth.
Probably the house was destroyed during the bombing of the French fleet of king Louis XIV that struck Genoa in 1684.
The building consists of two floors: the first floor was used as the workshop of his father, Domenico Colombo, who was engaged in the wool and weaving trade; the upper floor houses a residential family home. According to written sources, Christopher lived here at the time, roughly, between 1455 and 1470 years.
On the main facade of the home is a plaque with the inscription, which reads something like: "No home does not deserve more attention than the one in which Christopher Columbus spent his first youth in the walls of your father."
During the restoration, carried out in 2001, was discovered an important historical and archaeological traces of stone masonry, probably of Roman origin, the medieval underground trench for drainage and the layout of the house is typical of the late middle ages, which is visible inside the house.
The house-Museum of Christopher Columbus is located close to Piazza Dante square (Piazza Dante) and near Soprana gate (Porta Soprana).
Directly near the house of Columbus are the remains of the monastery of Sant Andrea or Saint Andrew (Chiostro di Sant'andrea) of the 12th century, demolished in 1900-ies for the construction of the streets Dante.
Presently, the monastery was only the loggia, surrounded by a small garden, which, apparently, was rich in aromatic herbs.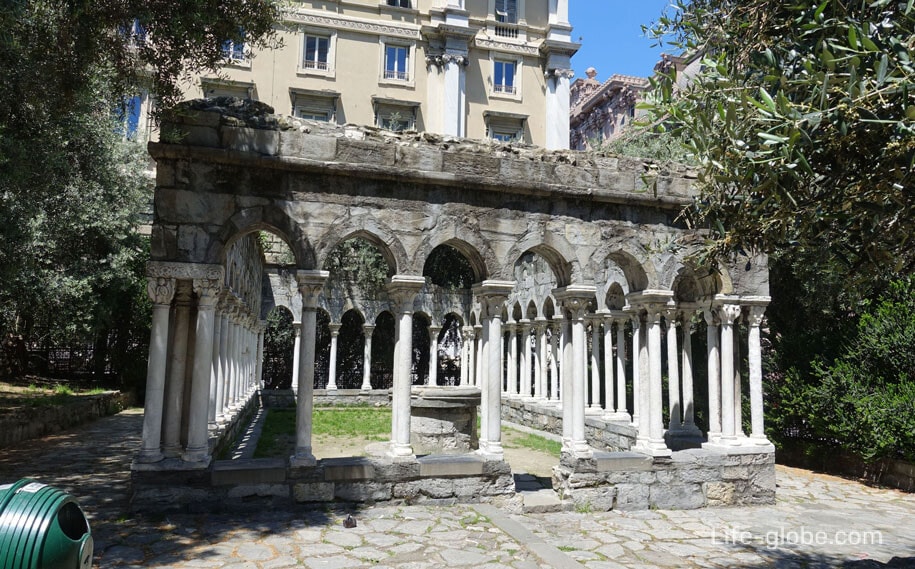 Near the house of Christopher Columbus are such important sights as: the gate Soprana, Piazza de Ferrari, Piazza Matteotti and the Cathedral of Genoa.
The house-Museum of Christopher Columbus it is possible to visit both separately and in combination with other attractions.
Cost of tickets: house of Columbus - 3 euros; the house of Columbus + gate Soprana - € 5; house of Columbus + Soprana gate + Museum of St. Augustine, located in the monastery complex of the Augustinian medieval origin (13th century), 8 Euro.
All accommodation facilities in Genoa, including in the city center, near the beaches and more remote from them, can be viewed and booked here