A small private hotel Pete "b & b" La Teresa Di San Vito (La Terrazza Di San Vito) is located in San Vito Lo Capo in Sicily, 550 metres from the sandy beach.
Nothing remarkable hotel itself is quite unpretentious, but clean and comfortable. The main plus of the hotel is that it is located from one side on a quiet street, and with another - close to the beautiful beach, 7 minutes on foot, and walking distance from the historic centre with its many cafes and restaurants. 50 metres from the hotel the bus stop to Trapani and Palermo.
The hostess does not speak English, so understanding can cause problems. However, in the age of technology and it is no problem - Google Translate to help.
Estimated guests the hotel has earned a rating of "Awesome" (8,8), which is pretty good. The main advantage of the hotel's celebrated vacationers is its location and price. San Vito Lo Capo, a Sicilian is considered an expensive resort, so the cost of a double room with Breakfast at hotel La Terrazza Di San Vito for € 80 - € 100 in high season, very attractive. A plus to the room rate, extras city tax - € 1.50 per person per night. Each one older child or adult is on extra bed is charged EUR 20 per person per night. The maximum number of extra beds/children's cots permitted in a room is 1.
Direct link to hotel La Terrazza Di San Vito.
Rooms simple but clean, rooms are cleaned daily. The rooms are small. In double room: tiled, double bed, TV, air conditioning, wardrobe, mini-fridge (upon arrival in the fridge two bottles of water 0.5 liter), Desk, chair, bedside tables, mirror. Speed free Wi-Fi is so-so, sometimes it catches intermittently.
The private bathroom: set of towels for number of guests, sink, mirror, toilet, bidet, shower, small basin, toilet paper and free toiletries, including soap, shampoo, shower gel and shower cap.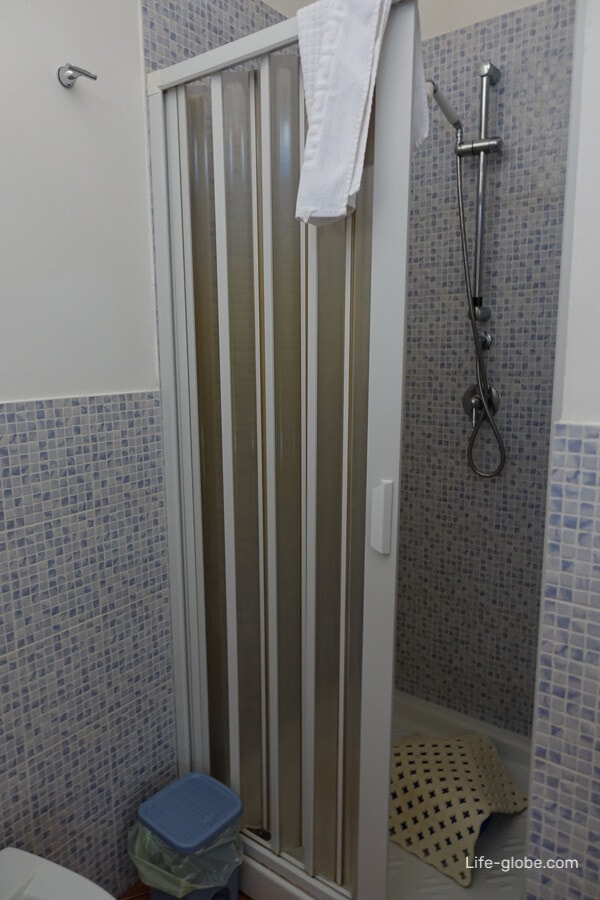 In the morning, in the hotel garden, where Breakfast is served Italian style. Breakfast little bit poor, but well suited to those who are not used close to lunch. Yes, and according to Sicilian standards is quite decent - Sicilians, basically, we have Breakfast of coffee and croissants. For Breakfast: fresh warm croissants, cold (water, juices, milk) and hot (coffee, tea) drinks, fresh fruit, cereal, yogurt, biscuits, jam, chocolate paste. Breakfast included in the room rate.
In the small garden on site where guests can enjoy Breakfast, places to stay, two live turtles.
On the top floor of the hotel there is a terrace with space for sun
Insights about the hotel La Terrazza Di San Vito in San Vito Lo Capo, Sicily
In hotel La Terrazza Di San Vito is quite comfortable, clean, has Breakfast, and walking distance to the beach and the historic centre.
For us, the rooms in this hotel are too dark, not enough natural light, at worst artificial lighting. In addition to this, the rooms dark burdening the furniture. Personally, we prefer a more light situation, a minimum of furniture and decoration in the interior. But it's not for everybody and depends on the tastes. And so, for unpretentious and willing to break the budget in San Vito Lo Capo, this hotel can be quite a good option.
All accommodation facilities in Sicily, you can view and book here