The area of the great siege, also known as judiciary square or square court (Great Siege Square) is one of the Central squares of Valletta, located on the Republic street - the main tourist street of the city.
Around the perimeter of the square are concentrated several historical buildings, monuments and memorials, there is also a cafe and restaurant.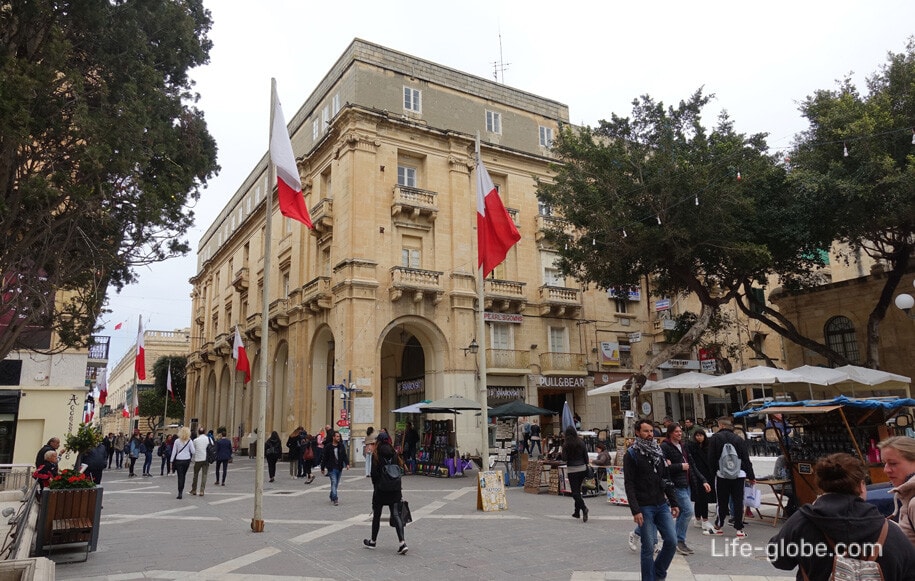 The end of the main cathedral of Valletta, the cathedral of St. John, comes to the Square of the Great Siege. From the square is the entrance to the cathedral. While the main entrance to the Cathedral is located on the nearby St. John's square.
The square is decorated with a striking monument of the great siege (Great Siege Monument) - a monument by the famous Maltese sculptor Antonio Sciortino, opened in 1927 in memory of the victims of the great siege of 1565.
Opposite the monument is the Courts of Justice building, built in neoclassical style between 1965 and 1971 on the site of Auberge d'Auvergne, erected by the Knights of the Order of St. John and destroyed by aerial bombardment in 1941 during World War II.
The courthouse built by the architect Jo Tonna in the neoclassical style, and its main feature is a portico with tall columns.
At the corner of the great siege square is a monument to Papa Piju V - one of the main benefactors of the construction of Valletta. The Pope also sent his personal architect Francesco Laparelli to Malta, to design the city.
Since 1892, the monument was located near the main entrance gate to Valletta, but in 2006 was moved and installed at its present location.