The Ferris wheel in Kaliningrad is one of the favorite attractions in the city, taking a ride on which you can admire the panoramas of the city from a bird's-eye view.
There are two Ferris wheels in the city of Kaliningrad. One is located in Central Park (address: Pobedy Avenue, 1) and has a height of 30 meters. The second one is 15 meters higher and is located in the Yunost Park.
In this article we will tell you about the tallest Ferris wheel in Kaliningrad - in the Yunost Park.
The Ferris wheel in the Yunost Park was opened in 2012 in honor of the 65th anniversary of the Leningrad district, in which the park is located.
The wheel has a diameter (height) of 45 meters.
In the evening, the Ferris wheel is illuminated.
The Ferris wheel is clearly visible from the nearby surroundings of the park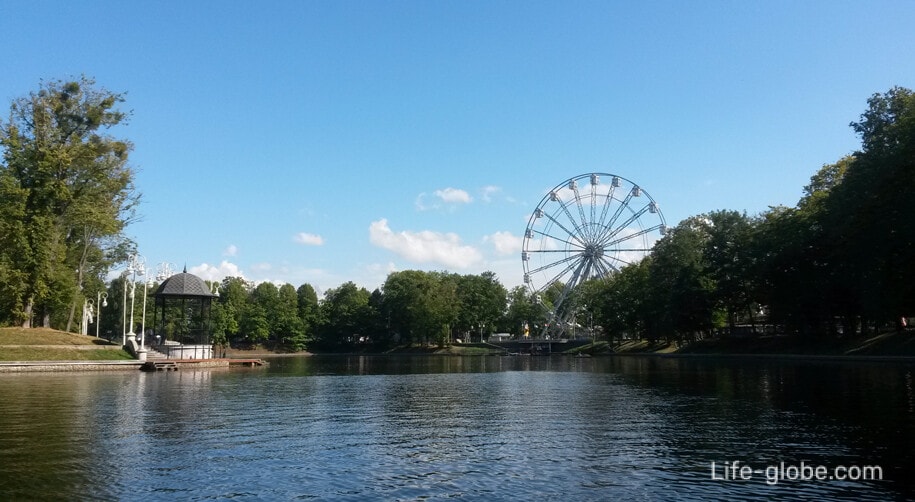 The wheel has 20 enclosed (glass) cabins with a capacity of up to 6 people. Each cabin has an air conditioner with a temperature controller, so you can comfortably ride on the wheel at any time of the year and in any weather.
There are two benches in the booths. There are also VIP cabins with a capacity of up to 4 people, in which there are: soft seats, a table and a small refrigerator.
With the climb of the Ferris wheel cabin, Kaliningrad opens to the guests, including the Yunost Park itself andUpper pond. Most of Kaliningrad is visible from the upper toyok.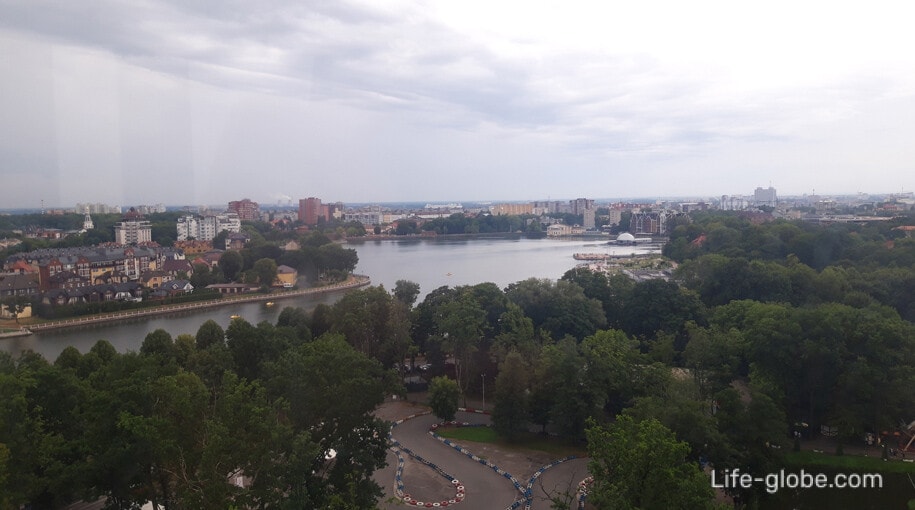 Practical information
The Ferris wheel is located in the Park of culture and recreation "Yunost", near Lake Superior.
Address of Yunost Park: Kaliningrad, Telman Street, 3. More about Yunost Park...
The wheel works, like all the park's attractions, on weekdays from 11:00 to 21:00, on weekends from 11:00 to 22:00.
Tickets can be purchased at the ticket offices of the park, located directly on the territory of the park.
The cost of tickets for 1 circle of the Ferris wheel:
- 200 rubles. Height up to 90 cm . accompanied by an adult - 1 ticket. Adult and two children up to 90 cm - 2 tickets;
- 800 rubles - VIP cabin for up to 4 people.
Attention! The opening hours of the park and the cost of Ferris wheel tickets may vary, we recommend that you check the information before visiting.
Yunost Park website: park-unost.
All accommodation facilities in Kaliningrad, including in the city center and near Yunost Park, can be viewed and booked here