The Malaga Park (Parque Malaga) - Central Park in Malaga and one of the largest urban parks in Europe. This Park is a favorite place for locals and visitors to the city for walks and recreation, and is one of the ten most striking attractions of Malaga.
The Park covers an area of over 30,000 square meters on which are located the three walking paths along the perimeter of the Park, fountains and sculptures, children's play areas and places for rest, curved alleys and small flower beds. All this creates a truly unique picture.
Well, the main feature of the Malaga city Park is the abundance of different species of tropical and subtropical plants, which there are more than 5 thousand species, so that walking through the Park you can feel yourself in the Mediterranean garden and enjoy the coolness in a sultry Spanish day.
In the center of the Park is the Park scene (Auditorio Eduardo Ocon) where in the course of the year concerts and celebrations.
On the east side of the park, near the Square of General Torrijos, you can see the monument to Ruben Dario (Busto a Ruben Dario).
This beautiful Park of Malaga has a convenient location in the heart of the city close to the sea port of Malaga and stretches for 800 meters along the alley Сuras from Marine square to the Plaza General Torrijos, where there is another attraction of the city - the three graces fountain (Fuente de las Tres Gracias).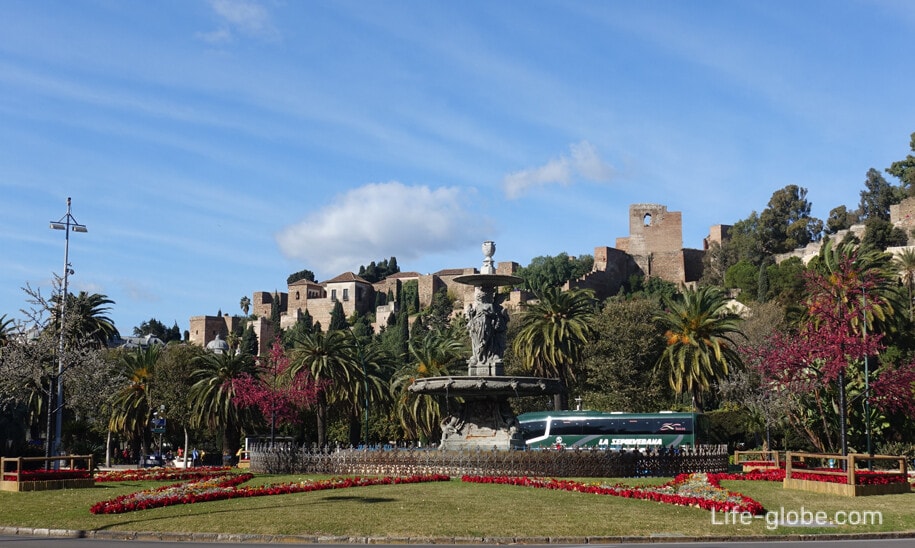 On the North side, along the Malaga Park is home to some notable monuments of Malaga, as of Palacio de La Aduana, the old building of mail, the headquarters of the Bank of Spain, the beautiful creation of the neo-Baroque style - the town Hall, where is now the city Council of Malaga, and, gardens of Pedro Luis Alonso with an abundance of citrus trees, ornamental shrubs and promenades, protruding a great addition to the Park of Malaga. Every year exhibited in the town Hall, giant Christmas kopmoziciya Belen (Nativity scene), and the building of the town Hall, together with Luis Alonso gardens have become a Duo and recognized as historical monuments of culture.