The Church of Our Lady or Upper Parish (Pfarrkirche Unsere Liebe Frau, Obere Pfarre) is a parish church in Bamberg, which is the only practically purely Gothic church in the city.
Popular the name "Upper ward" (Obere Pfarre) of the Church was given because of its location on the hill of Kaulberg (Kaulberg), as an analogue of the Lower ward, the former Gothic Church of the Alt-Saint-Martin (Alt St. Martin) 14th and 15th centuries, which was located on the square of Maximilian (Maximiliansplatz), in the heart of Bamberg and was demolished in the course of secularization in 1805.
The construction of the Church of Our Lady began in 1338. The inscription on the building on the north aisle indicates June 16, 1338, as the date of foundation. The church was consecrated in 1387 by Bishop Lamprecht von Brunn. However, the construction of a large high choir began later - in 1392.
The tower of the church was finally completed in 1535. The structure of the church has hardly changed since that time. In 1537-1538, an apartment for the caretaker was built on the tower. In 1928, the last caretaker of the tower was forced to leave his "office apartment".
In 1945, bombs destroyed the area around the church and damaged the tower. After the reconstruction was carried out.
Today, the Church of the Mother of God attracts attention with its exchanges, architecture and a bell tower with a height of more than 60 meters, the upper part of which forms the former home of the caretakers.
On the north side of the church , a deepThe wedding portal (Brautportal), originally built in 1380-1390. In the portal, on both sides, the wise and foolish virgins are depicted, and in the tympanum the coronation of Mary is depicted.
A small extension at the main (western) portal of the church is the Mount of Olives group, which resembles a cemetery that surrounded the church until the end of the 18th century. The date of the extension, according to the inscription, is 1502.
The interior of the three-nave church is notable for the ribbed vaults of the high choir, stucco molding, paintings, sculptures, the main altar in the Baroque style, Tintoretto's painting "The Assumption of the Virgin", the pulpit, the organ and the stone communion house of 1430, which was used to store the Eucharist.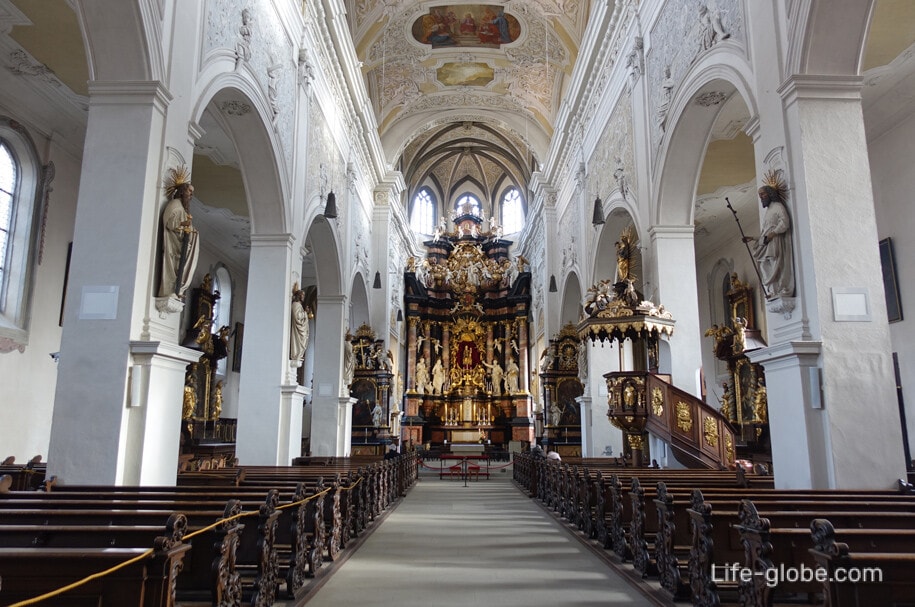 Practical information
The address of the Church of Our Lady: Frauenplatz, 1 (Frauenplatz).
Coordinates of the Church of Our Lady: 49°53'22.0"N 10°53'04.0"E (49.889444, 10.884444).
Website of the Church of Our Lady: kirche-obere-pfarre-bamberg.
All accommodation facilities in Bamberg, including in the historical center of the city and more remotely from it, can be viewed and booked here