The Church of Our Lady of Mount Carmel, also in various sources known as the Carmelite Church, the Church of the Virgin of the Carmel Mountain, the Church of Our Lady of Carmel, the Parish Church of Balluta or simply the Balluta Church - neo-Gothic Roman Catholic parish Church located in the town of St Julian's on the island of Malta, on the coast of Balluta Bay.
The Church is dedicated to our lady on mount Carmel.
Balluta Church, not only the most beautiful church of the city of St. Julians, but also one of the most elegant churches in Malta.
This shrine immediately catches the eye, it seems that it, as if hanging over the bay, decorating the entire coast of the bay.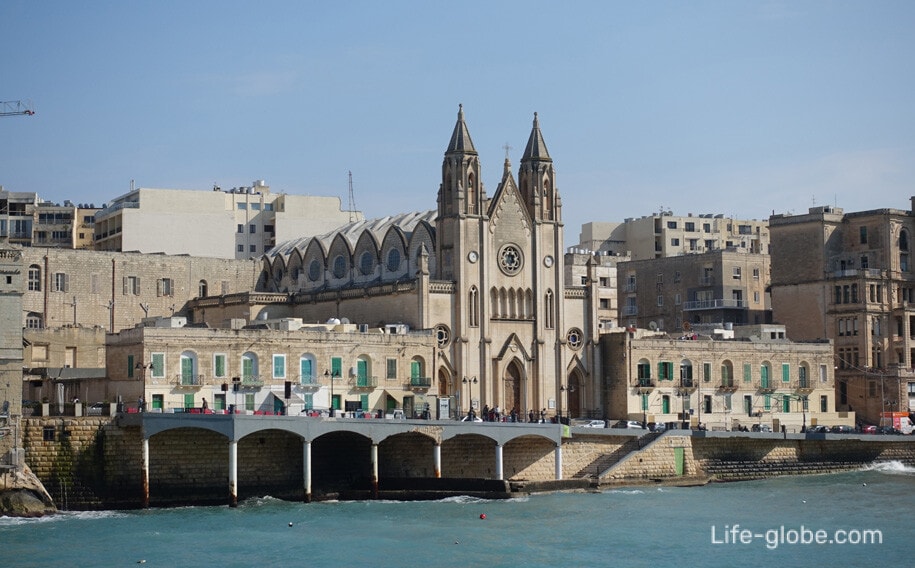 The present Church, which is an outstanding landmark in St Julian's, dates from the early to mid-20th century.
Originally a Carmelite Church was a small chapel built in 1859 according to plans by Giuseppe Bonavia. The Church was rebuilt in 1877 in the Gothic revival style, while maintaining the two towers on the facade, which is a favorite feature of traditional Maltese style Baroque churches.
Later the Church was transferred to the Carmelite monks, who rebuilt it in 1900 according to the plans of architect Gustavo R. Vincenti. In 1958 the Church was expanded, and in 1974 the area around the Church was converted to a parish separated from the parish of St. Julian. The Church was consecrated on 12 December 1984.
Now, the towering Central facade of the Church is in perfect harmony with the low buildings located on both sides of the Church.
The interior of the church is simple and elegant, made in bright colors. The special charm of the interior decoration betray high columns, arched openings, vaulted ceiling and narrow arched windows.
In the main Church hall has a large modern organ.