Chichen Itza - archaeological excavations of the ruins of the ancient Mayan city, which are recognized as one of the new seven wonders of the world.
According to the tourist popularity of Mexico, Chichen Itza ranks second, behind the ancient city of Teotihuacan. Read more about Chichen Itza with photos and descriptions...
The ancient city of Chichen Itza is located in the north of the Yucatan Peninsula in Mexico. Flights to Mexico →
How to get to Chichen Itza from Cancun, Playa del Carmen, Tulum, Merida, Mexico City
You can get there:
- by taxi;
- by car;
- public transport (buses);
- visit with excursions.
!!! Near Chichen Itza there is Cenote Ik Kil, which can be reached in the same ways as to Chichen Itza; and if desired, combine a visit to two attractions.
Taxi / Transfer to Chichen Itza
The fastest and most convenient way to get directly to the entrance to the archaeological zone of Chichen Itza is by taxi. In addition to taxis for up to 4 people, you can also order mini buses for up to 7-19 people.
You can order a taxi / transfer in advance, even from home. At any time of the day, at the designated place, a driver will be waiting for you.
Car
If you plan to move around Yucatan and Mexico in general, then renting a car would be an ideal option. There are parking spaces near the archaeological zone of Chichen Itza.
You can choose and order a car in advance, at the appointed time the car will be waiting for you at the specified location.
Rent a car in Playa del Carmen (all places) →
Rent a car in Tulum (all places) →
Rent a car in Merida (all places) →
Rent a car in Mexico City (all places) →
With an excursion to Chichen Itza and Yucatan
You can also visit Chichen Itza with one of the excursions in Yucatan
Excursions to Yucatan (out of town) from Cancun
Tours of Yucatan (out of town) from Playa del Carmen
Tours of Yucatan (outside the city) from Tulum
!!! Attention, above are all possible excursions outside the city from the resorts of Yucatan. If you want to visit only Chichen Itza, then choose the appropriate excursion from the list.
By public transport
Direct buses to Chichen Itza
Direct buses to Chichen Itza run from/to Playa del Carmen and Tulum.
Buses depart from bus stations.
The address of the station in Playa del Carmen: 5 Av. Nte. LTE 2, Centro, 77710 Playa del Carmen, Q.R., Mexico.
Station address in Tulum: Terminal Autobuses Tulum ADO. Av. Tulum 20, Tulum Centro, 77780 Tulum, Q.R.
Buses in the opposite direction (from Chichen Itza) travel an order of magnitude longer than from resorts to Chichen Itza.
A direct bus from Cancun can also be launched.
We recommend checking the bus schedule, stops and fare before the trip on the official website of the carrier - the ADO company: ado.com.mx (from Russia, the site works only via VPN).
Buses with transfers to Chichen Itza via Valladolid
With transfers to Chichen Itza, as well as Cenote Ik Kil, you can get from many cities of Yucatan and Mexico in general, including Cancun, Playa del Carmen, Tulum, Merida and Mexico City.
The transfer is carried out through the city of Valladolid, which is located at a distance of 42 kilometers from Chichen Itza.
To Valladolid
You can get to Valladolid from the bus stations of the cities by ADO 1st class buses (the company's website is listed above) and second class buses.
The fare on second-class buses is less than that of ADO, but there are no websites of these bus companies. You can check the schedule and cost directly at the ticket offices of bus stations, or by asking questions on Facebook pages:
- facebook.com/Autobuses-MAYAB-102022714863987 (from Playa and Tulum)
- facebook.com/Ruta-de-Autobuses-Oriente-117353643469686 (from Cancun)
The bus station in Cancun (aka the ADO terminal) is located at: Calle Pino, SM23, MZ56, Lt 1 y 2, Centro, 23, 77500 Cancún, Q.R., Mexico.
All buses in Valladolid arrive at the city's bus station located at: C. 46 198H, Centro, 97780 Valladolid, Yuc., Mexico.
In addition to buses, Valladolid can also be reached by taxi and rented car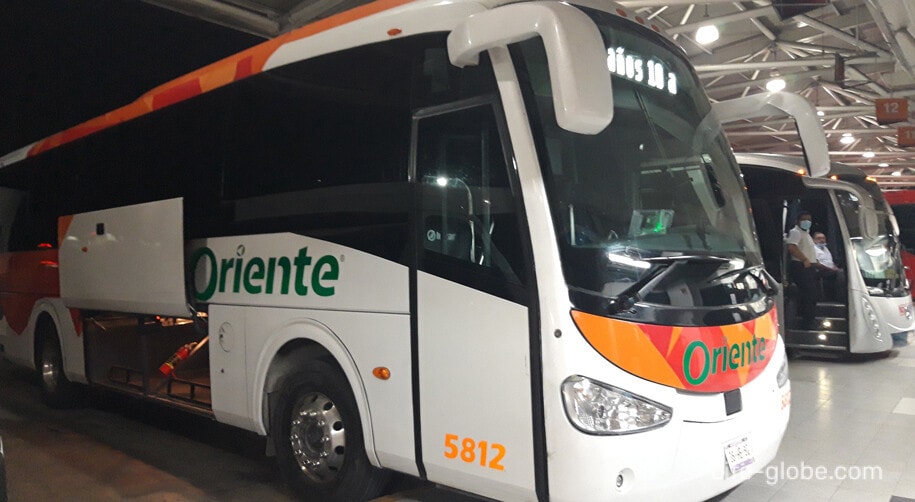 Valladolid to Chichen Itza
From Valladolid to Chichen Itza and Cenote Ik Kiel can be reached by minibuses "collectivo", which are waiting for passengers near the Valladolid bus station.
We leave the bus station and get to the intersection of 46 and Castera del Golfo. Then turn right and walk about half a block to the minibuses. Coordinates of minibuses: 20°41'27.0"N 88°12'19.6"W.
Minibuses depart as they fill up (they fill up quickly). The fare is 40 pesos per person one way.
From the archaeological zone of Chichen Itza to Valladolid, these minibuses also run as they fill up.
Alternatively, from Valladolid (from the bus station), you can take the Oriente public bus to Piste, and then walk to the archaeological site of Chichen Itza. The distance will be approximately 2.5 kilometers.
Where to stay near the ruins of Chichen Itza and Cenote Ik Kil
Directly near the archaeological zone of the ruins of Chichen Itza, you can stop:
5-star Lodge The Lodge at Chichen Itza
with swimming pools
5-star Mayaland Hotel & Bungalows
with rooms, suites and bungalows
3-star Villas Arqueologicas Chichen Itza
with a swimming pool and family rooms
The 3-star Doralba Inn Chichen Hotel is located near the Ik-Kiel Cenote
with outdoor pools
All accommodation facilities in Mexico, including near Chiichen Itza, in Pista, Cancun, Playa del Carmen, Tulum, Merida, Valladolid, Mexico City, etc., can be viewed and booked here