Villa Gualino - a historic building set on top of a promontory of Sestri Levante.
The villa is also known as Gualino Castle (Castelli Gualino), is a historical and architectural monument, is included in the list of attractions of the city.
The so-called "Castelli Gualino" because it mimics an ancient medieval style, was built between 1925 and 1929 by the architects Clement and Michelle's Busiri wichi on the advice of the art critic Lionello Venturi and by order of the Piedmontese industrialist Riccardo Gualino.
The Villa was built near the place where once stood the castle built by the Genoese Republic in the year 1145. The ancient Genoese fortress was partially rebuilt in 1440 and completely transformed into a cemetery in the 1810 to complete demolition in the early 20th century.
Villa Gualino complex consisted of three buildings in the neo-medieval style. The main building of the castle (the "Castle of Cypresses" / Il Castello dei Cipressi) became the residence of the Gualino family, the castle of Lecci or the "Stone Oaks" (il Castello dei Lecci) became a guest house, and the castle of Agave (il Castello delle Agavi) was intended for servants as office space.
Around the Villa buildings was a large garden, overlooking the sea water and the surrounding area.
The whole complex of the Villa Gualino in 1950 was converted into a hotel, which is at the present time.
The 4-star Grand Hotel Dei Castelli has kept the external and internal structure of the castle, near the hotel is also located in the extensive gardens.
For reviews of tourists, the hotel is rated 9.1 (Excellent).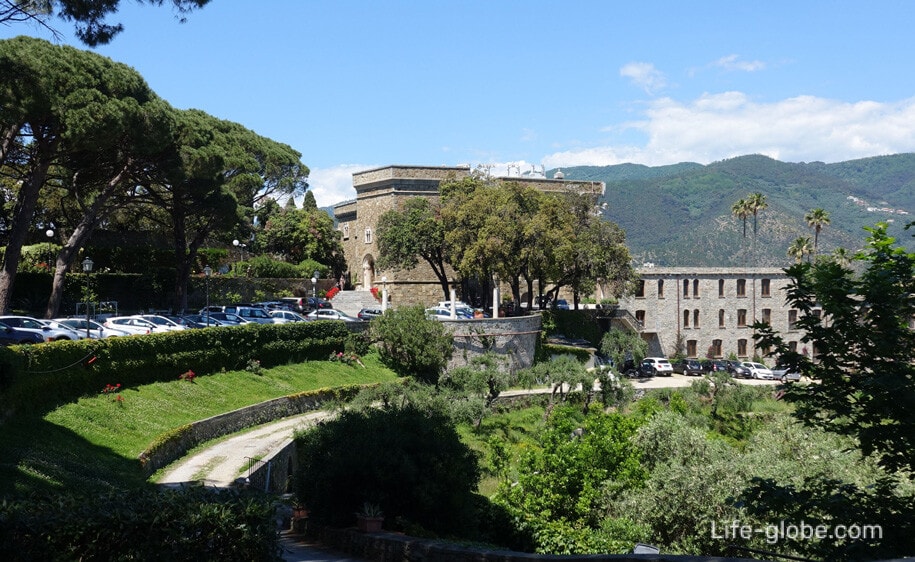 In the castle - the current hotel, restaurant and bar, a terrace, free Wi-Fi and Parking.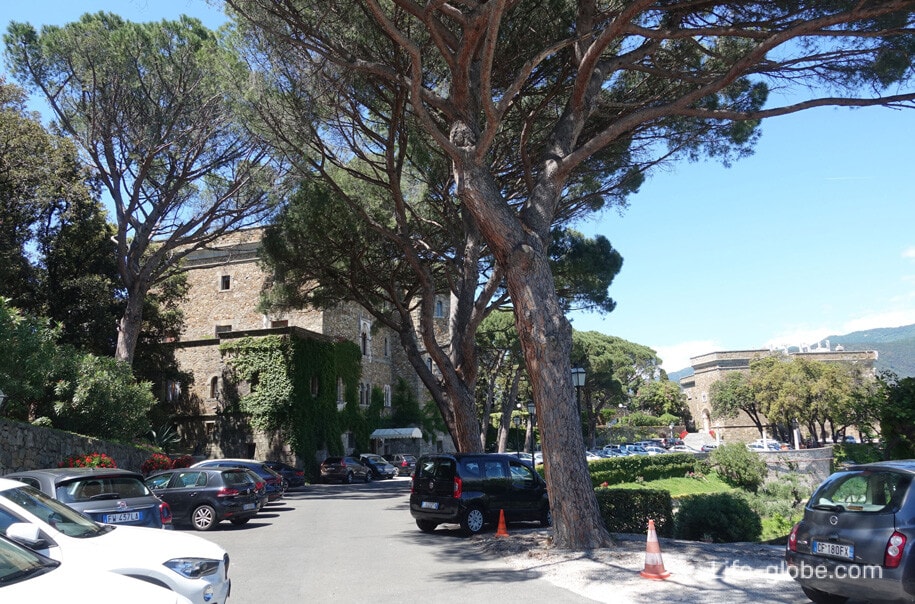 In rooms: air-conditioning, flat-screen TVs, mini-bars, private bathrooms with Hairdryers and free toiletries.
Room rates include Breakfast.
The hotel owns a private beach area, nestled among the rocky shores of the Peninsula, equipped with slopes into the sea and all necessary infrastructure.
The beach has a so-called natural swimming pool which was carved out of the space in the rocks where the sea water flows.
From the hotel to the beach and the port of Sestri Levante you can go down (and climb back) by Elevator. Link to Grand Hotel Dei Castelli

To reach the hotel by car (rent a car in Italy...) through the historical centre of Sestri Levante: the street Remembranza (Viale Rimembranza), which runs along the coast to the roundabout of Piazza Giacomo Matteotti square (Piazza Giacomo Matteotti, reference point - a basilica of Santa Marija di Nazareth / Chiesa di Santa Maria di Nazareth), then turn left onto Penisola Levante (Via Penisola Levante), which go up the hill to the stop (reference point - San Nicolo's church / Chiesa di Saint Nicolò), turn right on the street all'Educandato (Via all'Educandato) and 30 meters right up to the gates of the hotel.