Budapest is not only one of the largest and most interesting city in North-Eastern Europe, but also one of the few capitals with thermal springs - baths.
The history of Budapest's thermal baths has more than two thousand years and originates from the times of the Roman legionaries.
Currently Budapest can boast that is the capital with the largest number of medicinal and thermal springs and for more than 80 years bears the proud title of "Bathing city".
Therefore, a good Budapest, what in the city can perfectly combine sightseeing and walks, with visits to the baths, of which the city has more than 10, including the beach.
The baths of Budapest are the thermal pools, including outdoor and submersible, as well as swimming pools, saunas and baths.
Pools baths are divided into a warm bath, cool and cold water temperature which ranges from 11-18 up to 42 degrees Celsius.
In addition to the public pools, baths and saunas in the baths offer additional paid services, how to maintain beauty and General health care (massages, masks, wraps, etc.), and therapeutic procedures for the appointment or recommendation of physicians.
The cost of visiting the baths, additional services, and hours of work and conditions of visits can vary so, in order to obtain current information is recommended to clarify such immediately before the visit to the baths on the official websites.
Baths Budapest, Hungary
The Széchenyi Bath, Budapest
The széchenyi bath or the bath section (Szechenyi fürdő / Szechenyi Gyogyfürdő es Uszoda) - thermal (medicinal) baths and pool, the largest thermal baths not only Budapest, but all over Europe.
Therapeutic recreation complex széchenyi offers thermal pools, including outdoor and submersible, as well as swimming pools, multiple steam and sauna with a temperature of 50 to 80°C.
More than a dozen indoor pools are divided into a warm bath, cool and cold. The water temperature in the warm therapeutic pools ranging from 28 to 40°C. In a cool pool of 20°C in two cold-submersible - 18°C.
In the open part of the Szechenyi baths are three pools:
- swimming pool with water temperature 26-28°C;
- outdoor thermal, with a water temperature of 38°C;
- outdoor leisure pool with surprises and with water temperature 30-34°C.
Read more about Szechenyi Bath...
Gellert Bath, Budapest
Medicinal baths and swimming pool "Saint Gellert" (Gellert Gyjgyfürdő es Uszoda) was built in the art Nouveau-style and opened in 1918, the year and then supplemented with a bathing beach with waves and a bath with boiling water. Original unit waves, commissioned in 1927, the year runs and still.
Gellert bath features:
- thermal indoor area with 4 pools with thermal water 36°C - 38°C, 2 baths with the weights with water temperature of 35°C and 2 pool with cold water - 19°C;
- indoor pool area features a swimming pool with hydromassage and water temperature of 27°C and a seated thermal pool with water temperature of 36°C;
- outdoor area with swimming pools: a wave pool (operates only in summer season) with a water temperature of 26°C and a thermal Spa pool with water temperature of 36°C.
In the complex of the Spa also features saunas and steam rooms, showers, toilets, rental of towels/coats/hats, etc., a beauty salon, a restaurant and a snack bar.
In a building with thermal baths, Gellert is conveniently located in the eponymous 4-star Danubius hotel Gellert offers a restaurant, bar, private Parking, free Wi-Fi and Breakfast included in the room rate. Link to hotel gellért
Address baths and hotel Gellert: Kelenhegyi street, building 4, Budapest (Kelenhegyi ut 4, Budapest).
The website gellért bath: gellertfurdo.
Rudas Baths, Budapest
Medicinal bath and pool Rudas (Rudas gyjgyfürdő) was established in the 16th century during the Turkish domination as a modern center Turkish bath.
From 1936, the year the pool could visit exclusively male, but after reconstruction in 2005-m to year it can already visit and women.
Space for pools located under the domes with pillars, which is a rarity today.
In the bath Rudas:
- thermal pools with water temperature from 28°C to 42°C;
- submersible cold pool with water temperature of 16°C;
- swimming pool with water temperature 29°C;
- Wellness area: heated pool to 32°C; 2 warm pool - 36°C; Juventus pool - 42°C; the pool for the dive - 11°C; panoramic pool (open rooftop) - 36°C;
- steam chamber (in a therapeutic steam bath) and Finnish sauna (part of pool).
Women's day: Tuesday. Men's day: Monday, Wednesday, Thursday, Friday before 12.45 hours. Total days: Friday from 13.00 hours, Saturday, Sunday.
On Friday and Saturday baths can be visited at night: from 22:00 until 04:00 o'clock in the morning.
Address bath Rudasarea with Dobrentei, building 9, Budapest (Döbrentei ter 9, Budapest).
Website baths Rudas: rudasfurdo.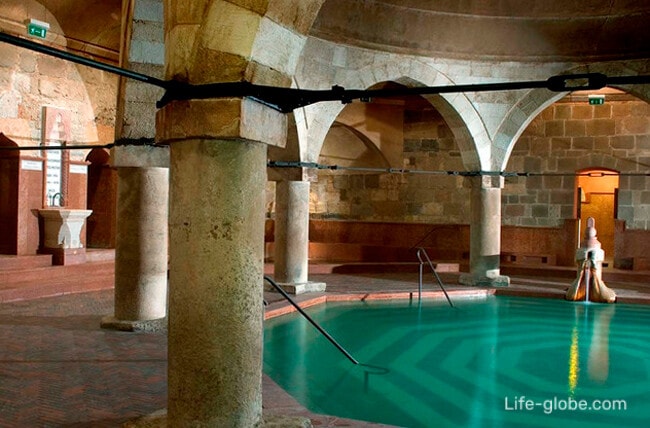 Kiraly Baths, Budapest
Therapeutic király bath (király Fürdő), the construction of which was started by the Pasha of Buda Arslan in 1565, the year and continued by his heir, Sokoli Mustafa.
The király baths were not, and there is no direct hot water base. The Turks built the bath far from the springs because that was the opportunity to swim and in case of a storm, inside the walls of the fortress. Water was supplied, and now comes with the territory of the lukács bath, in those days, with the help of water pipes, made of red pine.
In the Kiraly baths: 3 healing pool (indoor) - 32-40°C; submersible pool (indoor) - 26°C; Jacuzzi - 32-36°C; wooden hot tub is 30-40°C.
As additional services are offered massages.
Address baths királystreet Fe, Dom 84, Budapest (Fő u. 84, Budapest).
Website baths the király: kiralyfurdo.
Lukacs Baths, Budapest
Medicinal baths and swimming pool "Saint Lukacs" (Szent Lukacs Gyogyfürdő) worked in the days of the Crusades. In the era of Turkish occupation was a favourite place, Mustafa Pasha, and after the liberation of Buda passed into state property. From all over the world came here wanting to be healed, and after a successful healing has mounted marble tablets with commendations on the walls of the baths.
It is a favorite meeting place for leading intellectuals of pest, politicians and representatives of art. It is considered that here is the most effective therapeutic water of Budapest.
In the baths Lukacs:
- thermal swimming pools: 3 therapeutic indoor pools - 32-40°C; 2 submersible indoor 22°C;
- 2 swimming outdoor pools - 22°C and 26°C;
- Wellness area: entertainment outdoor swimming pool 30-35°C; indoor pool Kneipp - 22°C; gym swimming pool indoor - 30 to 33°C; the bath with the weights indoor - 33-35°C.
- a Finnish sauna, a camera with warm air, steam chamber, ice machine, Himalayan salt wall, sun terrace, fitness equipment, and additional services and treatments.
Address Lukacs bathstreet Frankel Leo, 25-29, Budapest (Frankel Leo ut 25-29, Budapest).
The website Lukacs bath: lukacsfurdo.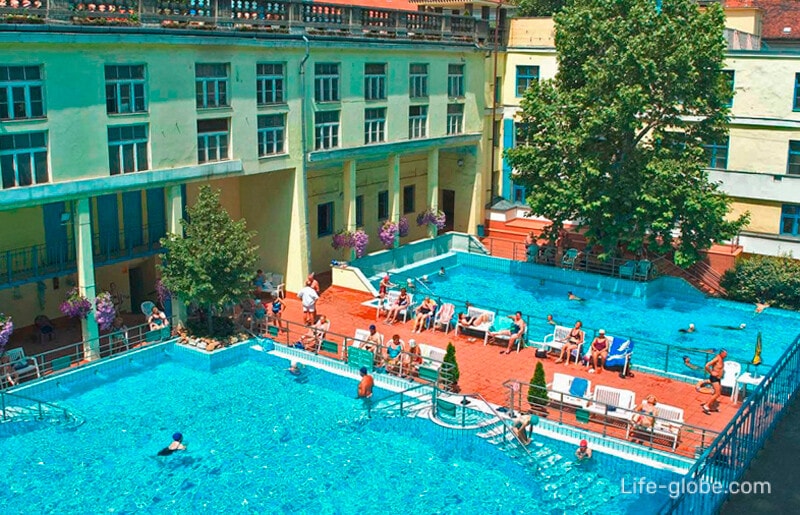 Bath Led Bay
Bath Led Bay (Irgalmasok Veli Bej Fürdője) located in the vicinity of lukács bath (adjacent building).
Section of the baths consist of 5 pools: octagonal Central pool 36-38°C and four additional smaller pools with different water temperatures.
Thanks to the rapid flow of treatment water into the Central pool water is constantly being updated without the addition of chemicals.
Also the baths are 2 steam baths with various essential oils with massage shower, ice machine, Finnish sauna, infrared sauna, Jacuzzi, swimming pool.
Address bath of Veli-Bey: 7 Arpad Fejedelem utja, Budapest.
The site of the baths Led Bay: irgalmasrend.hu/site/velibej.
Bath Dagi, Budapest
Bath and pool Dagi (Dagaly Fürdő) opened its doors in 1948, and then was expanded to a 50-meter pool, which opened in 1956. Its water base was backed up by a well drilled in 1944, which used the thermal waters found under the Danube and flows into the Danube. Between 1970 and 2013 were moved water from thermal bath complex in Budapest.
Currently, the water supply of the resort is provided by the source of the Beck, which offers a wide range of medical services.
In the bath Dagi:
- a year-round 25-metre pool - 27°C; 50-meter pool - 27°C; thermal pools 36°C and 34°C; a massage pool - 36°C; the cold-plunge pools - 14-18°C; the hot water pools - 40°C;
- working in the summer: adventure pool with attractions - 30-34°C; outdoor pool - 30-34°C; Tang pool - 30 to 34°C; a children's pool - 30 to 34°C.
Address bath Dagi: Nepfürdő u. 28-30, Budapest.
Website baths Dagi: dagalyfurdo.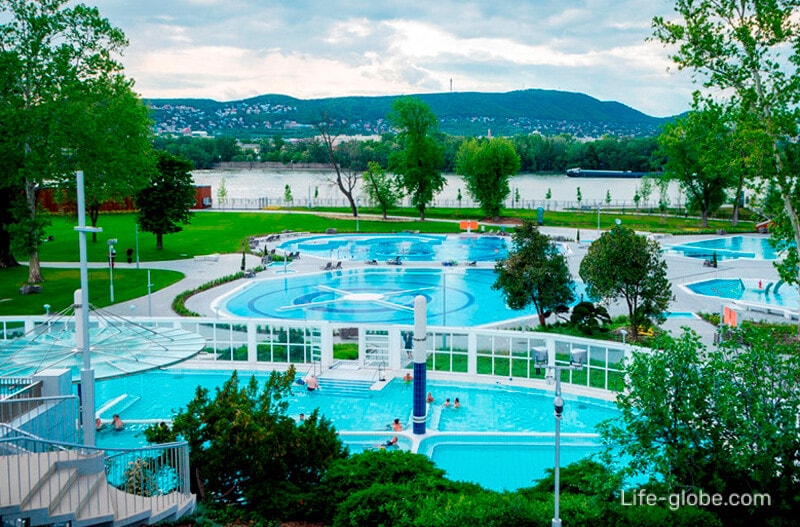 Bath Dandar, Budapest
Bath Dandar (Dandar Gyogyfürdő) was opened in 1930, rebuilt in 1936 and is now working as a full-fledged Spa.
In the pool of dander:
- 2 therapeutic indoor pools with water temperature of 38°C and 36°C;
- plunge pool with a water temperature of 20°C;
- 2 outdoor pools with water temperature of 38°C and 36°C;
a sauna and a steam chamber;
- area for sunbathing in the courtyard.
Address bath Dandar: street Dangar, 3, Budapest (u Dandar. 3, Budapest).
Website bath Dandar: dandarfurdo.
Beach bagno Pascal, Budapest
Beach bagno Pascal (Paskal Gyogy - es Strandfürdő) - the youngest beach bathhouse of Budapest.
The bath was built in 1989, after the discovery in 1965 of the well depth of 1735 meters.
In the pool of Pascal:
- indoor swimming pools: Spa and relaxation pools - 33-38°C; swimming pool with hot water - 42°C; cold pool to dive - 16°C; the pool and bar (indoor - outdoor) - 36°C, teaching pool 32°C, childrens pool -32°C;
- outdoor swimming pools: the pool is 33 meters - 26°C; relax pool - 34-36°C; swimming pool (summer only) - 32 to 36°C, children's pool (summer only) - 32°C;
- Finnish and geothermal sauna, steam chamber, ice machine, drinking well;
- the outdoor exercise equipment, Playground, Luggage storage, safety Deposit box;
massages for an additional fee.
Address bath Pascalstreet Egressi, house 178 f (Egressy ut 178 /F, Budapest).
The site of the baths of Pascal: paskalfurdo.
Beach bath of Palatinus, Budapest
Beach bath of Palatinus (Palatinus Gyogy-, Strand - es Hullamfürdő) was the first bath in Budapest under the open sky. The bath is available since 1919, it finally opened in 1921.
In the baths of Palatinus:
indoor pools: thermal - 36°C, children's swimming pool - 32-34°C; swimming pool with hot water 42°C; cold water pool of 16-18°C;
- several outdoor pools with water temperature from 24°C to 36°C, including a wave pool and a beach pool. Outdoor thermal and swimming pool, including a cool time of the year (outside the summer season);
- a Finnish sauna, a geothermal sauna, steam room;
- Playground, sunbeds, cafe, Luggage storage and other additional services.
Address Palatinus of baths: baths located on Margaret island (Margit-sziget).
The site of the baths of Palatinus: palatinusstrand.
Other beach baths of Budapest
Also in Budapest there are still a few beach baths with indoor and outdoor pools, including entertainment:
- beach and pool Csillaghegy, website: csillaghegyifurdo;
- beach bath Punkosdfurdo, website: punkosdfurdo;
- Roman bath beach, website: romaistrand.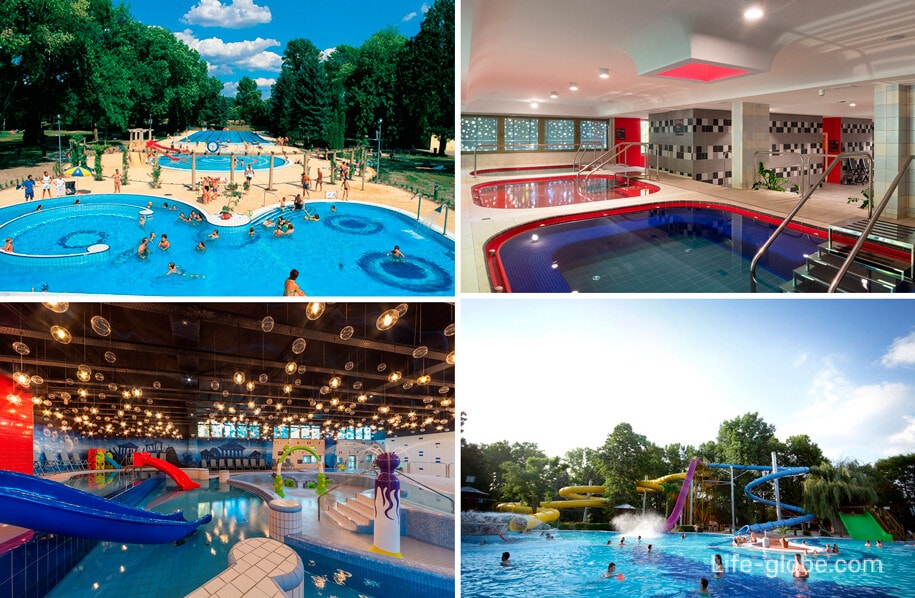 Drinking pavilions in Budapest
Popular in Budapest and are drinking pavilions.
There are pavilions in the széchenyi thermal baths, Gellert and Rudas (source: Juventus, Attila and Hungaria).
The water in the treatment pavilions is free, you can dial without entering the bath.
Remark! In Lukacs baths drinking pavilion is located in hall with ticket offices, checked and got some water personally, without going into the bath, in other pavilions - not tested.
Chemical characteristics of water: contains sodium, calcium, magnesium, carbonate carbon, and sulfates.
Water is recommended: chronic stomach gastritis, gastric ulcer, gastroenteritis, excess stomach acid, chronic inflammation of the kidneys and urinary tract, certain diseases associated with kidney stones, chronic diseases of the respiratory organs, the prevention of conditions caused by a lack of lime in the bones, impact on the metabolism, prone to gout, diseases of the gallbladder and bile duct, for excretion of bile.
Additionally, the water bath Rudas (Juventus) is recommended for women during menopause and early aging.
Contraindications: constipation, edema, weak heart and kidney.
Disposable recommended dose: 300 ml.
!!! This information is exploratory in nature. Before drinking water treatment course, we recommend you to consult with a specialist (doctor).
AquaWorld
Water Park (Aquaworld / AquaWorld) although not a thermal bath, however, is the opportunity to swim and relax.
Aquaworld is the largest water entertainment area of Hungary, with both indoor (year-round) and outdoor (from may to October) areas.
In the Park there are several indoor and outdoor adventure pools, Windsurfing, diving, water bowl, and 11 special slides for all ages.
From may to October for the sun lovers beach open landscaped area of 1.5 hectares, where there are two children's pools, a 25 metre swimming pool, sun loungers, Playground, mini Golf and a trampoline.
The website of the Park: aquaworldresort.
Address of Park: Ives ut 16 (the Park is located on the Northern outskirts of Budapest).
Besides the water Park complex also includes:
- modern 4-star resort hotel Aquaworld Resort Budapest with free Wi-Fi, restaurants and free Shuttle to the city centre.
Facilities also include free direct access to the indoor water Park Aquaworld.
The room price includes: Breakfast or Breakfast and dinner. Link to the hotel
- Spa - fitness centerwith swimming pool with thermal water, sauna, Hammam and gym.