Botny dom - a small building (pavilion), erected to store the national relic (ship) - the boat of Peter 1.
Botny house was built in 1762-1765 by the architect of German origin Alexander Frantsevich Vista, on the territory of the Peter and Paul Fortress in St. Petersburg.
The building was intended for storage of the vessel (national relic) - the boat of Peter the Great "Grandfather of the Russian fleet".
Botik - a small sailing and rowing vessel, on which the young king learned the basics of ship navigation and ship business.
The boat was brought to Russia from England in the early 1640s. In May 1688, the ship was discovered by Peter I in the village of Izmailovo near Moscow among the things of his great - uncle, the boyar N. I. Romanov.
Peter I made his first voyages on a boat on the Yauza River, thereby learning the alphabet of navigation.
The boat was delivered from Moscow to St. Petersburg in 1723 and was initially stored in a casemate The Sovereign's Bastion Peter and Paul Fortress. In the Bot House, the boat was stored from 1767 to 1931, then it was moved to Peterhof, and in 1940 it entered the Central Naval Museum.
After the boat, the building was occupied by the warehouse of the Central Book Chamber.
In the fall of 1941 (World War II), the building was significantly damaged by fire when an incendiary bomb was hit.
In the 1950s and 1996-2003, the Stone house was restored.
The facades of the building are decorated in yellow-orange and white tones, a transition from Baroque to classicism. The stone house has two columned porticos with gables.
The roof of the Botny House is crowned by the statue "allegory of Navigation", the work of the Danish sculptor David Ivanovich Jensen. The statue was originally made of wood, and since 1891 - terracotta.
Botny house on the background of the Peter and Paul Cathedral
Botny house is an architectural monument of the 18th century. Protected by the state.
Information and memorial plaque on the wall of the Botny house
Today, the place of the "Grandfather of the Russian Fleet" (the so - called boat) in the Bot House is occupied by its exact copy-a reconstruction model created in 1996-1997 to mark the 300th anniversary of the creation of the Russian Fleet.
All the elements of the boat's rigging and equipment were recreated on the basis of scientific research by the historian A. L. Larionov and the marine artist E. V. Voishvillo.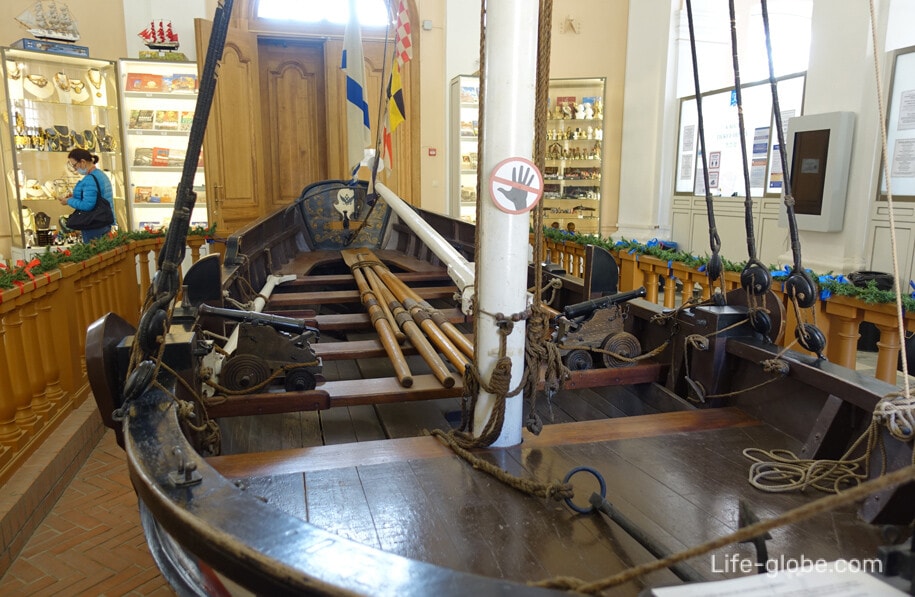 Practical information
In addition to the model of the boat in the Bot House there are ticket offices and a museum store (souvenir shop) State Museum of the History of St. Petersburg.
Entrance to the Bot House is free (free of charge).
Botny house is located on the territory of the Peter and Paul Fortress (Hare Island), on the central square near Peter and Paul Cathedral, at the address: Peter and Paul Fortress, 3.
Photos of the square, the Botny House and the Peter and Paul Cathedral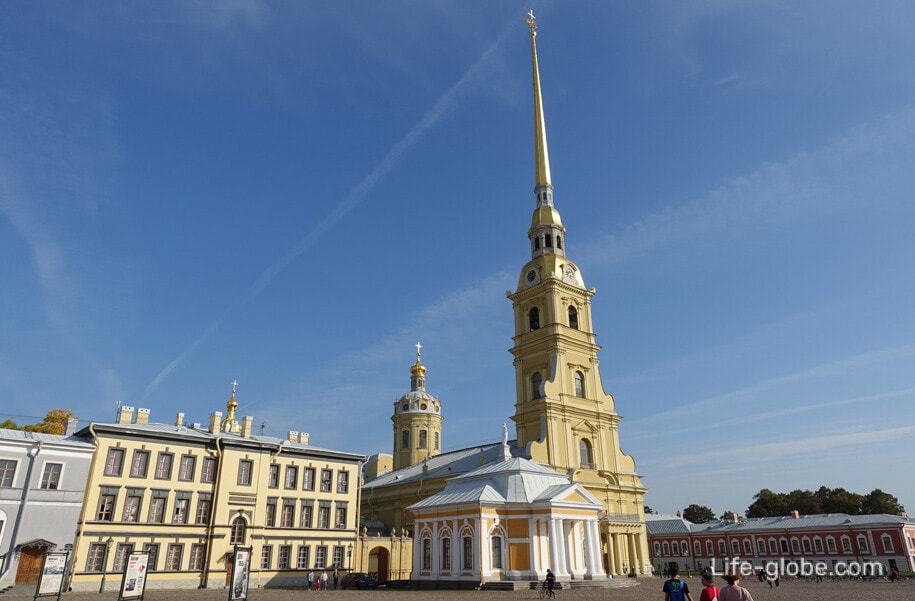 You can visit the Peter and Paul Fortress on your own or with one of the excursions
All accommodation facilities in Saint Petersburg, including in the city center and near the Peter and Paul Fortress, can be viewed and booked here