In large coastal area of Platja de Palma has many bars, cafes and restaurants.
However, among this variety you can highlight the street, along which are concentrated the abundance of bars and pubs, where from morning until late at night is buzzing with life this street Padre Bartolome Salva (Carrer Padre Bartolome Salva).
"Bar street" is located in a resort area of Les Meravelles, near the centre of Playa de Palma. The street is 450 meters, it originates from the promenade and goes deep into the area.
The lively "bar street" stretches from the intersection with Carrer del Llaüt, and to the intersection with Carrer de les Canyes.
Along the street, on both sides, surrounded by bars, pubs, pubs, tapas bars, dance halls and night club. Entrance to bars is free (free).
In addition to alcoholic beverages in bars you can eat. Guests of the establishments offering snacks, burgers, hot dogs, pizza, etc.
Near bars enterprising merchants expect coming out of the establishments of tourists, so while they still warm and tipsy to sell them all sorts of outlandish things: crowns, toy dogs on leashes, magic wands, caps, t-shirts and other trinkets.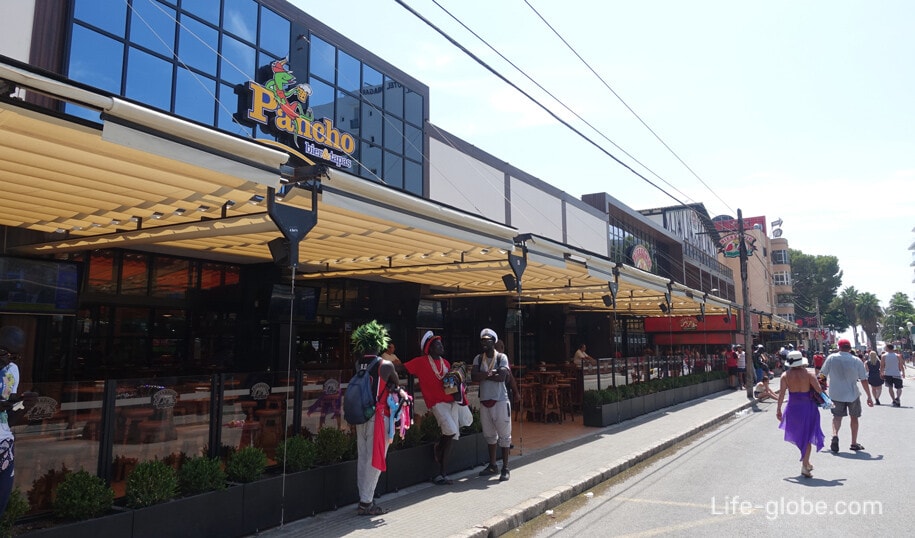 In addition to the so-called "bar street" near the Forest Maravelas is beer club "Mega Park" (Mega-Park), which from morning to morning boils fiery life, where festivals, parties, live sports events and various entertainment events.
The entrance to the Megapark free (free). Address Mega-Park: Carretera de l'arenal, 52. The website Mega-Park: megapark.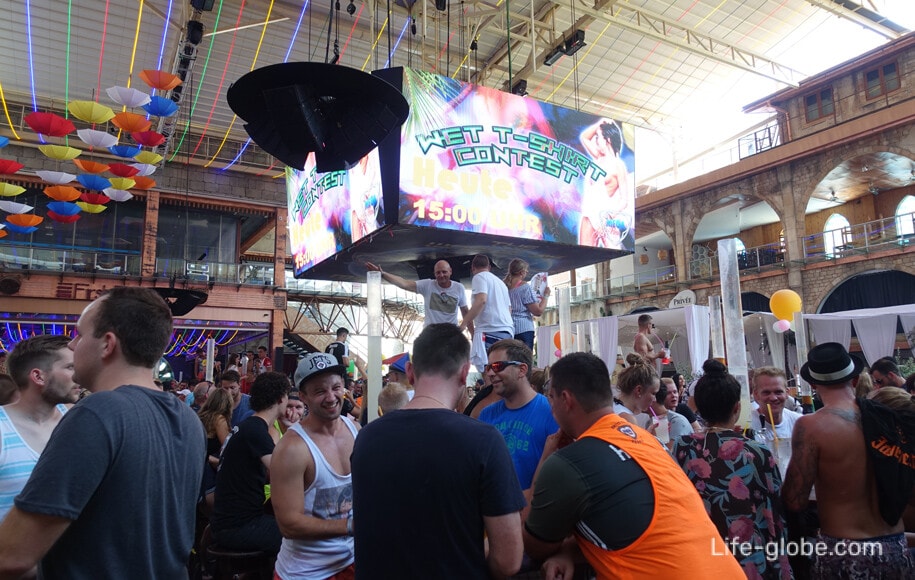 Also famous for its bars street Mikel Pallisa (Carrer de Miquel Pellisa) and adjacent streets.
For the most otvyaznyh! Near the street Padre Bartolome Salva and Mega-Park there are several hotels: 3-star hotel Foners - Adults Only, 4 star hotel Myseahouse Flamingo - Adults Only 4* Sup, 4-star hotel Riu Bravo All Inclusive, 4-star hotel Neptuno Myseahouse etc.
Resort area the Forest Maravelias, along with neighboring El Arenal, reputed to be the most happening part of the coastal area of Platja de Palma and one of the busiest tourist areas in Mallorca. It attracts people who want to combine a beach holiday with an active evening and night life.
However, not all district Forest Maravelas is noisy and happening, in the North-Western end is quite quiet and peaceful. There, on the first line are 4 - 5 star hotels respectable, for example: the 5-star Iberostar Selection of Playa de Palma, the 4-star Iberostar Bahía de Palma - Adults Only for adults only 4-star hotel HM Gran Fiesta , etc. read More about the area Les Meravelles...
How to get to the Forest Mariveles: taxi; car; bus from Palma No. 15, 23, 25 and 31 from the airport to No. 21.