The Ausfaler Gate in Kaliningrad (German name Ausfalstor) is one of the seven preserved city gates of Konigsberg (now Kaliningrad); since 2007 it has been an object of cultural heritage of regional significance.
The Ausfalian Gate, also the exit gate, from the German, the gate for sorties, was built approximately in 1626, during the construction of the First defensive belt around the city.
In 1866, the gates were rebuilt according to the project of architect Ludwig von Aster, who is also the author of the Railway Gates located next to the Ausfalian Ones. Then the Ausfalian Gate, along with the other city gates of Konigsberg, entered the Second fortification of the city.
The gate, built in the style of brick Gothic, was pedestrian. Initially, they crashed into the shaft and were below ground level, had one passage (tunnel), to which stairs and a bridge led from the outside, and a combat platform with a crenellated parapet was located above the passage. Casemates with embrasures of frontal and flanking fire were located on the sides of the passage.
According to its intended purpose, the gate did not last long. The rapid development of military affairs in the 19th century led to the fact that by the end of the century the Second fortification could not protect the city from enemies. In 1910, all the gates were sold by the War Ministry to the city administration.
In the 20th century, the only passage of the gate was bricked up.
In the post-war years, the Ausfalsky Gate was used as a storage room, then it was used for bomb shelters of the militia school, later a sewage collector was removed into them.
In 1993-95, the Orthodox chapel of St. George the Victorious was built on the upper platform of the Ausfalsky Gate, designed for combat, located at the level of the roadway of the Guards Avenue. This chapel is quite small, built of red brick. The main decoration of the sanctuary is the arched ledges on each side of the structure and the dome pointed to the top, completing the appearance of the chapel.
Currently, what remains of the Ausfalsky Gate can be seen below the level of the streets of Field Marshal Rumyantsev (formerly Gornaya Street, until August 2017) and Guards Avenue.
View of the remains of the Ausfalsky Gate from the street of Field Marshal Rumyantsev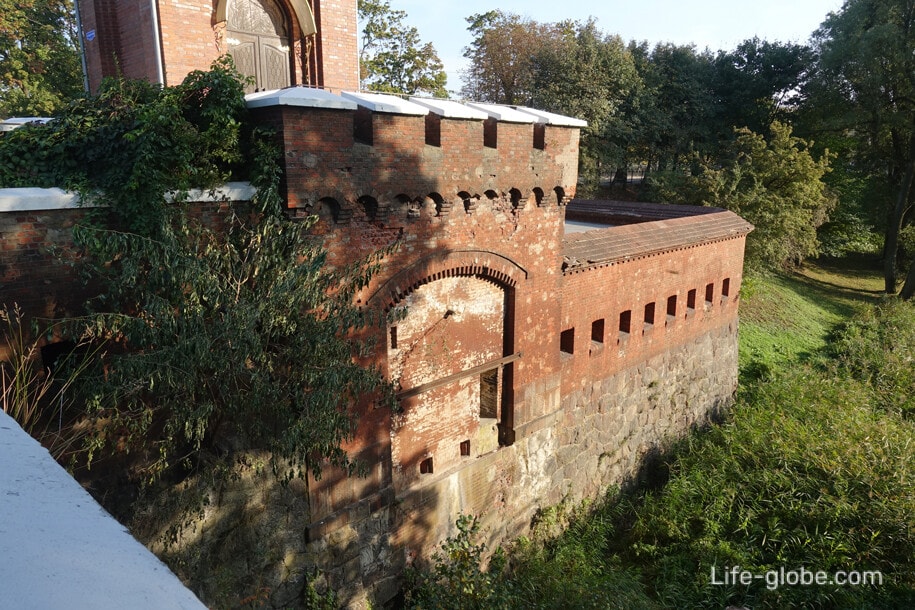 View of the Ausfalian Gate and the chapel from Victory Park
View from the Guards Avenue
The address of the Ausfalsky Gate in Kaliningrad: the intersection of Guards Avenue and General Field Marshal Rumyantsev Street, Kaliningrad. The gate is adjacent to the Victory Park.